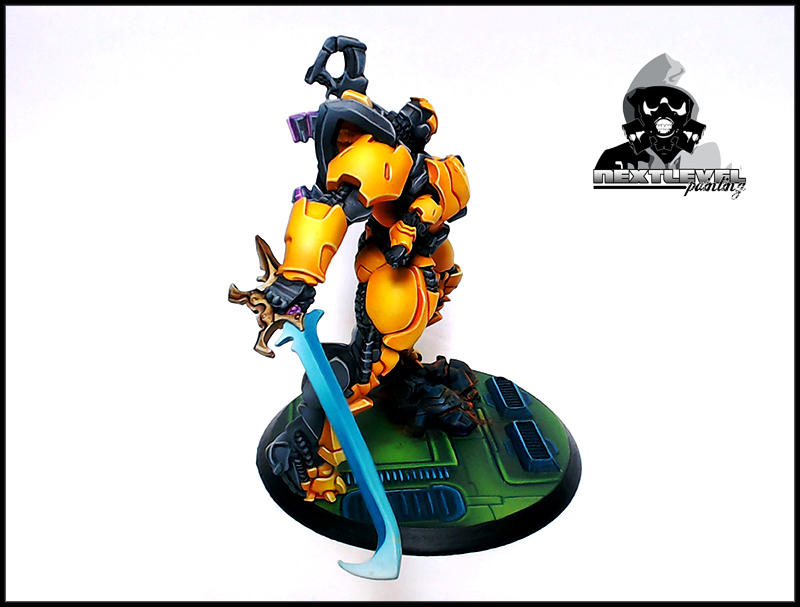 Kenny here, and we're doing power swords in this tutorial, checkout the three skills you need to get your power swords looking hot.
There are a lot of different ways to attack a power weapon, but in my opinion, this is the literal best way.
Tools of the Trade
Tape
Air Brush
Testors model Master Lusterluss Flat, the best in the biz
Meridius Blue, p3
Arcane Blue, p3
Dead White, Vallejo
Calvary Brown, Vallejo
Orange Brown, Vallejo 
Step 1. Start with a paint brush, a thin coat of your first coat. Then working the fades into that color, this is how you want to start. Thin coats.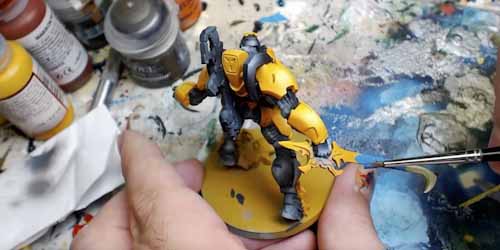 Step 2. Arcane Blue and Meridian Blue with some flow improver. No tape, just being careful. This is a super subtle fade.
Step 4. Pure Arcane blue with Flow Improver.
Step 5. Add white to the arcane blue and now we're going to start making this pop. Real subtle.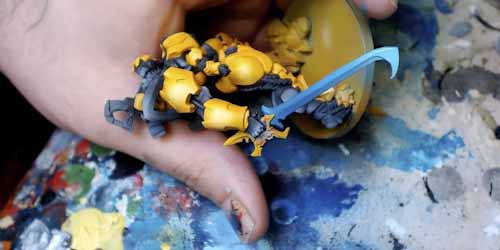 Step 6. Pure white, this is where we make the tip glow; Go subtle, you don't want to undue all the blues you already did.
Step 7. Paint Brush Meridian blue and carefully get the bottom half of this blade.
Step 8. Seal Coat the whole model.
Step 9. Wait a couple of hours for the seal to dry.
Step 10. Use Tape, I like using clear packing tape, the cheapest you can find, it's rigid and sticks really well plus it's transparent and I can see through it; I can see that my line is perfectly straight.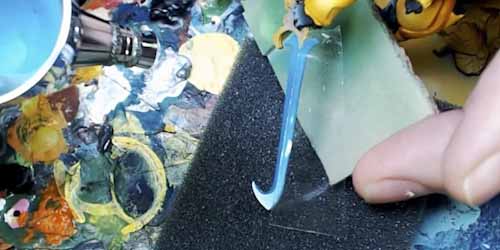 Step 11. Hit it with Arcane Blue and Merdius Blue, you can see I didn't even tape it off, just some cardboard and being careful. We're doing what we just did in reverse.
Step 12. Arcane Blue and blend it back in.
Step 13. White, I'm going more subtle than I did at the tip because I want to the hook to the the focal point.
Step 14. I'm hitting the bottom sections of the tip.
Step 15. Hit the hilt with Vallejo Air Gold
Step 16. Cavalry brown on the grip
Step 17. Orange Brown to highlight the grip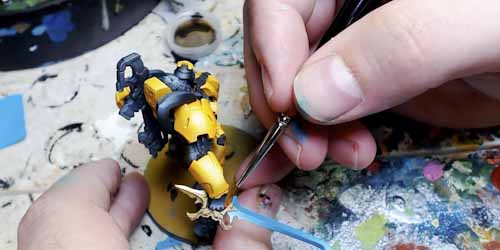 That's it. Simple. If you want to see it go down in real time check out the video.
Reverse Fade – How to Paint Power Weapons Fast