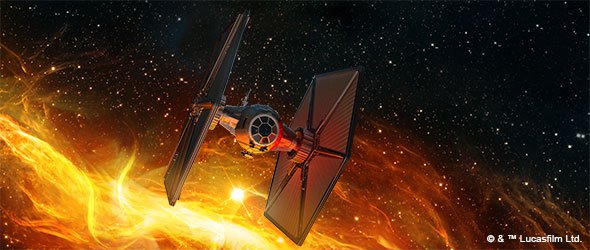 Move over Howlrunner – the Imperials have a new sheriff in town. Let's take a look at Quickdraw!
Hello X-Wing Aces and BoLS Readers! The internet is a buzz with new ideas about the Wave 9 Ships – but today I wanted to take a look at the new Imperial TIE/sf pilot "Quickdraw" and just how we can take full advantage of his unique ability.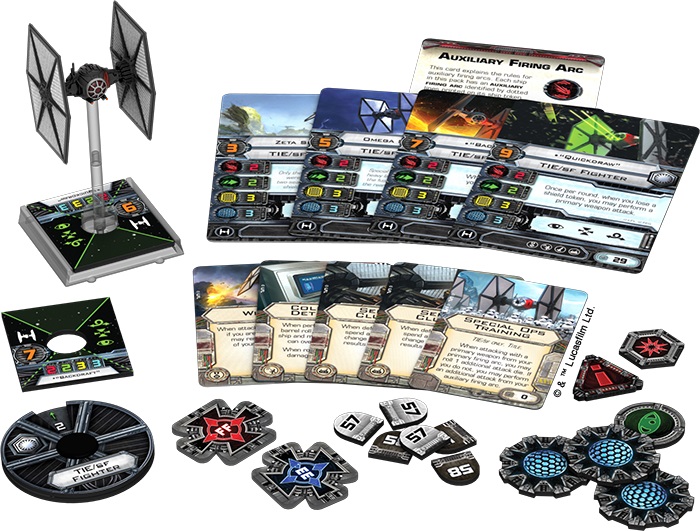 Quickdraw's ability reads:
"Once per round, when you lose a shield token, you may preform a primary weapon attack."
Now the one card you're going to want to take with him (because it's FREE) is the title card as well: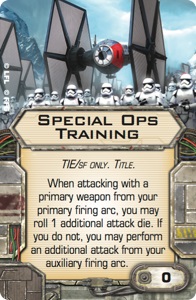 So right off the bat it's got a built in combo of the option to fire 4 times total. How? Once per round when you lose a shield, fire your primary. If you fire your primary and opt not to use the bonus attack dice, you can fire out of the aux arc. When it's you're turn to fire regularly you can do the same thing for a total of 4 shots – everyone on the same page? Great! Now, there is the whole bit about having to lose a shield…but we'll get to that.
Okay, still with me pilots? Great – back to the question: how do you make the most of this pilot? A couple of cards jump out at me immediately, however, they don't all play nice together. So when it comes down to it, you're going to have to choose what type of "Quickdraw" build and list you're going to want. That said, here are the cards in no particular order: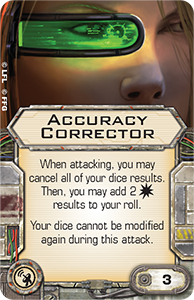 Accuracy Corrector is a strong candidate. While it's not super flashy it's very consistent. If you're wanting to take advantage of that Aux Arc shot then you're not going to care about that extra attack dice. Notice that the text is just "when attacking" it makes no reference to primary attacks – that also means missiles…but that's another topic.
Fire-Control System is on my list as well. It would be nice to be able to shoot your primary attack, get a target lock and then shoot again with a TL. Keep in mind that Quickdraw is PS 9 – which means (just like his name implies) he's going to be high on the shooting order. FCS is almost an intimidation thing as well – "Are you sure you want to shoot at Quickdraw, he's got a TL on you now and he's not afraid to use it…" This could almost prevent people from causing that damage because they don't want to trigger that extra attack. Besides, having a TL on a ship in your arc is almost never a bad thing.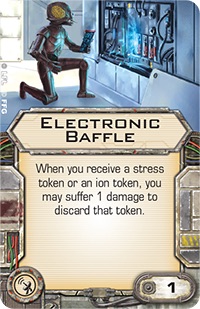 This card works really well as a guaranteed way to get that additional shot(s). How? Well if your EPT is Push the Limit or if you're running Experimental Interface then you can trigger this card to get your shot(s) off. And speaking of getting shots off…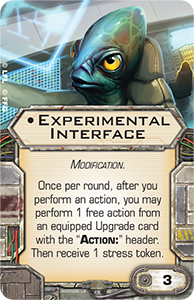 Lets talk about everyone's favorite card to hate on: Expose.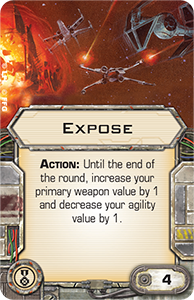 Quickdraw may be the best pilot ever to use Expose on. It lowers his agility which increases the odds of him losing a shield…which means he can fire again. Keep in mind the card does say "increase your primary weapon value" and guess what weapon fires out of the Aux Arc? Yes, thats right – the primary weapon. In the ideal situation, you could kick-out 16 dice from this one ship. If you had two targets at range one, one in the front and one in the aux arc, both could get hit by 2 attacks with 4 dice each. Will that ever happen? Not if your opponents see that coming! And lets be honest, the turn that happens Quickdraws probably going to die…But everyone else might be dead. Worth it!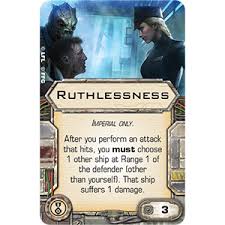 Another fun card to toy around with is Ruthlessness. He's kicking out so many shots that it's going to stack-up quick. Got a swarm you're trying to deal with? How does an additional 4 damage per turn sound?
There are other contenders as well. Rage is good if you don't mind the stress. Predator would also be welcome – having some extra way to re-roll all those shots would be very helpful. Now – not all those cards may not play nice with others (Predator or Expose with the Accuracy Corrector seems wasteful). Also, we haven't see what extra Tech cards will be released with this Wave. There could be some helpful things in there, too! The possibilities are looking really, really good.
Lets Talk Builds
Alright so I just threw a bunch of cards out there and some general ideas so how do we make them work. This goes back to what type of build do you want to go with. I've put together 3 basic builds that I think can capitalize on his ability but feel free to steal, tweak and modify these as your own!
Quickdraw "Max Damage" 37 or 38 points.
Spec Ops Training
Expose
Experimental Interface
Electronic Baffle or Fire Control System
Depending on which option you go with, the E-Baffle can ensure you get your Alpha Strike off or the Fire Control System can net you a some extra Actions. Moving, Focusing/Barrel Rolling into position/Target Locking and then using Expose to trigger the 1 point of damage seems really good! Or if you went for the FCS route your tossing out Target Locks like candy, now your Expose ability has a re-roll too.
Quickdraw "Ol' Reliable" 35 or 39 points.
Spec Ops Training
Accuracy Corrector
Ruthlessness
Engine Upgrade or Shield Upgrade (optional)
This version doesn't care about the extra dice or re-rolls. All it does it 2 hits, four times, every time. Oh and if you're in the blast zone when he unloads have another point of damage. If you get really, really luck that's a total of 12 damage it can cause (4 attacks, 2 damage each plus 4 additional damage to ships with range 1 of the target). Yeah, that could work…The extra mod slot is really up to you – Engine upgrade would help with positioning because if can setup that double arc shot which is awesome. The Shield Upgrade gives you one more shield to lose…which means the potential for one more round of bonus shots. Not too shabby!
Quickdraw "El Kabong!" 38 points.
Spec Ops Training
Predator
Fire Control System
Cluster Missiles
Guidance Chips
Why "El Kabong!" – because you did not see those Missiles coming! Predator means you're getting re-rolls on those attacks. On the turn you want to use the Missiles you're going to have that TL ready to go because of the FCS (either you TL with an action you fired at range 3 at some point). This build takes a bit more planing to pull off as is the case with most missiles – but the look on your opponents face when you light them up with Cluster Missiles and threaten to use a follow-up shot from your primary (possibly with 3 or 4 dice that ALSO has a TL) will be worth it. If they shoot back, then you so do you and then end that round with a TL already back on them…if they aren't space dust. It's geared for the head-on approach and it's a heavy amount of front loaded damage. That's 10 dice to the front – that's one mean jouster! Not to mention if they do a fly by then they are in your rear arc for even more fun.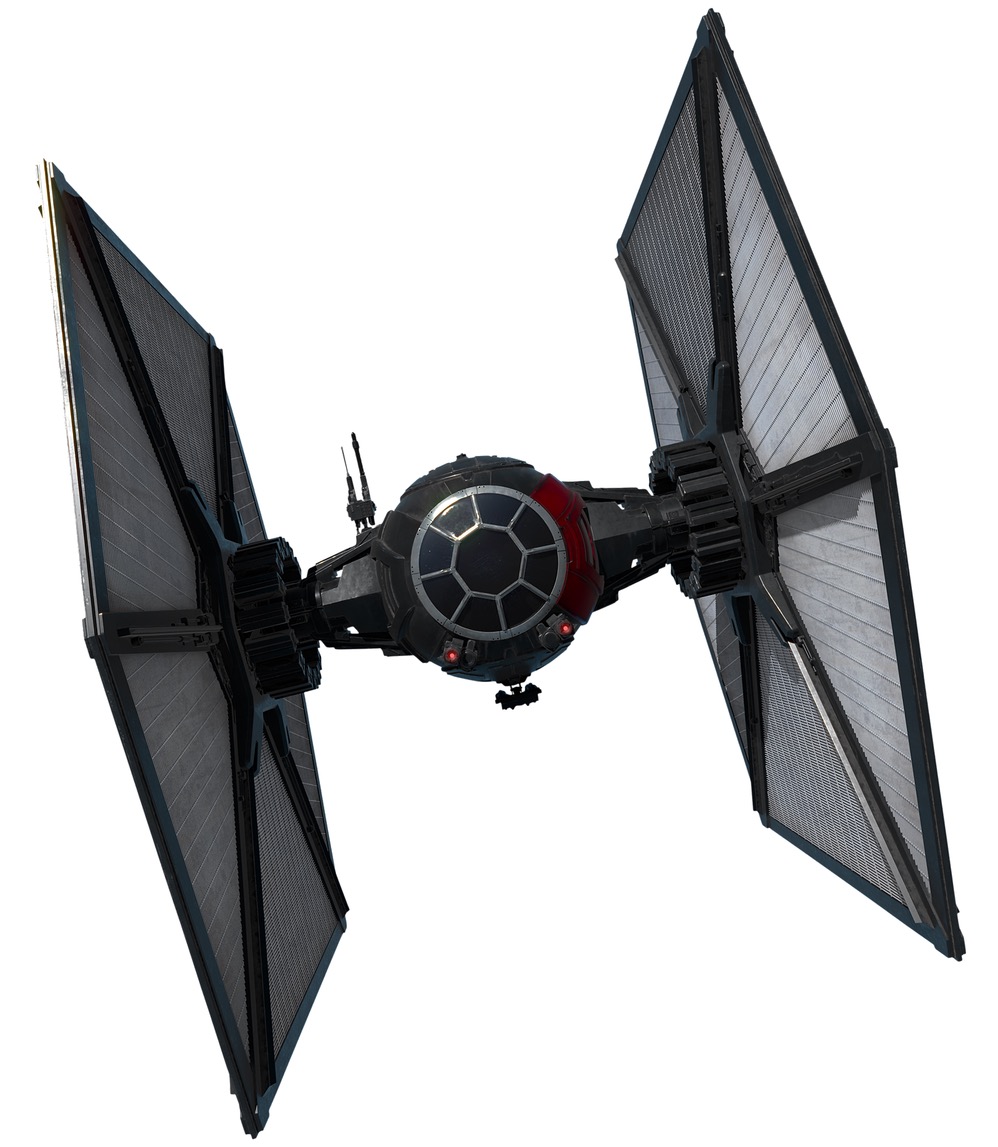 I'm not going to get in to possible wingmen for Quickdraw – at least not yet. There are LOTS of options on the Imperial front (Youngster with Expose could work pretty well, so can Howlrunner – really any TIE swarm style aces). I just hope Quickdraw is getting your creative brains going. That's part of the fun of Star Wars: X-Wing for me! Now I've just got to wait to get Quickdraw out on the table and see how it really works.
What do you think X-Wing Aces? What crazy combos are you looking for with Quickdraw? Any Rebel/Scum players worried about this one? Let us know in the comments below!