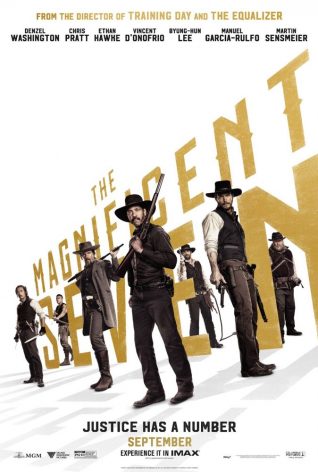 The classic is back with a new cast and a heaping helping of grit.
This may be the sleeper hit of the fall. It hits all the right spots, but it's not getting the coverage Star Wars and the bigger franchises are getting these days. This may be the break from epic sci-fi and comic book movies some of us have been wanting.
William Roberts
and
John Sturges
translated Akira Kurosawa's
Seven Samurai 
to a western for American audiences in 1960. It was an instant classic, and helped launch
James Coburn's career into the big time. 
This time Kurosawa's screenplay was re-worked by True Detective's 
Nic Pizzolatto
and 
Richard Wenk
. This one is likely to have a darker feel to it, but based on the trailers it's still got that wry humor to it. Take a look at what's been released so far:
The first full trailer dropped yesterday…
Re-makes tend to be a shaky prospect – but with a crew like this I'm willing to give this one a shot.
Director: Antoine Fuqua
Cast: Denzel Washington, Chris Pratt, Vincent D'Onofrio, Ethan Hawke, Byung-hun Lee, Haley Bennett, Martin Sensmeier, Manuel Garcia-Rulfo, and Peter Sarsgaard
What are your thoughts? Are you buying a ticket?