Join us as we deep dive into what makes the Deathwatch tick!
The Deathwatch is the Special Forces of the Special Forces – they are Marines' Marines and they complete the missions that no others can. Only in death does duty end, but the members of the Deathwatch will complete the mission no matter the cost.
Stable Abe and Myself (AdamHarry) sat down and went through the Deathwatch RPG book from Fantasy Flight Games. It's an oldie but goody. It could be considered a Retro Corner, but it's not that old. Abe and I are both fairly experienced RPG players as well. Deathwatch combines our respective appreciation for RPGs and our love of the 40k universe (in all it's Grim-Dark glory).
We go pretty light on the rule mechanics in our overview – it's the same basics as the Dark Heresy series. Which is basically saying that it's a D100/percentage system (or 2D10) for your rolls. Player Characters have a similar stat line used on the tabletop – just add a "0" to the end of a stat to get a rough idea. For example a BS 4 on the tabletop may translate to a BS 40, attempting to roll under to be successful. There are ways to get bonuses to that roll and most of the guns have a burst fire or full auto option. Lots of death rains down when a Space Marine opens up with his Bolter.
What I really wanted to focus on was what made the Deathwatch so darn cool. Just about every player of 40k has or has had a Space Marine Army, Chaos or Imperial. It's really the gateway army. There is just something about Power Armored Super-humans battling to save humanity that appeals to the player base. From an RPG perspective playing as a Deathwatch Team Member is really simple – you are the good guys, you're on a mission to save the galaxy (or some part of it) from a really bad threat, and you're going to kick as much butt as possible. But just because it's that cut-and-dry doesn't mean it's boring!
The Deathwatch consists of members from all different chapters of Space Marines. It's not uncommon for an Ultramarine to fight next to a Blood Angel or a Flesh Tearer to stand with an Imperial fist. And lets not forget the drama of having a Space Wolf fight side-by-side with a Dark Angel. Really there are some fun opportunities for Role Playing even in the "rigidness" of only playing as Space Marines. If you've ever wanted to act like Legolas and Gimili at the battle of Helms Deep – talking smack to your allies as you cut down waves of baddies – then Deathwatch just might be the game for you.
Another thing that makes this book so great is that it goes deep into the history of the Deathwatch. The "why" your character is a member of the Deathwatch can be just as important to the Roleplaying as which chapter they are from. Did they volunteer to go or are they serving as penance for some terrible mistake? This book does a great job of fleshing out the Deathwatch, and in strange way, it kind of humanizes these Super-Human characters. Couple that with adventures that could be a one-way ticket and there is lots of drama to be had.
This book also has rules for a squad (i.e. 5 or less) Deathwatch Marines fight off literal hordes of enemies. If you've ever read a 40k Novel or wanted to play as a Movie Marine, this book basically has you covered. Deathwatch members aren't invincible, but they are some of the toughest warriors in the galaxy. Because of that, this book also has rules for some of the toughest baddies for them to fight. Tyranids, Daemons, Orks…all the classic enemies of the Imperium are also in this book. It's very fitting to have the greatest warriors of humanity fight their biggest threats.
I could go on, I haven't even mentioned the gear, the organization or the awesome "Blackshields" that are in this book. It's got a lot of really great stuff in it! If you're looking for the perfect resource for The Deathwatch then you should definitely pick-up this one – if you can still find it.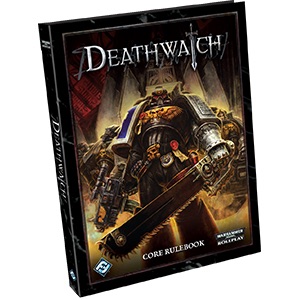 Deathwatch is a roleplaying game in which you take on the role of a member of the Adeptus Astartes – the devout, bio-engineered super-soldiers also known as Space Marines. After many years of exemplary service within your own chapter, you have been singled out and selected to join one of the most unique and specialized collectives of Space Marines – the Deathwatch.

Only the most exceptional candidates from the fighting forces of the Adeptus Astartes are invited to join the mysterious Deathwatch; to take on a new oath to safeguard the Imperium from the darkest of threats. You will now be called into service to hunt down and destroy hostile xenos forces, to seek out and crush the root of heresy and sedition, and to continually fight against the foul daemon menace that crawls forth hungrily from beyond the Warp. You are at the fore of Mankind's war for survival against an extremely hostile universe.

For centuries, the Deathwatch have maintained their silent vigil over the ancient ruins of the Reach, but now you find yourselves on the front lines of a grand Imperial Crusade that has been launched to reclaim this vast region of space from darkness and heresy.

The fate of billions rests in your hands!
Xenon scum, prepare to meet your death!