The newest module will be available next week – take a look at what it has to offer.
Something wicked—and monstrous—stirs around the rugged Isgeri town of Saringallow, where the hated legacy of noble Chelish diabolists runs deep. With the recent disappearance of several apprentices, the nearby menace of particularly grotesque goblins, and the unsettling rumors about the old Sarini Estate, Mayor Sandra Trinelli knows that she needs help, and she needs it fast! The heroes must confront one of these crises, or all three, if they hope to stem the tide of darkness that looms. Before too long, the heroes discover that villains with ties to the Abyss have set their sights on Saringallow, and won't rest until the settlement and all its innocent inhabitants fall victim to their madness-inducing predations!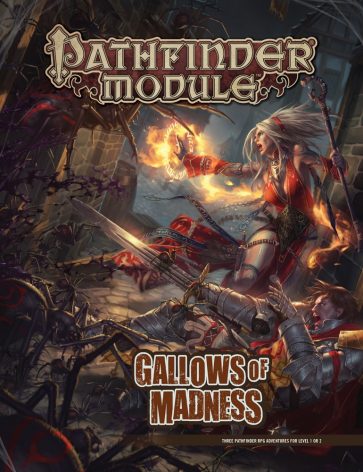 Gallows of Madness is one of the most versatile modules we've ever published. The module consists of three adventures for first- or second-level characters that can be played as standalones. All three adventures were written with GMs' ease in mind; most of the content comes from the Pathfinder RPG Core Rulebook and Bestiary, so it's perfect for beginning GMs and GMs who are running these adventures on the fly.

There are a few elements in the adventures that are brand new, both from a story and a rules perspective, ensuring that even veteran players and GMs will stay on their toes. Without providing too many spoilers in this direction, let's just say that the module's title is both figurative and very literal.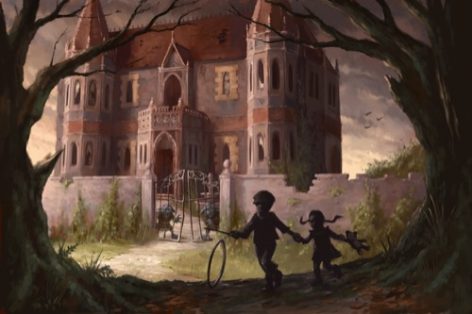 Wholly aside from the module's format, there's another thing that has us stoked; this module gives players and GMs the first detailed look at Saringallow. This large town in Isger has a dark history involving diabolist Chelish nobles; PCs who play these adventures will have nuanced conversations with the locals, including Mayor Sandra Trinelli, that can shed light on this tragic past.

The individual adventures take place either in Saringallow proper, in the wilderness surrounding the settlement, or in the abandoned Sarini Estate, but regardless, the PCs will have the chance to confront the settlement's past while grappling with new threats that could spell a whole new type of doom in the very near future.
Are you ready for a new adventure?