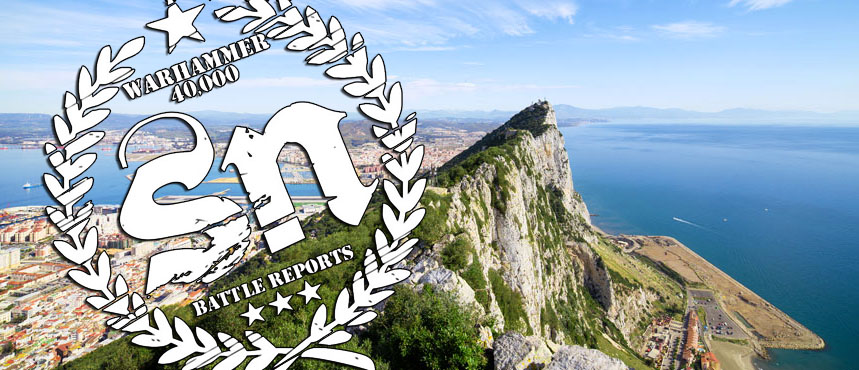 SN Battle Reports brings you another AMAZING Battle Report using their new Studio Imperial Knights!
Ardrestia's splayed foot crashed into the grey rock disturbing great clouds of rust particles that blanketed nearly everything on this once teeming imperial world. Through the swirling red dust the hunched forms of Ardrestia's brother knights errant could be glimpsed as they too patrolled their sectors, omniscopes and sensors struggling to pierce the metallic gloom. Lightning briefly illuminated the distant silhouette of Neoveneh Hive… or its bones at any rate. The once-imperious mega structure was now a ruin, its central spars climbed to half its original height, other structural columns and beams stuck out at odd angles giving it the appearance of deep sea carrion that had been picked clean by the eyeless things of the deep. Neoveneh and the four other hives on Odrysia were nought but rust now. Innumerable tons of metal rendered down to a fine red dust coloured the surface and suffused the lower atmosphere in a choking pall of metallic entropy.
The galaxy was full of the ruins of these ancient structures, of cemetery worlds where the bones of distant civilizations were all that remained of once proud and powerful peoples. But Odrysias doom was not ancient. The last Astropathic communication was catalogued not three solar months ago. The silence that followed that routine communiqué was deafening. A world of six trillion souls, silent as the grave. Now Ardrestia and her lance cohort from house Aquineas stood sentinel over one of the few man made objects on this blasted world that had not been subject to millennia of unnatural aging. The massive inquisitorial runes emblazoned on House Aquineas' knights gave light to their allegiance and also to the unholy enemy they faced. Many were the agents abroad in this galaxy hostile to human life that could have brought such crushing ruin to man's domain, but using means forbidden to all but its members and thralls, the Inquisition had seen the truth of Odrysia's doom and had acted swiftly to bring holy retribution upon them with every asset at its disposal. Ardestia's head swivelled left, her slaved battle cannon echoing its movements, scanners struggling to make sense of false returns and ghost echoes thrown up by the eddying mass of particulate metal.
Nothing living could survive for long here. Perhaps Astartes in their battle plate… Perhaps. The distorted voice of Himeros piped up over the vox, "Movement, 300m to my front." "This planets atmosphere is a metallic soup! My sensors only pick up movement! It's the damn dust, trust your eyes, not your instruments!" retorted Anteros angrily. "Confirm, movement. Visually identified. 290m. Terra!" Himeros' exclamation was immediately followed by the painful, ear splitting whine of her thermal cannon charging up and firing. A miniature sun erupted on Odrysia's surface, obliterating the cloud of corrosion that had obscured Himeros' target. The scene chilled Anteros to the core. All the legions of hell were being vomited forth from the swirling red dust in which the faces of capering daemons could now clearly be seen. "Throne! On Himeros! Fire at will!"
Special Mission: Defend at all Costs.
Objectives (Imperial Knights) Protect and defend the 3 Supply piles for a total of 5 turns, 3vp for every Supply pile still on the table by the end of the game. (Nurgle Daemons) Endless Swarm rule arriving from both Dawn of War deployment sides, 3vp for every supply pile destroyed by the end of Turn 5 or destroy all three Knights before the end of the game. (Supplies 2hp each armour 8 all round)
Points: Imperial Knights 1140pts
Nurgle Daemons 1355pts
Deployment: Special Mission Deployment
Knight Paladin
Relic: Helm of the Nameless Warrior
Knight Errant

Knight Errant
Vindicare Assassin
Great Unclean One
Psychic Ability: Endurance
Heralds of Chaos
• Herald of Nurgle: Exalted Locus of Contagion…
• Herald of Nurgle: Exalted Locus of Contagion
• Herald of Nurgle: Palanquin of Nurgle; Exalted Locus of Contagion
• Herald of Nurgle: Palanquin of Nurgle; Exalted Locus of Contagion
10 Plaguebearers of Nurgle: Instrument of Chaos; Icon of Chaos; Plagueridden
10 Plaguebearers of Nurgle: Instrument of Chaos; Icon of Chaos; Plagueridden
10 Plaguebearers of Nurgle: Instrument of Chaos; Icon of Chaos; Plagueridden
10 Plaguebearers of Nurgle: Instrument of Chaos; Icon of Chaos; Plagueridden
10 Plaguebearers of Nurgle: Instrument of Chaos; Icon of Chaos; Plagueridden
10 Plaguebearers of Nurgle: Instrument of Chaos; Icon of Chaos; Plagueridden
10 Plaguebearers of Nurgle: Instrument of Chaos; Icon of Chaos; Plagueridden
Please feel free to like, share and comment! ENJOY