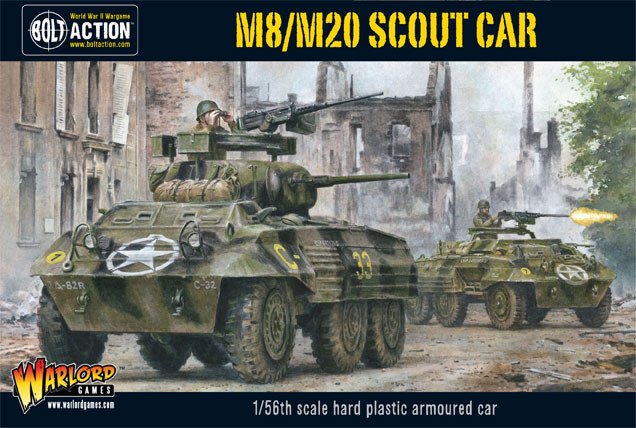 Join us as we take a look at the M8/M20 Scout Car kit from Warlord Games!
Hey BoLS Readers! This ones a pretty quick unboxing of what you'll get in the M8/M20 Scout Car box. Warlord designed this 1/56th scale kit for all your games of Bolt Action and it's definately closer to a model kit than a wargaming kit:
Opening this kit up you can tell that this kit is based off the real-deal. There is an attention to detail and realism you don't see in other wargaming kits. These uses a lighter plastic than some of it's industry counter parts that isn't as malleable (or bendy) either. It holds detail very well and it has some good clean lines.
As far as assembly goes it's a fairly simple kit. If you come from the world of Model car or plane building this is close to a beginner or intermediate model. It does have things like the drive-train and axles to assemble for that extra touch of detail – something you typically don't see in other 28mm wargames.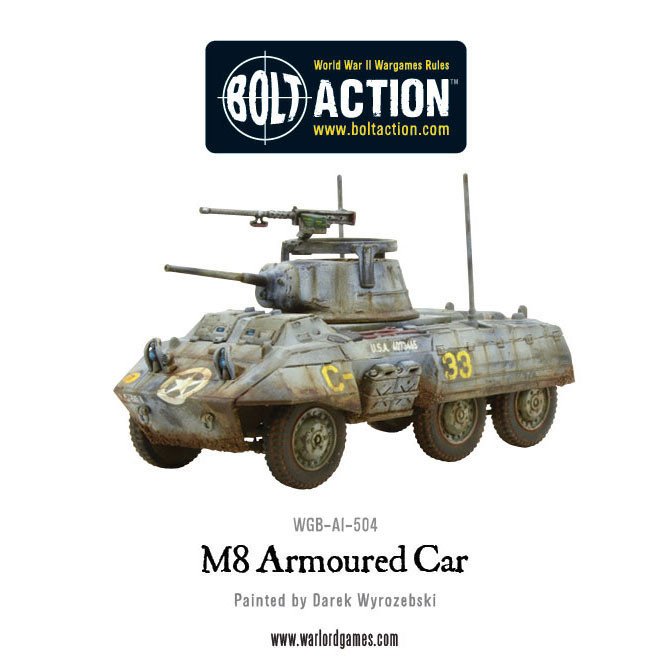 This kit is also a dual kit. You can make either the M8 Armored car OR the M20 Utility Vehicle. However, if you just don't glue the top down you can swap them out in case you'd like to use one over the other.
Overall, this is a pretty great kit for what it is – a faithful and usable re-creation of an Allied vehicle from World War II. If you're using Allied forces in your Games of Bolt Action and are looking for a new project then I would pick one of these up from Warlord's Online store or from a local retailer. They are available now!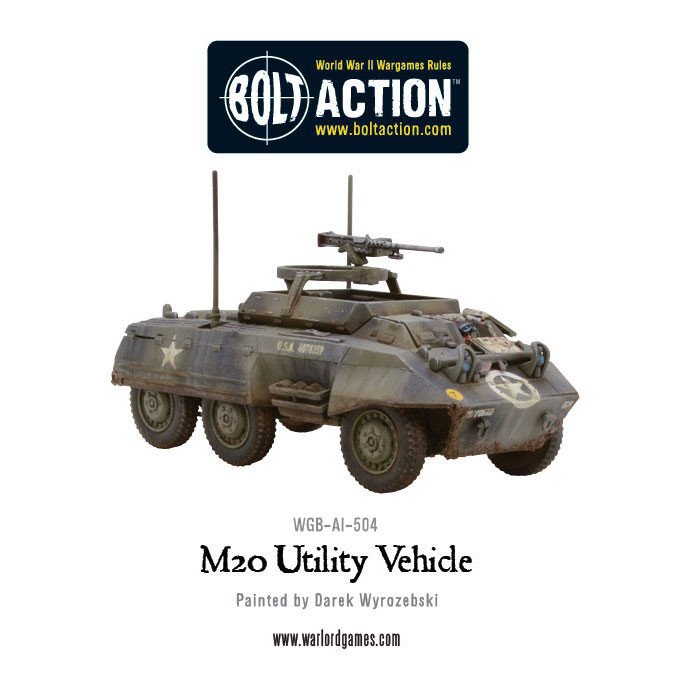 "The M8 Greyhound was originally designed to replace the US military's portee gun in an anti-tank role, but was quickly repurposed once it was realised that its performance against German armour was lacking. It found use as a popular and successful armoured car that served American and British armies well throughout the war.

Its crew of four served a 37mm gun, a co-axial .30 cal, the more aggressive crews adding a .50 cal on the roof for anti aircraft and local defence.

It was very fast – hence its British name of Greyhound – capable of 55mph on good roads, but was known to bog down in mud. Its armour was enough to shrug off small arms fire, and these vehicles were best used in pairs to scout out enemy lines, supporting each other in a leap-frog fashion on the advance or covering a retreat.

Replacing the armoured turret for a fixed, open fighting compartment, the M20 scout car was used primarily as a command vehicle, sacrificing the turrets main gun in favour of extra radio capability, it also carried a portable Bazooka for extra anti-armour firepower."
Manucfactured by the Ford Motor Company, the M8 Greyhound was STILL in use by some third-world countries in 2006! Read more HERE.