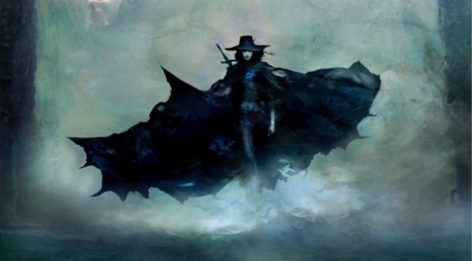 Add a new, special Vampire Hunter archetype to your games!
Paizo's Editor-in-Chief and Pathfinder co-creator F. Wesley Schneider has written a Vampire Hunter D module… and you can get your hands on it if you help fund a new comic book project.
We're creating a multi-issue comic book series for "Vampire Hunter D: Message from Mars". Backers will receive a Kickstarter Exclusive Collector's Edition Variant of the 36 page first issue in advance of the general release. The issue will consist of 24 pages of story and 12 pages of extra art and bonus material.This is an adaptation of "Message from Cecile", a Vampire Hunter D short story by series author Hideyuki Kikuchi. This story was only published for a fan event in Japan and will make its English debut in this comic book series published by Stranger Comics.

Message from Mars is told from the point of view of Cecile, one of the human colonists on Mars. We see the ascension of the Nobility in the aftermath of a nuclear war on earth and a part of the beginning of D's journey as a vampire hunter. We're excited to see this story brought to life in the first ever Vampire Hunter D comic book series.

As it has been many years since the last Vampire Hunter D adaptation and with this being the first VHD comic book, we're unsure of how many copies to print. As we don't want to print too few and leave fans out in the cold, we decided that using Kickstarter would allow us to take pre-orders and give us the chance to make some really cool new VHD merchandise, including a life sized model of the Left Hand.
Along with some nice perks the campaign offers this…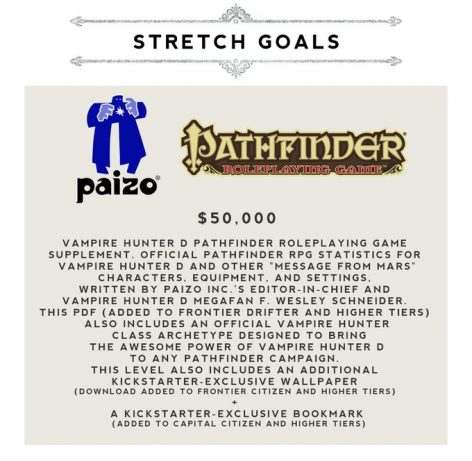 As of press time funding is only $6,000 away from unlocking that goal.
How would you use a vampire hunter in your Pathfinder adventures?