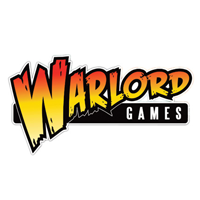 Take a look at the journey a miniature takes from Warlord Studios to your hands…
Warlord Games has put together an awesome behind-the-scenes rundown of what it takes to get their models from concept to YOUR tabletop.
via Warlord Games
Here at Warlord, we're keen to share our passion for miniature wargaming and toy soldiers… we're often visited by fans and community members at our HQ here in the heart of 'The Lead Belt' in Nottingham – we've had visitors from around the globe – all across Europe, from various American states, and even Australia! (I'm looking at you, Viv!)) to come and see our models up-close and in person!

However, we know that some of you might not be able to come and see us in person… and for those of you who can't make it to Warlord HQ, we thought we'd put together a bit of a 'virtual tour' around just a few portions of Warlord HQ, to show you exactly how your miniatures are 'born' – from initial concept, through to arriving at your door…

Concept & Design

The first stage of a miniature coming to life starts in the Warlord Design Studio – headed by industry legend and community-reknowned bacon aficionado, Paul Sawyer.

Paul is in charge of what gets made – he decides upon which kits we produce, and ensures that the sculpts are all correct and up-to-scratch… if it isn't right, he's the man who brandishes the whip (and looks after the cake-reward-stash) to ensure that standards are met, maintained, and surpassed!

When a project has been decided upon, it's up to our crack team of Wojtek and Steve to turn armatures into finely detailed miniatures! (and – if it's something more vehicular in nature, it might be Darek (pictured to the left of Mr Sawyer in the image above) or Chris who take to their scalpels!)

Here's our beloved Wojtek, working his magic… what's on his desk at the moment?

When it comes to the laying-out of books, taking of product photographs and the task of designing the packaging which will adorn our models in your local games store, the task is left in the more-than-capable hands of Mark and Anna…

Anna, hard at work on the latest Antares supplement…

Darek taking photographs for the recent 'The Battle For Xilos' Antares supplement

Production

Once a model has been mastered – whether it be in Green Stuff, Grey Stuff (or any other sculpting medium) – or 3D printed… if it's a metal miniature, it's then handed down to the Mold Making Department of Rich.N and Paul – who (via the wonders of Mold-Making-Magic) produce a silicone mold for the Metal Casting team – headed by Santi…

Santi – the master at work – what he doesn't know about metal casting simply isn't worth knowing!

For vehicles and larger models – we often use Resin… in which case, the master model is brought to Rachel and the team who again create a silicon mold… we the use a 2-part mixture which is poured into the mold…

Resin-Wizard, Joel – pouring

To give you an idea of just how many resin kits we produce – here's one wall of the Resins room (of which there are three similar) – each box is labelled with a vehicle name… all components are then put into the box to be made into kits…
If there are plastics involved – plastic manufacturing is a highly specialist process which we outsource to a couple of UK-based companies (as well as working with the industry veterans at Italeri for some of our Bolt Action vehicles) – who produce a vast number of sprues for us…
Here's our 'Roman Legionary Command' sprue – which (since this photo was taken in 2009) has produced tens-of-thousands of sprues!

Packing & Despatch

Once the relevant components have been cast, they're compiled and brought to the warehousing area… where Kumi oversees the Packing team – they're responsible for taking all of the components, and gathering them into blisters and boxes, ready for stores and shipping!

With the product now packaged, it's ready for the Despatch Team – headed by Daz. Whether the product is destined for one of our stockists around the globe, or direct to your door – the despatch team gather the order, give it as thorough of a check as is possible, package it, and prepare it for shipping….

If an item is not immediately in-stock (perhaps an item which is made upon request, or a particularly popular item which has run out of stock,) they send a requests list to the manufacturing teams (Resins and Metals) – and the item is made as quickly as is possible.

Once the order is complete, it's packaged safely and securely, and handed over to the postman… the it's time for a quick cup of tea, and perhaps a slice or two of cake – and it all begins again the next day…
There you have it folks – a big thanks to Warlord Games for the a peek behind the curtain. Lots of hard work goes into getting all those awesome plastic miniatures in your hands so keep that in mind the next time you're picking up a kit!
Spin Casting, Resin Pouring, Plastic Sprues – Warlord does it all!