.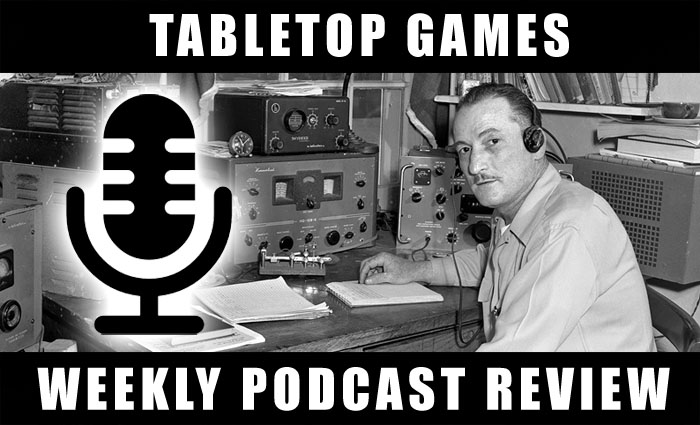 Hey all, Bahkara here for another week of podcast reviews!
This week we are seeing one podcast add to their programing, while we see another one cal it quits! So, with that being said, let's get on with it!
Battlehosts Episode 21 – This episode the group talks about the psychic phase of 40K. They go over the basic mechanics on how the phase works and even do the math on the percentages to cast a power depending on how many dice you use. They also go over the various powers available and their usefulness. Nice episode for those just starting out or if you never bothered with the psychic phase before and are now playing an army and you want to start using it.
Roll to Seize Episode 27 – This is a short episode but it is basically a setup for one of their new segments. Called "40K Arena", the duo will pit two squads, of equal points, against each other and give blow by blow commentary of the action. Very nice idea and something new that I have not heard of. This will be on every third week of the month. There will even be an undercard match before the main event. I look forward to it.
JadedGamercast Episode 278 – In this episode the guys actually decide to just end the podcast. Hoping to at least make it to episode 300 they realized that they were not getting the same joy out of it as they used to. You could get a sense of this in the last few months. It seemed to become less of a general hobby podcast and more of a "GW sucks and we hate them!" podcast. The reason I say this is that almost every recent episode they would steer whatever subject they were talking about into a GW rant. It made it seem, to me, that they're acting a bit like the guy/girl that just can't get over their ex and bad mouths them whenever they can. Hopefully this break from podcasting will re-energize them and we see them back in some form or another.
Signals from the Frontline – Always a good listen for new and rumors on 40K and other miniature games in the industry.
Also Out This Week.
9th Age Episode 3 (AoS)
Allies of Convenience Episode 42 (40K)
Beermachine Episode 43 (Warmachine)
Chain Attack Episode 5 (Warmachine)
Combat Phase Episode 154 (General)
Combosmite Episode 121 (Warmachine)
Eye of Horus Episode 69 (30K)
Eye of Terror Episode 22 (40K)
Facing the Grey Tide Episode 41 (40K)
Forge the Narrative Episode 153 (40K)
Fully Boosted Episode 14 (Warmachine)
Garagehammer Episode 148 (AoS)
Heroic Intervention Episode 22 (40K)
Hobby Night in Canada Episode 58 (General)
Independent Characters Episode 137 (40K)
It Will Not Die Episode 17 (40K)
Life After the Cover Save Episode 181 (General)
Long War Episode 60 (40K)
Masters of the Forge Episode 59 (40K)
Mayacast Episode 92 (Infinity)
MOM Episode 273 (Warmachine)
Mynock Squadron Episode 26 (X-Wing)
NOVA Squadron Episode 53 (X-Wing)
Ohiohammer XP Episode 30 (General)
Ohiohammer XP Episode 31 (General)
P+S Episode 65 (Warmachine)
Scrumcast Episode 14 (Warmachine)
SMG Wargaming Episode 35 (40K)
TDH60M Episode 41 (Warmachine)
War Council Episode 32 (Hobby)
As always, check out our blog, at TFG Radio, and give the podcast a listen. We talk 40K mainly but delve into other game systems. This week we have Allan, from the 11th Company podcast, to give our BAO reports and a conclusion to our Diorama-rama contest!
Have a different opinion? Post in the comments below or email me at [email protected] and let me know!