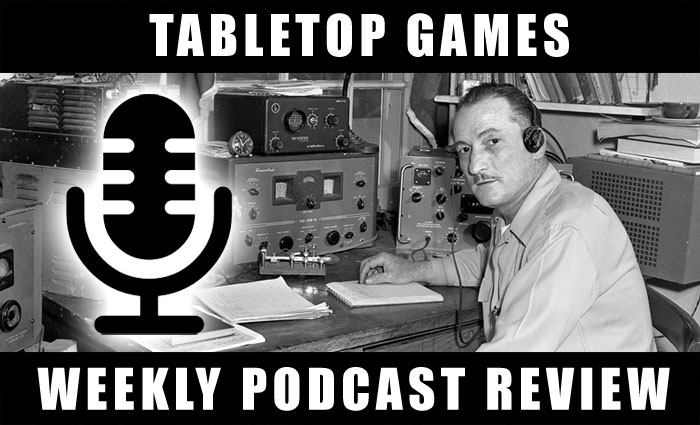 Bahkara here for this week's reviews. Some podcasts are changing formats and hosts.  Lets get on with it!
Hey all, Bahkara here for this week's reviews!  Still some podcasts changing formats and a look at a set of new hosts for another one. Also there is some talk and excitement over GW's new General's Handbook. That being said, lets get on with it!.
Overlords Episode 186 –  I was pleasantly  surprised at this episode. This episode was the first with the new hosts and they didn't waste any time diving the show back into 40k. There was good discussion about 40K in general and even though they also discussed World War II games I don't feel that it took much away from the 40K talk.  So far so good and I look forward to future episodes.
Masters of the Forge Episode 56 –  In this episode the group discusses the second founding chapters of the Space Marines. They talk about each Space Marine Legion and the subsequent chapters that were formed after the Horus Heresy. They then discuss one  of the second founding chapters in particular, the Nova Marines.  They discuss the fluff of the Nova Marines over the years and use this sa a set up in preparation for the next episode which will give you tabletop rules for them. If you're interested in a different space marine chapter then the ones you normally see, then you may want to look into this episode and to the next one.
Battlehosts Episode 20  –  This episode is part two of their coverage of the Tau. In this one they go over the actual tell units how he work options available and how they play in the tabletop. They also go over match ups with all the armies, tips for playing the army, and also give out sample lists for you to try. If you are interested in the town and are just waiting on the play or looking for some extra tips and hints then you should get his podcast a listen.
Combat Phase Episode 151 – Author Robbie MacNiven joins the podcast to discuss he Legacy of Russ series from Black library. They discuss the overall story arch in the series up to book 5 and general conversation about writing for Black Library. If you are interested in the author or just interested on whats happening over in the Fenris System, just this a listen.
Life After the Cover Save Episode 180 –  In this episode the guys continue their coverage of their trip to UK. This time they have Adan from the Independent Characters podcast on as a guest host. They discuss their trip to the UK but more importantly they discuss their trip to Warlord Games. They talk about the casting process the models that they make and some of the games that they make. It's a nice listen if you  are interested in Warlord Games or  the guys further adventures in the UK.
Preferred Enemies Episode 129 –  In this episode the guys go over the start collecting box for Dark Eldar. As with all the other start collecting series, they discuss the fluff reasons you may want to start the army and they discuss the army rules reason to want to start the army. If, for some reason, you're interested in starting a Dark Eldar army, give this podcast a listen.
Veterans of the Long War Episode 34 –  In this episode there seems to be a format change as all the hosts seem to have become disenfranchised with 40K. A sense of bitterness permeates the episode that I'm surprised at, with, at one point, one of the hosts telling another one "just get to the point " when they were discussing the Age of Sigmar campaign. Even though they are playing other games, and thus will change the focus of the podcast to reflect that, I'm hoping this time away from 40K will lessen the bitterness that came across in this episode.
Also Out This Week.
Adeptus Terra Episode 22 (40K)
Age of Darkness Episode 32 (30K)
Bad Dice Episode 139 (AoS)
Bad Dice Episode 140 (AoS)
Chain Attack Season 2 Episode 2 (Warmachine)
Combosmite Episode 119 (Warmachine)
Crippled System Episode 165 (Warmachine)
Eye of Horus Episode 66 (30K)
Firebase Delta Episode 5 (Firestorm Armada)
Fully Boosted Episode 11 (Warmachine)
Heelanhammer Episode 154b (AoS)
Heroic Intervention Episode 20 (40K)
Imperial Truth Episode 47 (30K)
Kessel Run Episode 42 (X-Wing)
Long War Episode 58 (40K)
Mayacast Episode 89 (Infinity)
Mob Rule Episode 26 (40K)
MOM Episode 270 (Warmachine)
Mynock Squadron Episode 23 (X-Wing)
P+S Cast Episode 62 (Warmachine)
Roll 2 Wound Episode 2+3 (40K)
Rolling the Dice Episode 19 (General)
Roll to Seize Episode 24 (40K)
Wolfkin Episode 61 (40K)
As always, check out our blog, at TFG Radio, and give the podcast a listen. We talk 40K mainly but delve into other game systems. This week we talk about earthquake weather, possibly the last Warmachine Mark 2 tournament, GW's present and possible future, and a contest!
Have a different opinion? Post in the comments below or email me at [email protected] and let me know!