Need a scary beast for your adventurers to battle? This book has a TON!
Kobold Press is a publishing house out of Washington state that's run by a group of folks that have a deep affection for RPGs, and have an appreciation for game design. It shows in every product they make. Their titles include a trove of D&D, Midgard, and Pathfinder expansions; as well maps, game master guides, and game design texts.
They recently ran a successful Kickstarter for Tome of Beasts for 5th Edition – and now it's available on their web store.
The tome comes in several formats – I'm reviewing the hardbound edition. The first thing you notice with this book is the beautiful, full color cover art by Marcel Mercado. The second is the physical quality – it's a heavy, hard bound book; and the pages are made premium weight, high quality paper. This volume will hold up to years of regular use.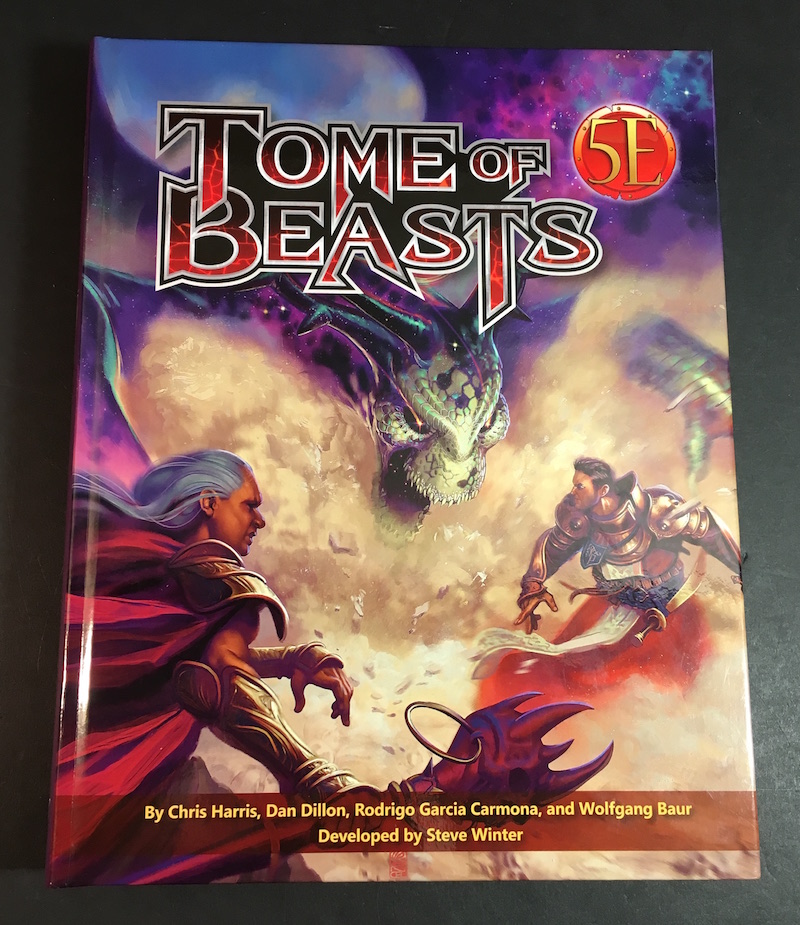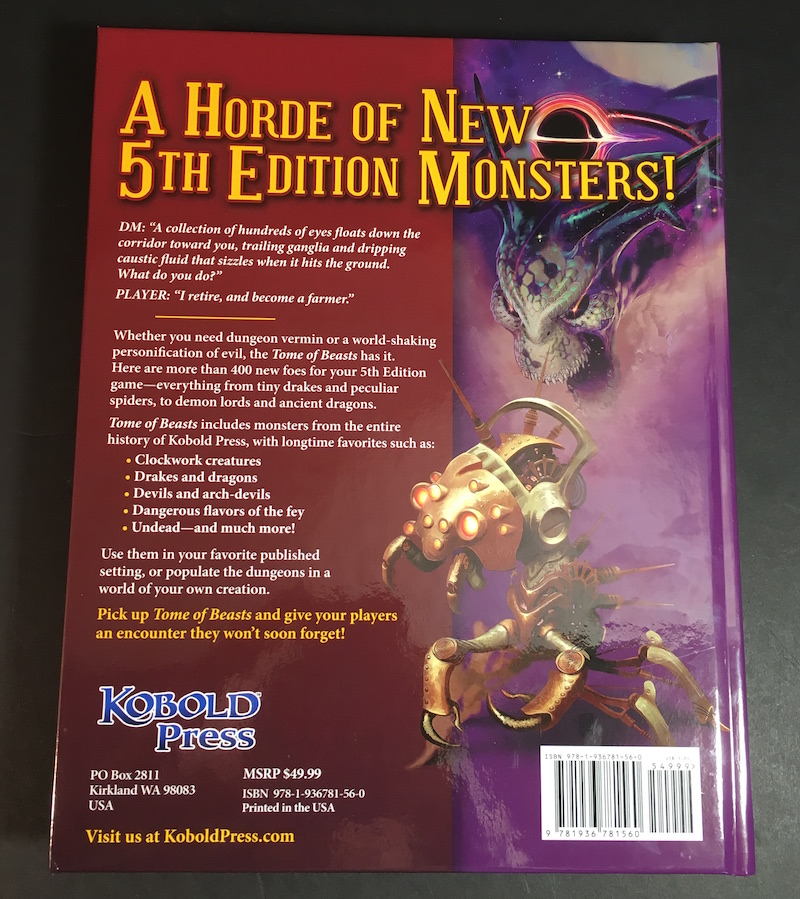 And it will get plenty of use because it provides options that you'll be able to use for a multitude of campaigns. There are over 400 monsters in Tome of Beasts – including multiple types of dragons, demon lords, elves, undead, clockwork creatures, and giants. Taking a glance at the table of contents will tell you that this volume is an invaluable reference for any GM.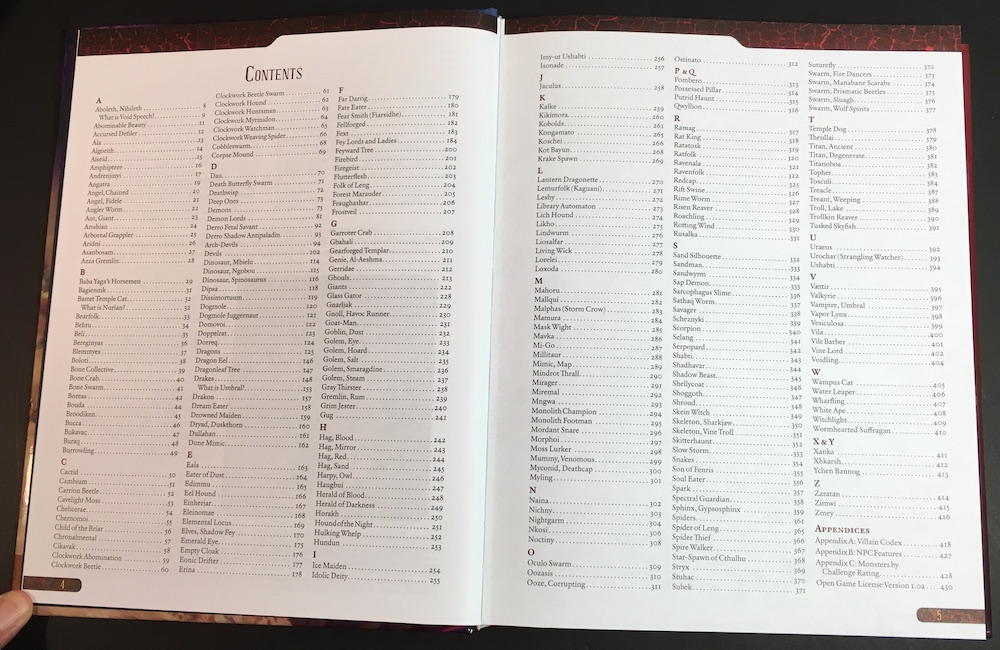 Each monster and beast has a section with a detailed background, traits, actions, effects, and stats. The authors also have included text that will help you get deeper into character – how monsters fit into the broader world, the languages they use, and possible stat variations. Everything you need to add a vicious fight with a harpy or an off putting encounter with a rusalka to your campaign is there.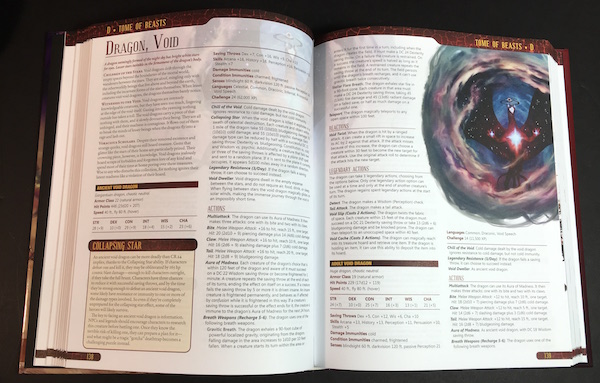 An excerpt from the Void Dragon's background:
Void dragons drift through the empty spaces beyond the bounderies of the mortal world, wanderers between the stars. They are aloof, mingling only with the otherworldly beings that live above and beyond the earth, including the incarnate forms of the stars themselves. When lesser creatures visit the void dragons, the dragons barely notice.

Void dragons are intensely knowledgable creatures, but they have seen too much, lingering at the edge of the void itself. … They are all unhinged, and their madness is contagious. It flows out of them to break the minds of lesser beings…
The monsters run from elegant to grotesque – as seen with this pair of giants – and beyond.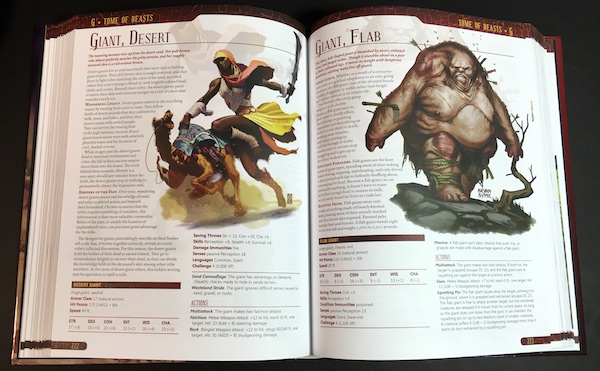 The quality of the cover art continues through the book. Every entry has a fantastic full color image created by a host of talented artists.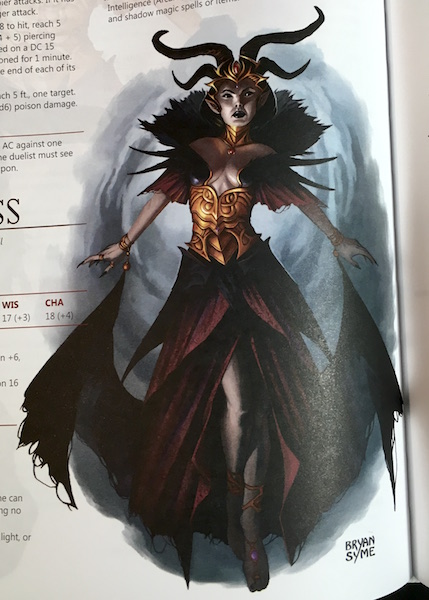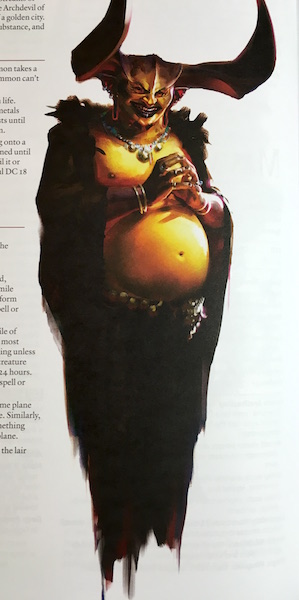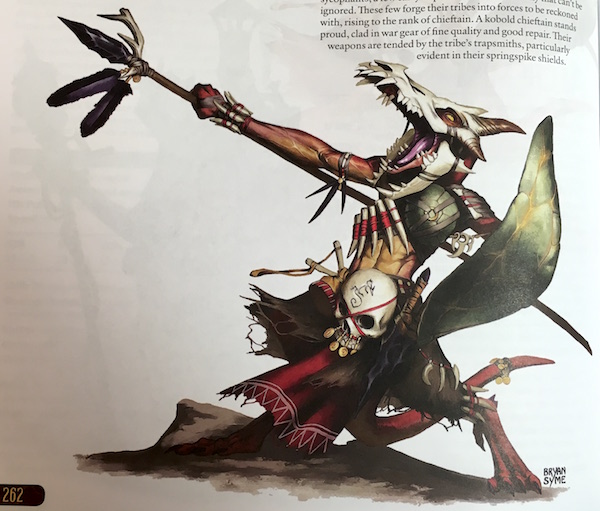 This book is a must for GMs leading 5e games. It will allow you to easily get creative when building campaigns, and give your players the epic battles and rich stories they crave. It's a solid purchase – from its binding to the endless possibilities on its pages.
Are you playing 5e? Tell us how you would use this book in your campaign in the comments.