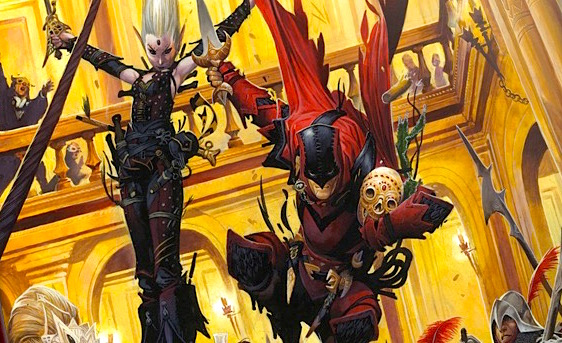 Pathfinder's Ultimate Intrigue supplement is out and the battle of wits has begun!
Are you looking for more to your Pathfinder games than your typical Hack-n-Slash adventures or dungeon delve? Perhaps you're looking to spice things up with witty banter and literal verbal duels. Maybe you're wanting to have Games of Thrones levels of political intrigue or court room drama-type scenarios. Or maybe you want to play the dual personalities of Bruce Wayne and Batman. Well then you're going to want to check this out:
The Ultimate Intrigue supplement is one of the strangest and most unique books for Pathfinder I've ever messed around with. It's got your typical new classes, races, gear and spells – all things we've come to expect with Pathfinder supplements, but the new mechanics (which are optional) are rules for role playing on a whole new level. They have rules for verbal duels! If you're a player who wants to talk your way out of situations then you're going to want to read-up on those.
The book also has rules for planning criminal heists Ocean's Eleven style and has rules for nemesis NPCs to vex the party at every turn. The new encounter types, feats and just the sheer amount of stuff in the book to play around with is fantastic. It builds on that classic Pathfinder experience and approaches it at a whole new angle.
If you're wanting to tackle a crime boss in your home city vigilante style you can do that with his book. Or if you want to up the levels of courtly intrigue with the Lords & Ladies of the land you can do that. This book is ripe with story telling tools to really craft new types of adventures. Ultimate Intrigue is in stores now or you can order the digital versions online below – so go check it out!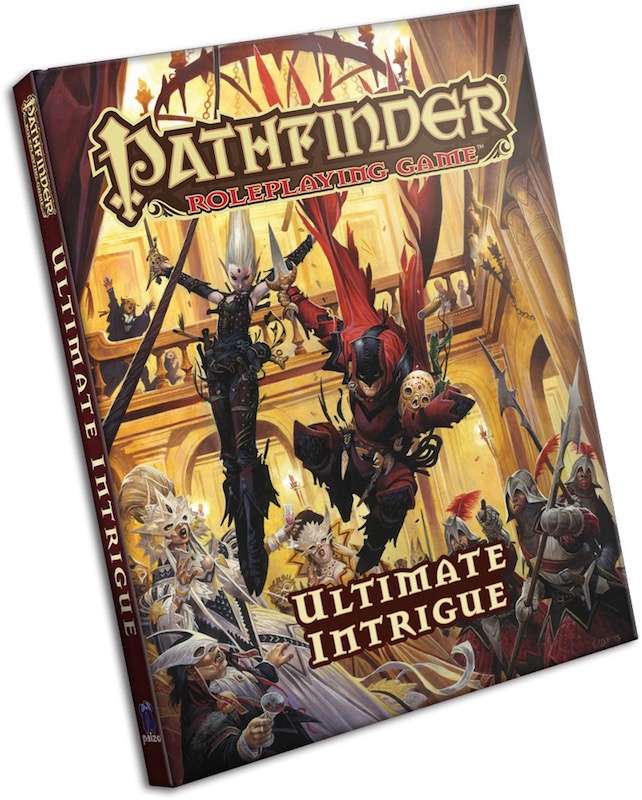 Words Cut Deep

In the right setting, a single scathing word can prove deadlier than a poisoned dagger. Behind the scenes of heroic battles and magical realms lies a seething underbelly of danger and deception. This world of intrigue holds endless possibilities for adventure, as heroes duel with words instead of steel, plot daring heists, and engage in battles of wills against relentless nemeses. A high-stakes game of shadows and secrets is yours to master—if you have the wits!

Whether the heroes are taming the blood-soaked back alleys of their favorite metropolis or jockeying for the queen's favor alongside highborn nobles, Pathfinder RPG Ultimate Intrigue is an invaluable companion to the Pathfinder RPG Core Rulebook. This imaginative tabletop game builds upon more than 10 years of system development and an Open Playtest featuring more than 50,000 gamers to create a cutting-edge RPG experience that brings the all-time best-selling set of fantasy rules into a new era.

Pathfinder RPG Ultimate Intrigue includes:
The vigilante, a new character class that lives two lives—that of an unassuming member of the community, and a cloaked crusader with his own agenda!
New archetypes for alchemists, bards, druids, hunters, inquisitors, investigators, mesmerists, rangers, rogues, slayers, spiritualists, and more!
New feats and magic items for characters of all sorts, granting mastery of street-smart combat, impenetrable disguises, and misdirection.
Dozens of spells to manipulate tense social settings, whether to reveal adversaries' secrets or hide the truth.
A complete system of influence, providing new goals and rewards to challenge players and link their fortunes to nonplayer characters and organizations.
Systems and advice to help Game Masters introduce a variety of new encounters into their games­—daring heists, extended pursuits, and tense searches for buried secrets.
Rules for social combat and verbal duels, allowing characters to use words as weapons to sway hearts and humiliate foes.
… and much, much more!
I'm Batman? Yeah…I like the sound of that…