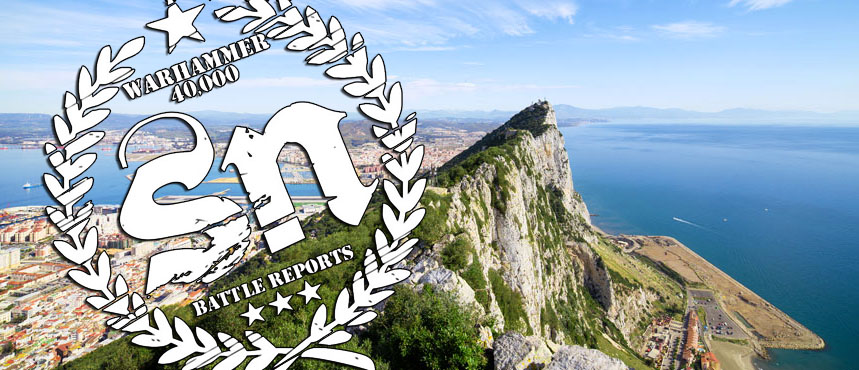 SN Battle Reports brings you another AMAZING Battle Report…… The Dark Eldar are back at the Studio!
The Xiong'hrru had called it the Tome of Truth. Their pontifex had gouged out its eyes with its own claws after reading the "revelations" within. Within three months the Xiong'hrru, who had contested the dominance of the eastern fringe with the Eldar in the days when humanities ancestors was still learning to walk upright, were no more. They had willingly flung themselves into sacrifical pits by the trillions until their entire species was nothing but a cursed memory. Such is the price of "truth". The Shivkar Empire had wilfully traded their eyes for the secrets the book promised to reveal to them and them alone. The devolved Shivkar were liberated from their trogloditic existence by the ever-expanding armies of the nascent Imperium of Man. Whatever secrets they learned lay long lost in the filth encrusted shard-ruins of their once grand glass cities. Their horror-stricken eyes still blink from the pages of that accursed tome. The Grom had thought to glean the secret of immortality from its many-eyed pages. The Grom now served as immortal pleasure slaves in Slaanesh's pavilion of one thousand and one cursed delights. Ever-living. Forever in unknowable agony. The Eldar had called it "The Book of Lies" and had stayed well clear of its honeyed whispers of forbidden knowledge, of futures written and pasts yet to be known. The Imperium's traumatic experience with the book are long deleted but such is the trauma it caused that rumours of the catastrophe continue to be trafficked by the seditious and the heretical. The Inquisition crushes these rumours with extreme prejudice. The book survives. It can never be destroyed since it is a sliver of a far greater being older than the main sequence stars that burn furiously at the galaxies churning heart. It seeks out new prey. It calls to them. Even now.
Can you hear it?
Deployment: Hammer and Anvil
Points: 1850pts
Mission: The Relic
(Special Rules) Relic moves(Scatters) 2d6 every turn unless it's being held.
Chapter Master: artificer armour; storm shield; Space Marine bike
Warlord Trait: Tenacity – Warlord has FNP
Librarian: Psyker (Mastery Level 2)
Prescience, Forewarning, Foreboding
4 Scouts: + 1 Scout Sergeant
4 Space Marine Bikers: 2× grav-gun; + 1 Biker Sergeant (combi-grav)
5 Tactical Marines: + 1 Space Marine Sergeant, Combi Grav
• Razorback: twin-linked lascannon
5 Tactical Marines: + 1 Space Marine Sergeant, Combi Plasma
• Razorback: twin-linked lascannon
Stormtalon Gunship: Typhoon missile launcher
Drop Pod
2 Devastator Centurions: 2× grav-cannon and grav-amp; + 1 Centurion Sergeant (grav-cannon and grav-amp; missile launcher; omniscope)
5 Devastator Marines: 2× missile launcher (flakk missiles); 2× lascannon; + 1 Space Marine Sergeant
Knight Paladin
Urien Rakarth
Warlord Trait: Master of Pain
8 Wyches: Hekatrix
• Raider: dark lance; night shields…
8 Wyches: Hekatrix
• Raider: dark lance; night shields
Razorwing Jetfighter: two dark lances; splinter cannon; night shields
Razorwing Jetfighter: two dark lances; splinter cannon; night shields
Corpsethief Claw
• Talos: ichor injector; twin-linked haywire blaster
• Talos: ichor injector; twin-linked haywire blaster
• Talos: ichor injector; twin-linked haywire blaster
• Talos: ichor injector; twin-linked haywire blaster
• Talos: ichor injector; twin-linked haywire blaster
Scalpel Squadron
• 5 Wracks: ossefactor; Acothyst (hexrifle)
• Venom: splinter cannon
• Venom: splinter cannon
• 5 Wracks: ossefactor; Acothyst (hexrifle)
Please feel free to like, share and comment! ENJOY