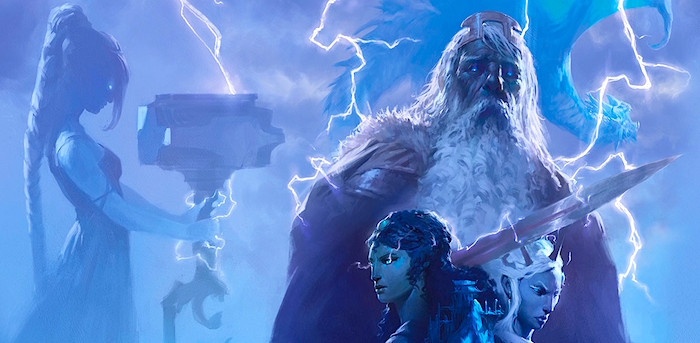 The Tabletop Spotlight is on Storm King's Thunder – The new D&D Adventure!
Hello BoLS Readers and D&D fans – I am super excited about this new book from Wizards of the Coast. Storm King's Thunder is here:
Where to start? Let me set the stage for this one: It's the Forgotten Realms (home of the Sword Coast, Baldur's Gate, Drizzit, etc.) and the Storm King Hekaton himself has basically just declared an ALL-Giant Free-for-all by "abolishing" the old pecking order. Each Race of Giants is looking to climb the ranks and establish dominance, but each has their own means to do so. This new adventure provides everything you'll need (story wise) to get a game going for players ranging from level 1-11 or higher.
But that's not all. This book is one of the most complete world-building books for 5th edition out there. It has tons of maps, locations, NPCs and plenty of plot hooks to spice up your other games. Couple that with the new Rune & Magic items and words and you're ready to start role playing! If you're an aspiring DM and you're not sure where to go beyond the Dungeon Master's Guide, grab this book!
As a player, this book has a wealth of knowledge for you to pick through. If you like playing smart characters that have an encyclopedic knowledge of the world of Faerun, I don't see how you can do that with out this book. Want to play a not so smart character? Well this book has plenty of info on towns you may have visited/raided in your travels – it's really got something for everyone!
Aside from the wealth of world building info the Storm King's Thunder is an awesome adventure. I don't want to spoil it for people who might play it later so I'll just say it's worth it. Plus, if you're already playing in or with the Tyranny of Dragons and/or The Rage of Demons this book includes some great tips (read: plot hooks) to get your party to check this adventure out too. It's a fantastic way to build out your own world or slide deeper in to the world of Faerun.
So what are you waiting for? Go grab the Storm King's Thunder, you favorite polyhedral dice set, & your friends and start playing! Storm King's Thunder is in stores now!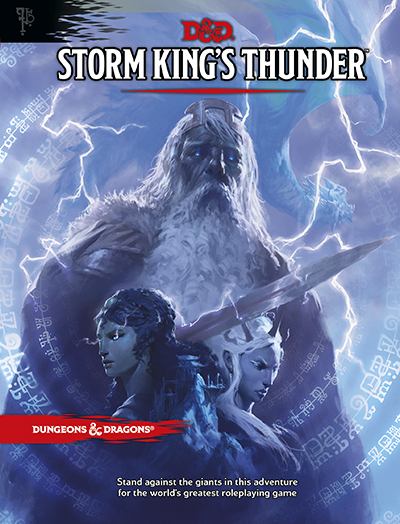 This 256-page adventure for characters level 1-11+ provides everything a Dungeon Master needs to create an exciting and memorable play experience for the Storm King's Thunder story, including rune magic items, a new treasure option for characters.

Giants have emerged from their strongholds to threaten civilization as never before. Hill giants are stealing all the grain and livestock they can while stone giants have been scouring settlements that have been around forever. Fire giants are press-ganging the smallfolk into the desert, while frost giant longships have been pillaging along the Sword Coast. Even the elusive cloud giants have been witnessed, their wondrous floating cities appearing above Waterdeep and Baldur's Gate. Where is the storm giant King Hekaton, who is tasked with keeping order among the giants?

The humans, dwarves, elves, and other small folk of the Sword Coast will be crushed underfoot from the onslaught of these giant foes. The only chance at survival is for the small folk to work together to investigate this invasion and harness the power of rune magic, the giants' weapon against their ancient enemy the dragons. The only way the people of Faerun can restore order is to use the giants' own power against them.
Roll Initiative – It's Party time!