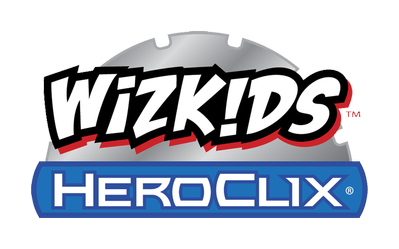 This box turtle is ready to kick some ninja butt!
Slash started his life as Spike – an unassuming box turtle that was flushed into the sewers. Raphael took a shine to him and even carried him around on his shoulder to battle, but being exposed to Raph's attitude toward the other turtles was ultimately not great for the team.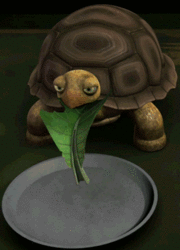 Spike was mutated when one of Donatello's experiments went wrong. He re-named himself Slash and joined the Kraang. Eventually he made his way back into allignment with the turtles, but their relationship can be a bit rocky. Because of this you can run him on multiple teams.
At 100 points and 7 clicks of life, Slash is a heavy hitter that can be used effectively on any team. However, if you want to run him on a themed team, he fits in on Mutanimals, TMNT Ally, TMNT Villain, and Animalthemed teams. He's a tank, and will definitely be a heavy focus for your opponent if you've got him on your squad!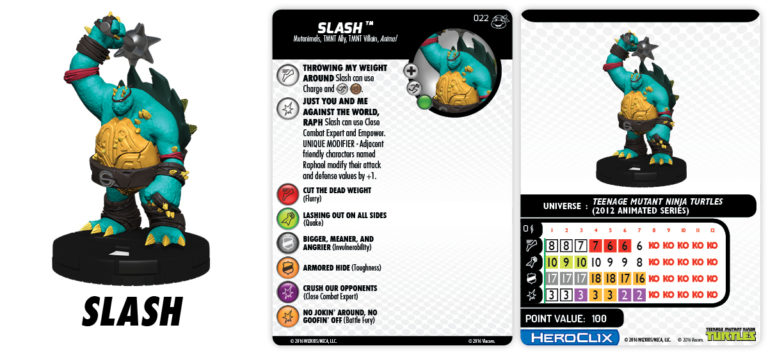 Slash is a heavy hitter, and as such isn't slowed down by hindering terrain, possessing Improved Movement – Ignores Hindering Terrain. He also has a special power on his first three clicks of life on movement called Throwing My Weight Around, which allows him to use both Charge and Improved Movement – Ignores Blocking Terrain and Destroys Blocking Terrain as the Character Moves Through It! He's an Indomitable freight train of a character, to put it mildly!