The Tabletop Spotlight is back with Plaid Hat Games' Follow-up to Dead of Winter – The Long Night!
Zombies EVERYWHERE! Dead of Winter is back with an awesome stand alone/expansion boxed set. If you liked Dead of Winter then The Long Night is going to take it up to Eleven!
So The Long Night is technically an expansion, but it's also a stand alone game. You don't need to core game to play – you can just grab this game and start playing. Both games are cross compatible however and you can end up with some pretty wonky situations. Personally, I think this game excels at making wonder who to trust. You would think that it would be the players vs zombies but each player can end up with a specific mission/agenda that might be counter to the group. And that's really where this game shines – showing that people are the real monsters…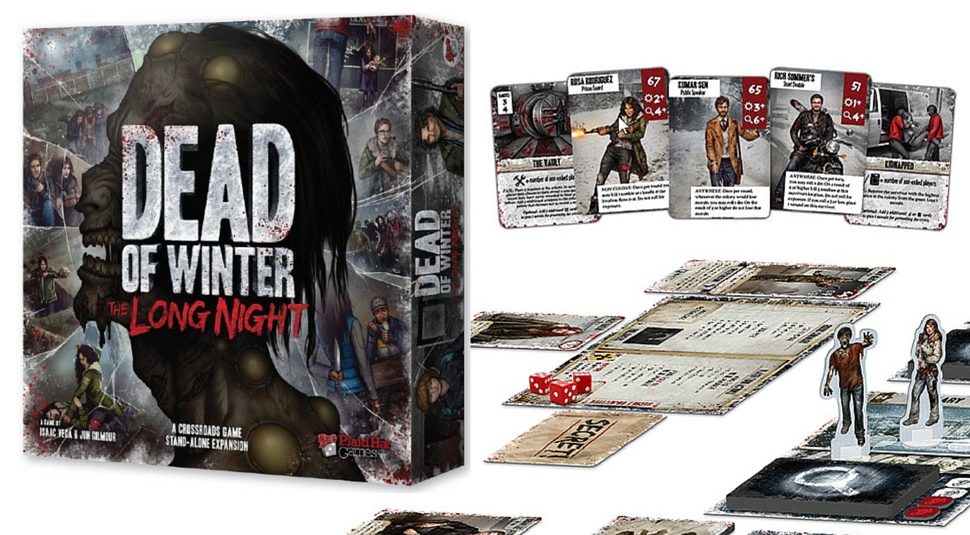 Component wise, Plaid Hat Games repeated the production quality from the first game – that's not a bad thing at all! All the materials are really well done. They should last you for lots and lots of play sessions. It comes with a ton of new standees to use for both the zombies and survivors. It even has my new favorite character – Blue the monkey. Or is he a Chimpanzee…I never can tell. I'll have to look that up when I play this game because Blue is awesome. Anyhow, the board, cards, and tokens are all made from good materials, too.
And speaking of new stuff this game does have more of sci-fi feel as well. The survivors aren't the only ones who have some new toys to play with – the zombies also have some new abilities to cause trouble. There is definitely an Ice Zombie…I won't spoil the rest, you'll have to watch the video to find out more! For now, you can pick this game up in your FLGS or order direct from Plaid Hat. Unfortunately at the time of this writing it's on back-order…But it should be back in stock soon! It's a great game for group game night so go check it out: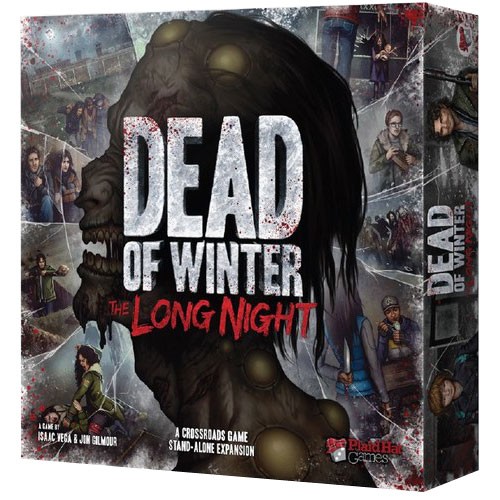 Dead of Winter: The Long Night is the new stand-alone expansion for Dead of Winter: A Crossroads game.

Obtain more of everything that made Dead of Winter an epic struggle for power and survival! Experience a new colony full of new survivors and new gameplay elements, each of which is introduced to players through its own game scenario. Fight off bandits from another colony, build improvements to your colony, and most intriguingly, unravel the mysteries of the new Raxxon Pharmaceutical location. It is full of powerful items, but also full of Raxxon's twisted human experiments that show up in the game as disturbing new enemies.

Dead of Winter: The Long Night can be bought alone and is a fully-realized Dead of Winter experience by itself. You can also combine everything – characters, items, objectives, crossroad cards, etc – between The Long Night and the original Dead of Winter.
I totally want to combine this with the original…Dead of Winter MEGA GAME!