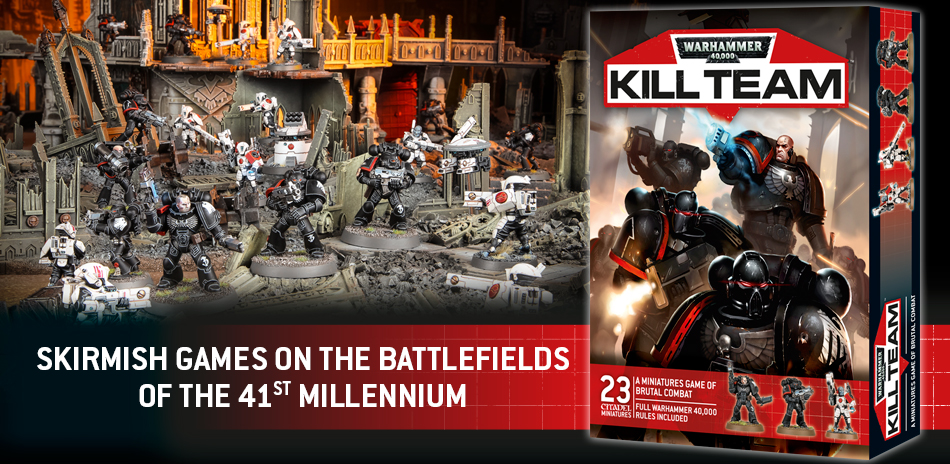 The Tabletop Spotlight is on Kill Team – 40K's return to Skirmish gaming is back with a vengeance!
Games Workshop has been doing an awesome job at launching products aimed at getting new players lately. Kill Team is no exception – it also happens to be a great "new" way to play Warhammer in a Skirmish setting:
I say "new" because Kill Team has been around before. The concept of Kill Team has been implemented many different ways in previous editions so the idea of Skirmish Scale 4ok isn't new. But what is new about this version of Kill Team is all the great new rules for specialists.
Rules-wise, Kill Team games are smaller scale 200 point battles fought (typically) on a 4×4 board. They can be 1v1 or they can have multiple players (GW mentions up to 6). They have quite a few restrictions on "list building" like no 2+ armor saves or models can't have more than 3 wounds – things to keep the games quick and brutal. This is also a game where you have to leave your hard-hitting HQ choices at home!

Each model functions like it's own unit as well. That's pretty huge when you start to think about things like targeting or Psychic Power effects going off. It's a pretty fun ruleset and because the game sizes are only 200 points you can get in a bunch of quick games in an evening.
As a boxed product Kill Team is a great deal. Here's a quick price breakdown:
Kill Team Rules
Mini Rule Book – $20-$30 on eBay
Even if you take out the rulebook "value" and the Kill Team rules out it's still $100 worth of miniatures for only $65. If you're looking to get into the game or if you want to get a friend (or two) into playing 40k this is the perfect box for that! If I were a retailer, I'd immediately start-up a Kill Team league in my store. The entry fee would be that a player had to buy a new "troop" box and use that to construct their Kill Team – or buy this box set. I'd worry about prizes and things later because getting people playing Kill Team will get them excited about playing!
Overall, Kill Team is a great value and a really great way to play 40k. If you're tired of bigger games and just need a good palate cleanser then try a Game or two of Kill Team – you might just surprise yourself!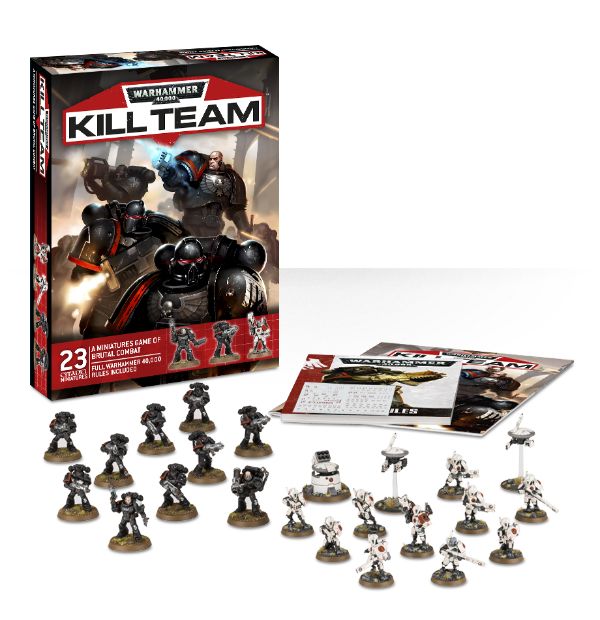 Brutal close-quarters combat in the 41st Millennium

The Game
No strength in numbers. No margin for error. Pure, fast-paced combat where tactics matter more than brute strength, and every action matters. A single shot can spell the difference between life and death, and a single decision can decide whether a battle ends in glorious victory or dismal defeat: this is Warhammer 40,000: Kill Team.

A whole new way to play games with your Warhammer 40,000 miniatures, this standalone two-player game puts you in charge of small bands of warriors, and gives you one objective – win, or die.

The Contents
Inside Warhammer 40,000: Kill Team, you'll find:
Miniatures
– a Space Marines Tactical Squad – this is everything needed to build 10 Space Marines with a huge amount of customisation: boltguns, a grav-gun, a melta gun, a flamer and a missile launcher, with power fist, chainsword, plasma pistol and bolt pistol options for a Sergeant.
– a Tau Empire Strike Team – 10 Tau Empire Fire Warriors, with two drones, a DS8 tactical support turret, a selection of different shoulder pads and back packs and a choice of weapons – pulse pistols, pulse carbines, EMP and photon grenades!
Gaming Content
– a 32-page softback Kill Team book, featuring full rules for playing skirmish missions (six Kill Team missions are included), with an extensive section on additional ideas for your games – making up and linking your own missions as a narrative, playing games with more than two players, introducing vehicles and mobile objectives, co-operating against hordes of enemies; there's almost limitless scope.
– a small-format softback copy of Warhammer 40,000: The Rules, providing the basic groundwork that Kill Team expands upon.
I can bring my Tyranid Warriors to Kill Team games now!