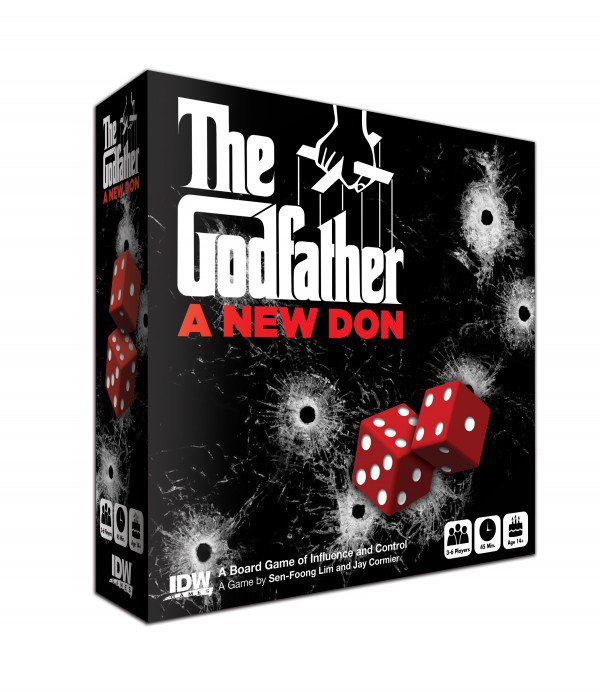 The Tabletop Spotlight is on The Godfather: A New Don – do you have what it takes to run the Family?
The Godfather is an all-time classic movie. If you haven't seen it yet I don't know what to tell you besides, "you should probably watch it." When Evan from Dragon's Lair Comics & Fantasy pulled this new game out of his magic bag I knew I was in for a treat:
The Game play is at it's core a unique dice-placement mechanic. It's a cool blend of worker placement, dice management, skill, and luck. It's all set against the backdrop of New York City and the influence of the mafia – with obvious ties to the Godfather series. One of the things I really appreciated about this game is that even though there is a lot of luck involved, there are lots of ways to get re-rolls and even the "meta" of who's going to become the next Don to deal with. That helps you feel like you're participating and not just at the whims of Lady Luck to decide your fate.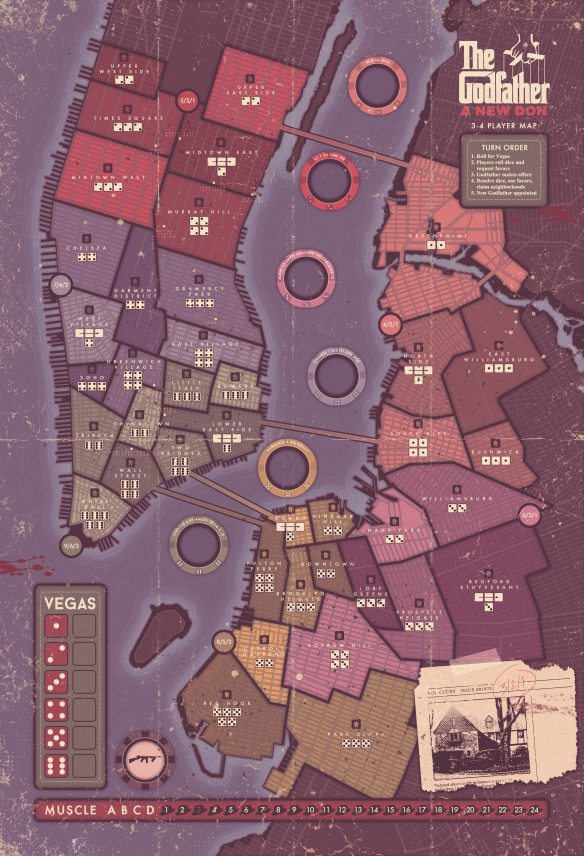 Component wise, this game has some quality materials. The Game board is massive and looks fantastic. It has that kind of aged look but that just makes you want to take it all in even more. Each player has their own set of dice and workers to manage. Plus you get a nifty screen to keep it all behind. There are also some big, red "Casino Dice" included that are used for another part of the game. It's a cool blend of themes between the New York "vibe" and the Vegas/Gambling feel. It makes me want to pick up some dice and start playing!
Overall, between the cool board and the unique mechanics I think this game has got some fun potential. If you've got a gaming group of 3-6 players then keep an eye out for this one. If you're looking for a good party game with a lot of social interactions this game also has that aspect because of "The Don" mechanic as well. This isn't just a game where players can tune out and roll dice and place workers – you have to "play" with others, too. It's in stores now, so go check it out!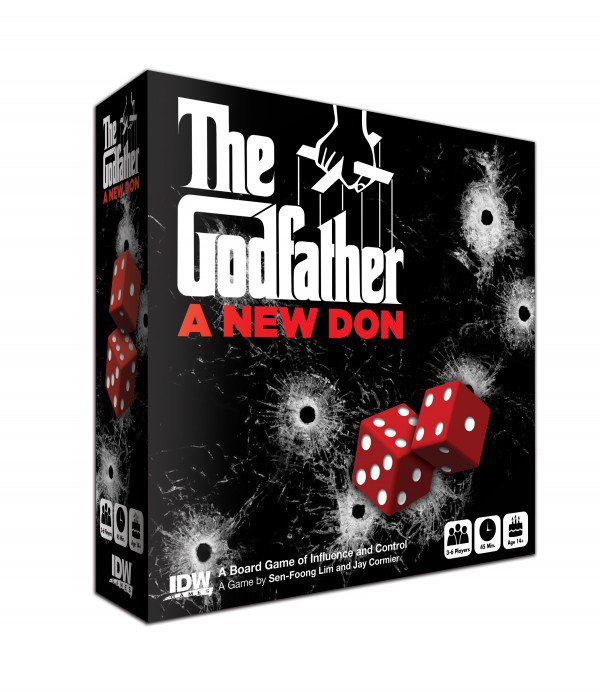 via The Godfather: A New Don press release
The Godfather: A New Don is a game for 3-6 players that sees each player taking control of one of the major mafia families, each trying to assert their power in the streets of 1950's New York in hopes of taking the reigns as the new kingpin of the criminal world.

The Godfather: A New Don is an area control board game with unique dice mechanics. Each round players will roll their individual pools of dice and decide what area of the city they'll want to focus on trying to capture. Meanwhile, the current Don will be able to make players an offer they can't refuse and steal dice from their limited supply. Staying on top proves difficult as every stolen die moves other players up the ladder toward taking over as Don, so the tension rises with each shake of the dice. With multiple ways to use each dice you roll, players will never find themselves at the mercy of the die, instead they'll use what they roll to make their opponents beg for mercy.
Whew, I didn't have to refuse an offer once!
* Editor's Note – Normally we'd link back to the Publisher's page for the game but as of publishing time IDW does not currently have this game on their website.