Tabletop Crowdfunding Round-Up: OCT 4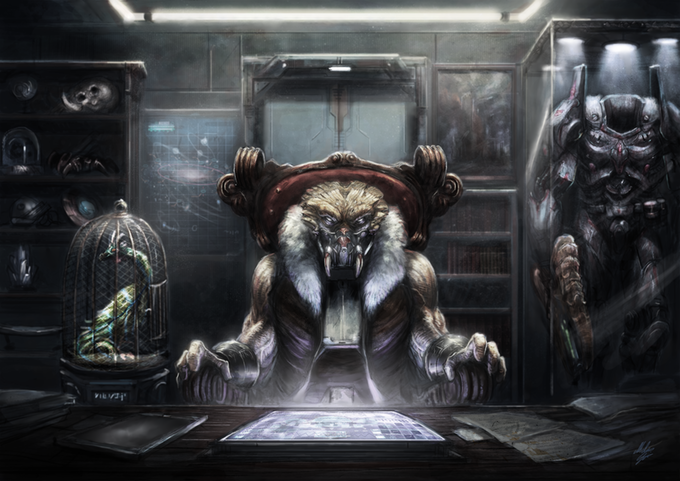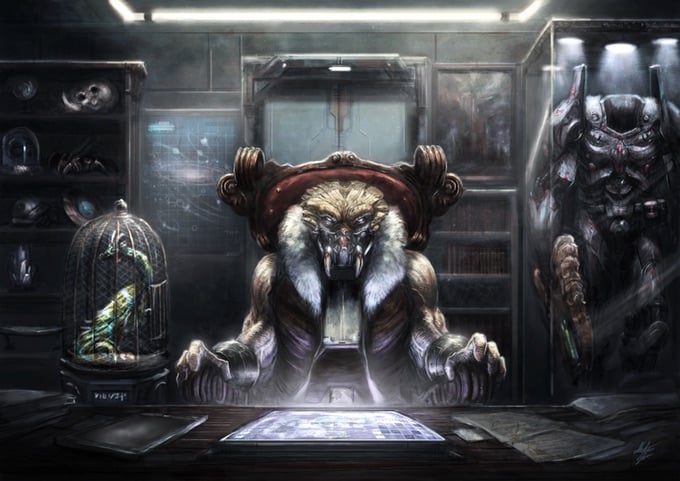 Dark lords, demons, and dinosaurs- Come check out this week's Kickstarter highlights!
Before I get to some of the smaller Kickstarters that you guys and gals may not have heard of yet, I'd like to remind everyone that Mantic's Star Saga miniatures board game campaign launched late last week. As with most Mantic Kickstarters, the game was quickly funded and is currently blazing through stretch goals. You can get the entire game and all unlocked stretch goals for $100.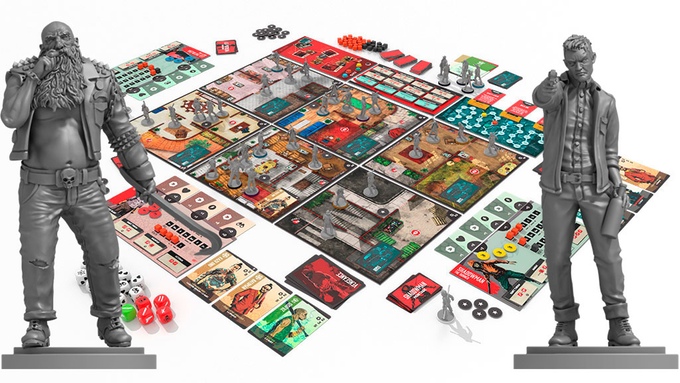 Star Saga isn't the only miniatures board game looking for your attention on Kickstarter right now. Vengeance allows you and your friends recreate your favorite gory revenge flicks in the form of a mission-driven board game. Players pick their hero of choice and band together to dish out ruthless vigilante justice upon an unsuspecting criminal underworld. Between battles everyone will have the chance to heal and upgrade their heroes to prepare them for the next bloody rampage. The base game is $90, or $120 if you want the expansion pack that adds support for a 5th player.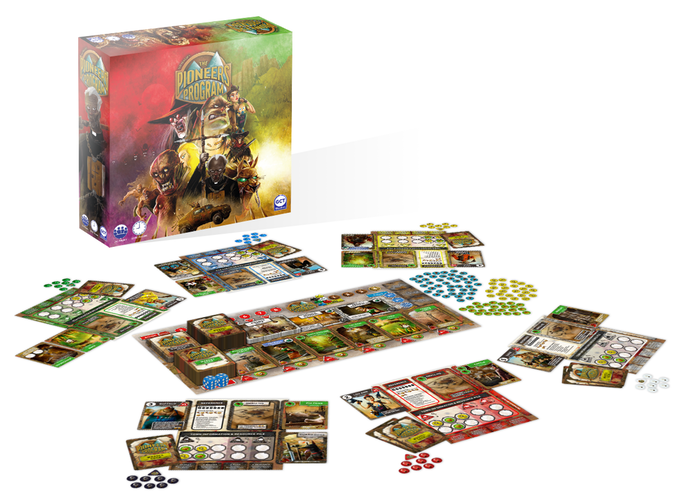 Some of you may know of GCT Studios because of the skirmish game Bushido, but now the company is looking to fund their post apocalyptic board game The Pioneers Program. Players take on the role of survivors that have been chosen by the Arc program to rebuild humanity by establishing towns in the barren wastes left behind by the old world. Each turn, players will have the chance to scavenge for resources, research new technologies, recruit more survivors, and expand their budding town. Rebuilding won't be easy however, as you'll need to contend with the mutated Viralz and maybe even a fellow settlement desperate for resources. A copy of The Pioneers Program is pretty cheap, and will only cost you £20/$26.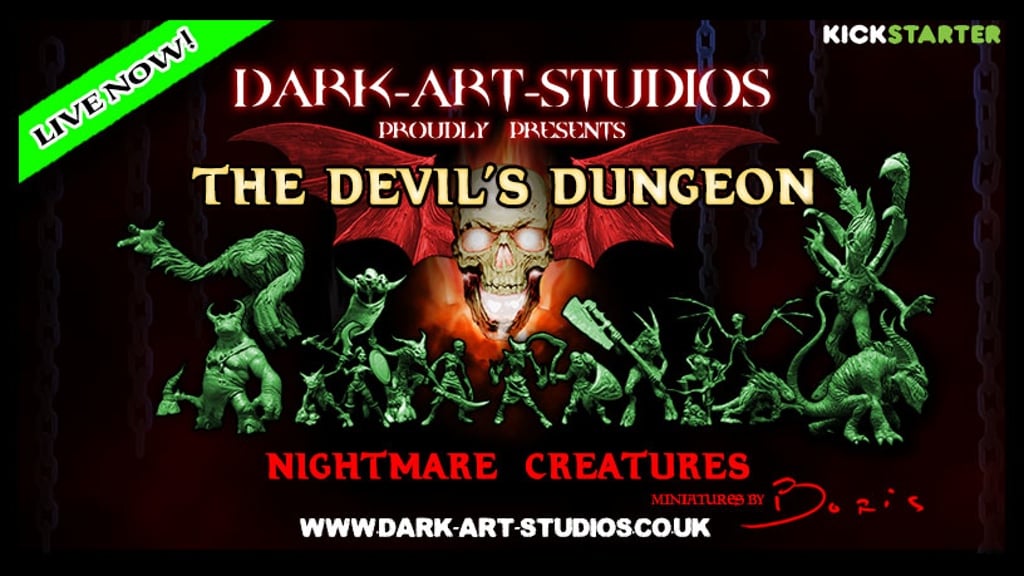 Dark Art Studios have made their Kickstarter debut with a range of new hellish beasts and demonic scenery. The campaign launched with around a dozen new miniatures of all shapes and sizes, with more being added through stretch goals. All miniatures are 28mm and come in either metal or resin, depending on the model in question. A single human-sized demon will cost you £6/$8, with the larger monsters coming in at £15/$19. Notable bundle deals include the £100/$130 Devil's Dungeon Collector pledge, which includes the original 11 miniatures, your choice of 4 add-ons or unlocked stretch goals, and an art card signed by sculptor Boris Woloszyn.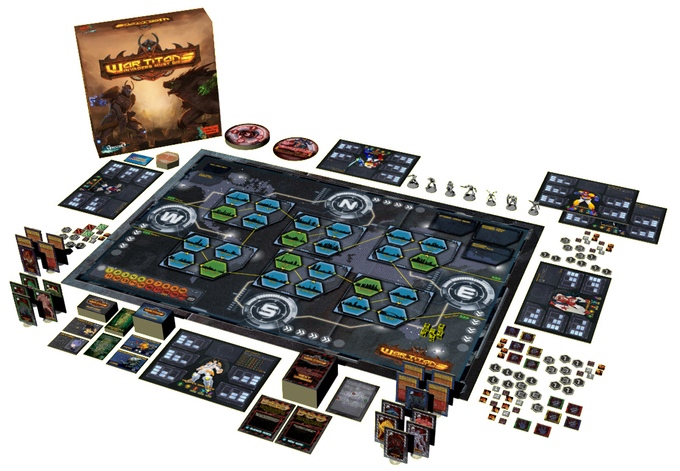 In War Titans, up to 4 players climb into the cockpit of giant mechs in order to defend the Earth from invading monsters and aliens. Players will travel around the world on their quest to close interdimensional rifts, all while trying to save the remaining major cities of Earth from destruction. Fans of Japanese pop culture will likely get a kick out of War Titans' mecha, monster, and pilot designs as they play the inevitable mini-game, "spot the references." The base game is €70/$79, with a deluxe version available for €120/$135 that comes loaded with Kickstarter exclusive extras.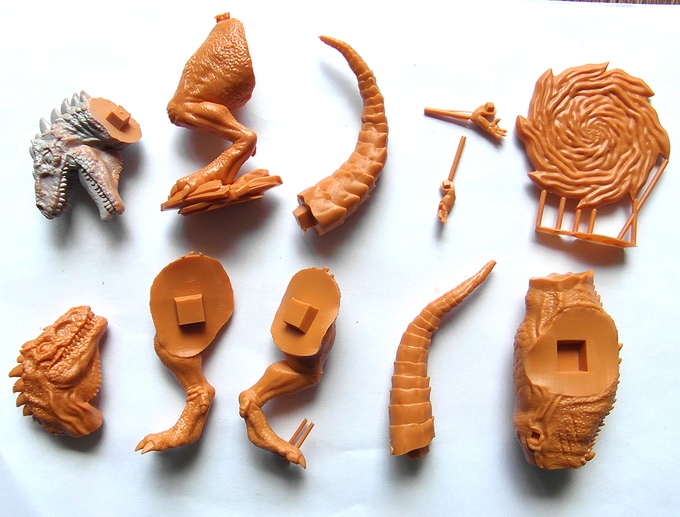 FossilPunk Foundry has launched the Kickstarter campaign for their new 54mm miniatures game, Sauriana. This skirmish game focuses on extremely small model counts and is set in an alternate 19th century full of pulp adventure, mad science, and expeditions to exotic locales. Dinosaurs and other prehistoric creatures are a central part of the game's setting, and this is exemplified in the Laelaps, one of FossilPunk's first miniatures. Sauriana's intro box contains everything you need to start playing, including 2 54mm resin miniatures, a softcover rulebook, and hit allocation dice. For $75 you can get the starter box, the Kickstarter exclusive Snake Oiler Extraordinaire miniature, and a variety of Sauriana swag and merchandise.
Subscribe to our newsletter!
Get Tabletop, RPG & Pop Culture news delivered directly to your inbox.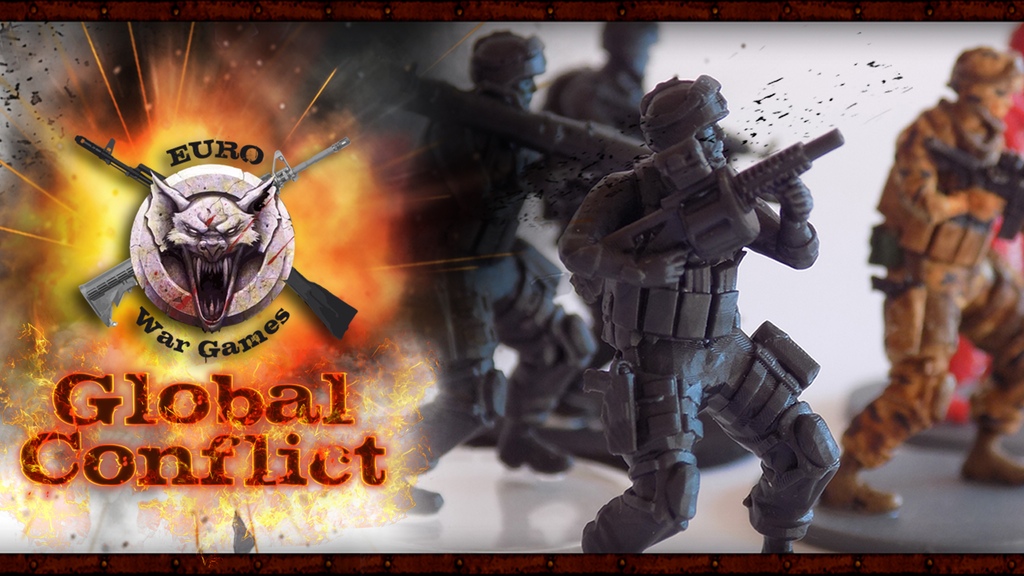 Euro War Games is looking to fund production of their upcoming modern combat miniatures game, Global Conflict. The game will eventually feature 8 factions fighting over Earth's dwindling resources, but this campaign primarily focuses on the North American Confederation and the New Union of Soviet Socialist Republics. Both sides have a variety of infantry and vehicles on offer as part of the campaign, including heavy weapons teams, infantry fighting vehicles, and main battle tanks. Miniatures will be available in your choice of 28 or 32mm, and the game supports models of either scale. There are several bundle packs available depending on how many infantry and vehicles you want, with a €390/$438 bundle for you big spenders that has 92 infantry models, 6 APCs, and 4 MBTs in addition to the game's core rulebook.

Finally we come to Troubles in the North, a Kickstarter campaign to fund the next expansion to ArcWorlde. This new rulebook moves the action to the frigid lands of Njorsvald, and introduces three new factions. The existing factions will all get some love too, with new expansion packs of miniatures and additional nonaligned monstrous creatures from the frozen north. You can grab the new book and the Kickstarter exclusive Explorer model for £20/$26, while a skirmish set of miniatures for one of the various factions costs £25/$33.
Not done spending money yet? How about one of these campaigns:
~Which of these campaigns will you be backing?