Tabletop Crowdfunding Round-Up October 26th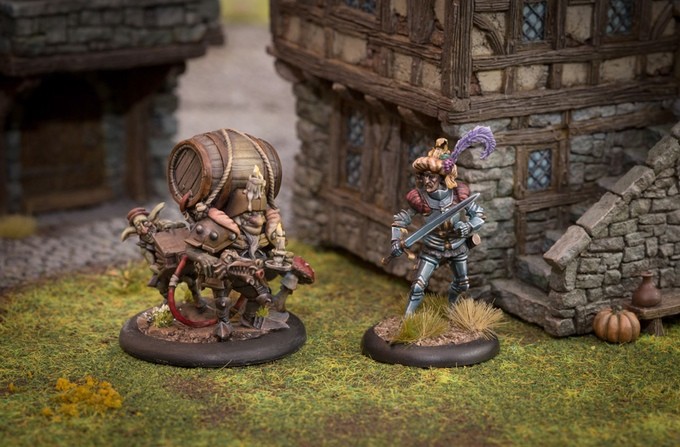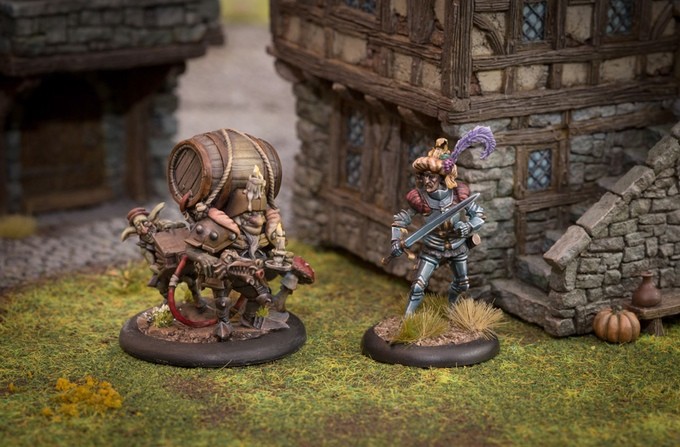 Fairytale skirmishes, thieving gnomes, and eldritch invasions- Come check out this week's tabletop crowdfunding highlights!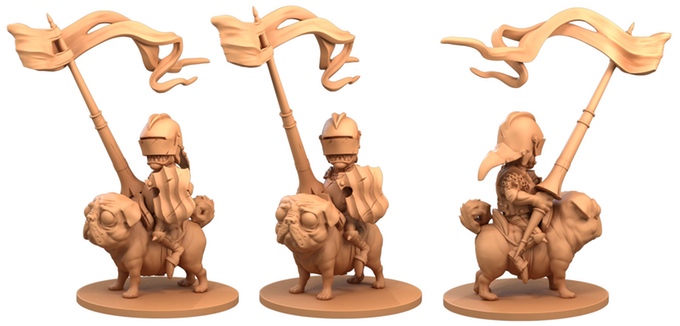 An interesting campaign that launched a little too late for last week's article is Moonstone, an upcoming fairytale fantasy skirmish game by Goblin King Games. Moonstone's whimsical range of 32mm miniatures come in your choice of metal or resin, and you only need around 3-6 of them to play an average sized game. A single starter set costs £18/$22 and contains three miniatures and stat cards. The campaign launched with starters for the humans and goblins, but have since unlocked some mischievous fae. You can grab a handy two player bundle for £58/$71, or get all the wave 1 releases for £88/$107.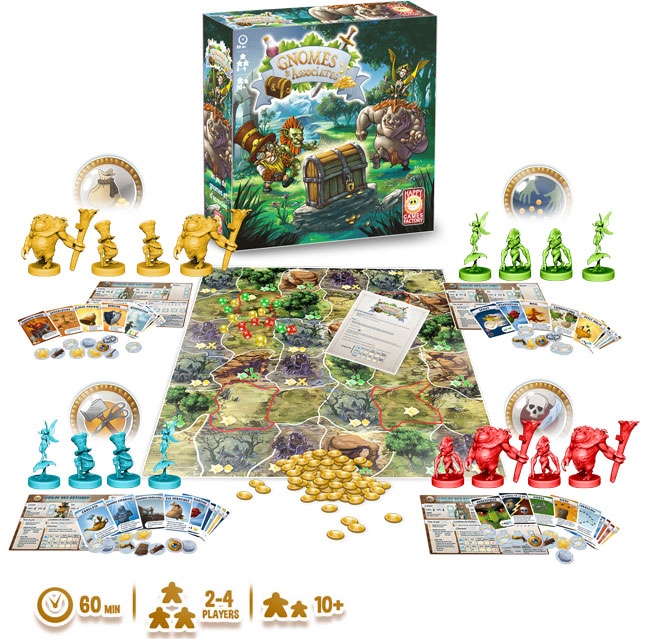 Speaking of goblins and fairies, the creators of the Eden miniatures game are on Kickstarter with a new miniatures-based board game. Gnomes and Associates is a relatively simple and family friendly board game designed as a gateway for younger players and normies into tabletop gaming. Each player controls one of four guilds in the fantasy world of Marveland on a quest for gold and riches. Players will maneuver their miniatures around the board, fighting and stealing from their rivals to become the wealthiest guild in the land. You can get the base game for €49/$54, though you'll need to pledge €120/$132 if you want to get all the stretch goals.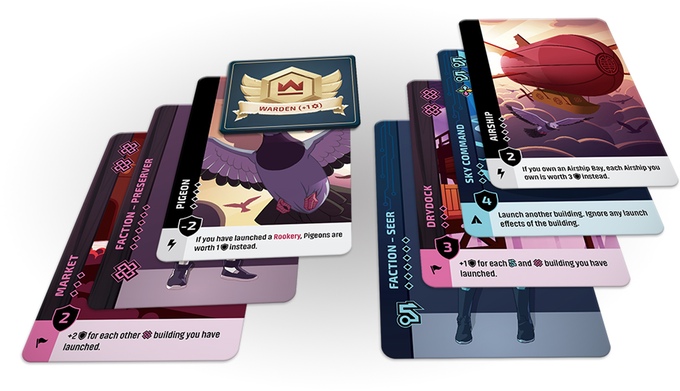 Skyward is a card drafting game where four rival factions have decided to unite after centuries of conflict to build a better tomorrow. Each player represents a luminary from their faction and competes with the others to complete Skyward, a massive floating city that will symbolize this new era of peace and prosperity. In game terms, this means drafting cards that can help you achieve your faction's goals. The twist is that each turn, players elect a Warden to divide the workload. This Warden builds the piles of cards that players will draft from, but is the last to pick cards themselves, forcing Wardens to thread a fine line between manipulating what other players get and ensuring that they can acquire the cards they need. Skyward is pretty inexpensive as far as card games go, and will only set you back $19.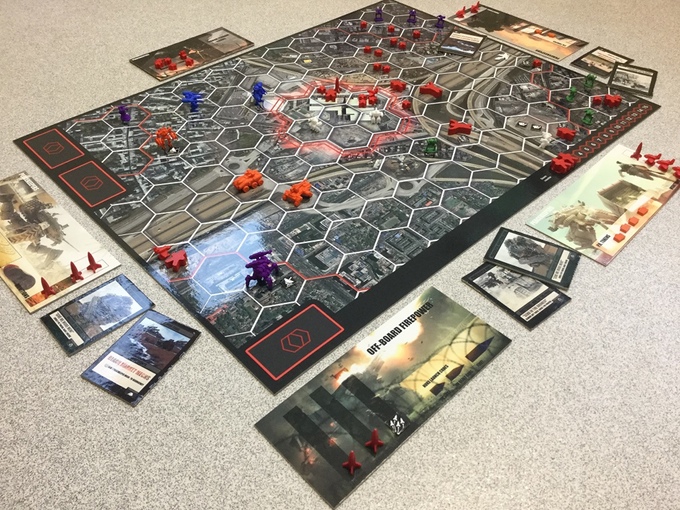 Peacekeepers is a unique take on the war game genre, where the goal is to show restraint and bring peace instead of conquer everything in your path. Players control one of five factions on an international peacekeeping mission in a fictional European country devastated by civil war and political unrest. Each player has enough firepower to demolish an entire city between air assets and platoons of advanced mechs, but the goal of Peacekeepers is to find a less violent way to bring stability, with minimal combat and collateral damage. A standard copy of Peacekeepers costs £59/$72.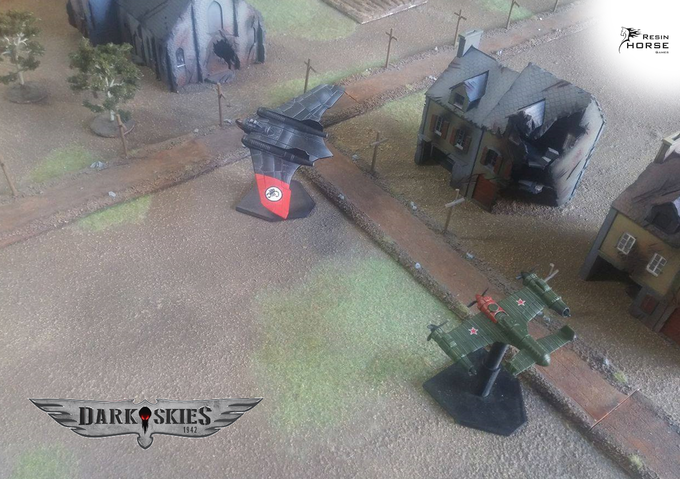 Dark Skies 1942 is a 15mm air combat miniatures game set in an alternate WWII that combines diselpunk aesthetics with Lovecraftian monstrosities. In the alternate history of the Dark Skies universe, WWII is interrupted by an invasion of unknown creatures, forever altering life on Earth. Wars are waged with bizarre new weapons, including massive flying fortresses. The game currently includes six factions, and will hopefully unlock the mysterious creatures themselves as a potential starter set choice before the campaign ends. You can jump into the game with a friend for €119/$131, which includes two starter sets containing 5-6 resin miniatures each plus some Kickstarter exclusive extras.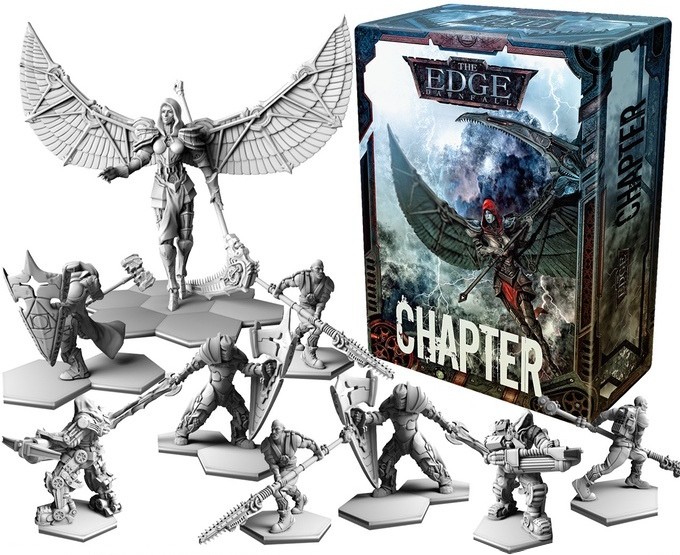 Subscribe to our newsletter!
Get Tabletop, RPG & Pop Culture news delivered directly to your inbox.
Some time back, painting studio Awaken Realms tried their hand at producing miniatures with their upcoming skirmish game The Edge. Now they are back with Dawnfall, a miniatures-based board game set in the same post-apocalyptic steampunk setting. Players choose one of the six asymmetrical factions, build an army and deck of cards, and fight against or alongside other players in standalone skirmishes, scenarios, or a rich campaign mode. Dawnfall supports up to 4 players in free-for-alls, team battles, or a co-op mode against The Darkness, an additional faction controlled by the game. A single faction box costs £45/$55, with Conflict Boxes available that contain two factions for £85/$105.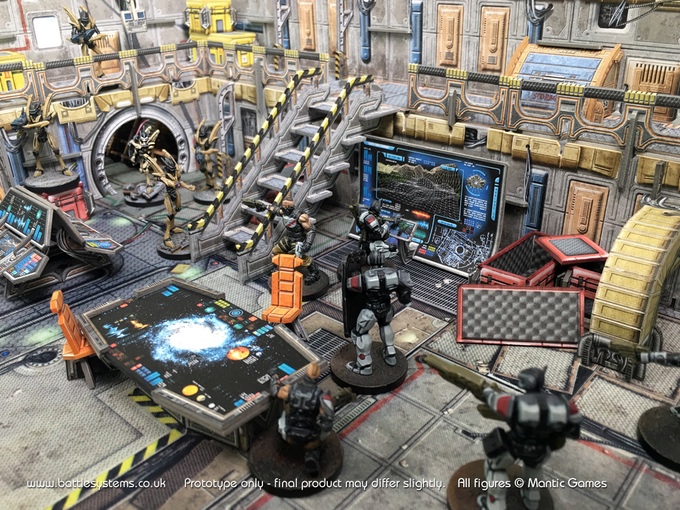 Finally, we come to a new range of sci-fi terrain by Battle Systems. These pre-punched card terrain sets are suitable for 28-32mm games, and don't require any painting to become tabletop ready. You can build everything from towers to corridors, command centers to research facilities. The core pledge costs £78/$96 and comes with enough modular terrain to fill a 2×2 game table. Matching game mats are also available.
Didn't see anything you liked? Check out these other Kickstarters for more cool games:
Bears vs Babies, the latest card game by the creators of Exploding Kittens.
Death Dealer, a highly detailed collector's piece based on the artwork of Frank Frazetta and produced by Kabuki Studio.
The Walking Bread's newest expansion, A Gingerdead House.
Starcade, a cheap micro game inspired by classic arcade shooters for up to 3 players.
~Which of these campaigns are you interested in?