Tabletop Spotlight: Goliath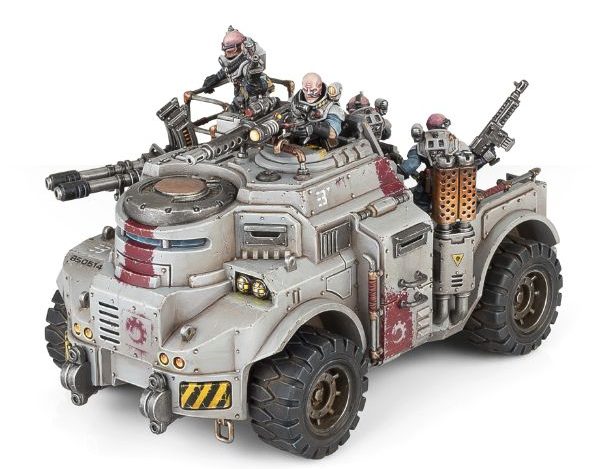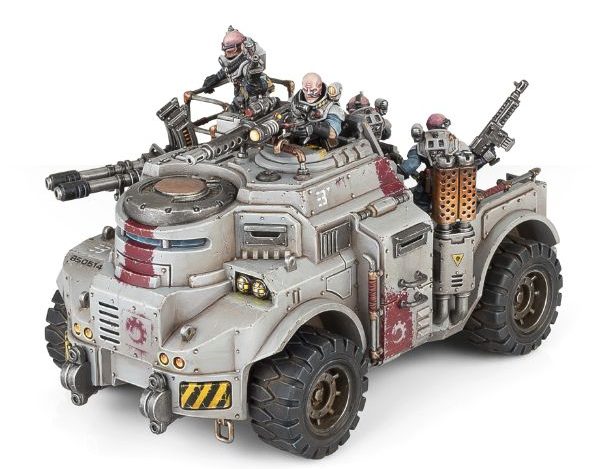 The Tabletop Spotlight is on the Goliath!
Our Friends from Dragon's Lair Comics & Fantasy brought over the brand new Genestealer Cult Goliath kit for us to take a look at – and it lives up to the hype!
The Goliath box is a multi-part plastic kit that allows you to create 1 model – either the Goliath or the Goliath Rockgrinder. While the kit itself has been condensed down to only 2 spures, the amount of bits packed on each sprue is pretty impressive.
via Games Workshop
I'm really digging this look of this new vehicle. I had hoped that it would be a limo, much like a lot of the other old school fans of the Genestealer Cults, but I'm disappointed with the Goliath by any means. It fits better with the lore that the Cults are a "working-class" army. This idea is cleverly expressed in the design of the Goliath – it's a utility vehicle with guns mounted on it. And not just regular guns, a few of the options are re-purposed mining equipment. The Rockgrinder is an even stronger example of this concept. It's a mining vehicle that is now a warmachine.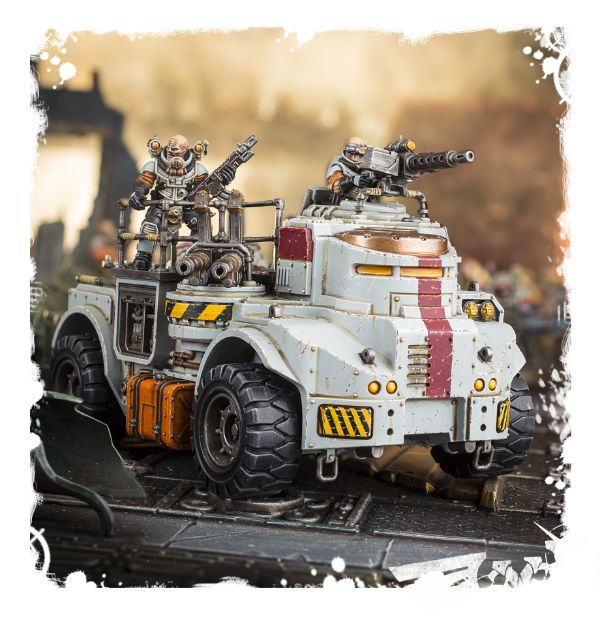 Personally, I want to get my hands on this kit to build and paint. I haven't gotten to assemble it yet but it's definitely on my list of things to pick-up. Because of all the extra bits, it looks like a slightly more complicated build some of the other models in the Games Workshop line. Thankfully the instructions are pretty easy to follow. Now I just need to decided if I want to magnetize the dozer blade or not…wish me luck!
Infinitely adaptable, hard-wearing and rugged, the Goliath Truck is a mainstay of the Genestealer Cults. Fast and manoeuvrable, it bounces around the battlefield laying down walls of gunfire, heavy stubbers and autocannons ablaze. Once dedicated to the shadows, the crew manning the Goliath – proudly emblazoned with insignia of the Cult – now do everything in their power to get as close to the enemy, screaming rapidly across even the most hostile terrain to slam open their cargo compartment and disgorge broods of up to 10 scuttling Hybrids.
Cause we got a little ol' convoy / Rockin' through the night. / Yeah, we got a little ol' convoy, / Ain't she a beautiful sight?
Subscribe to our newsletter!
Get Tabletop, RPG & Pop Culture news delivered directly to your inbox.
Latest News From BoLS: