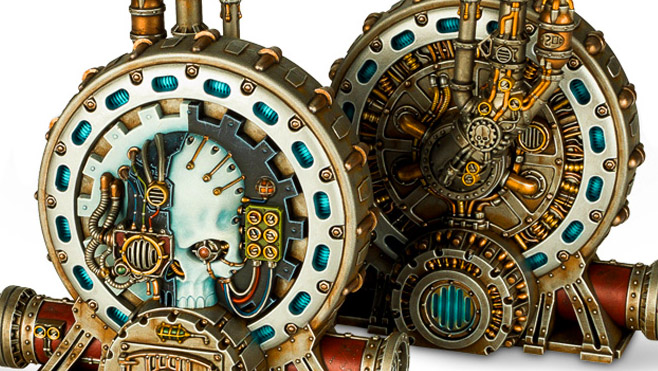 Games Workshop's latest fortification for Warhammer 40,000 has got the power your plasma needs – check it out!
We had an feeling that the Haemotrope Reactors would boost the effectiveness of the Void Shield Generators and the Plasma Obliterator, but now we know exactly what it does.
via Scanner (Facebook)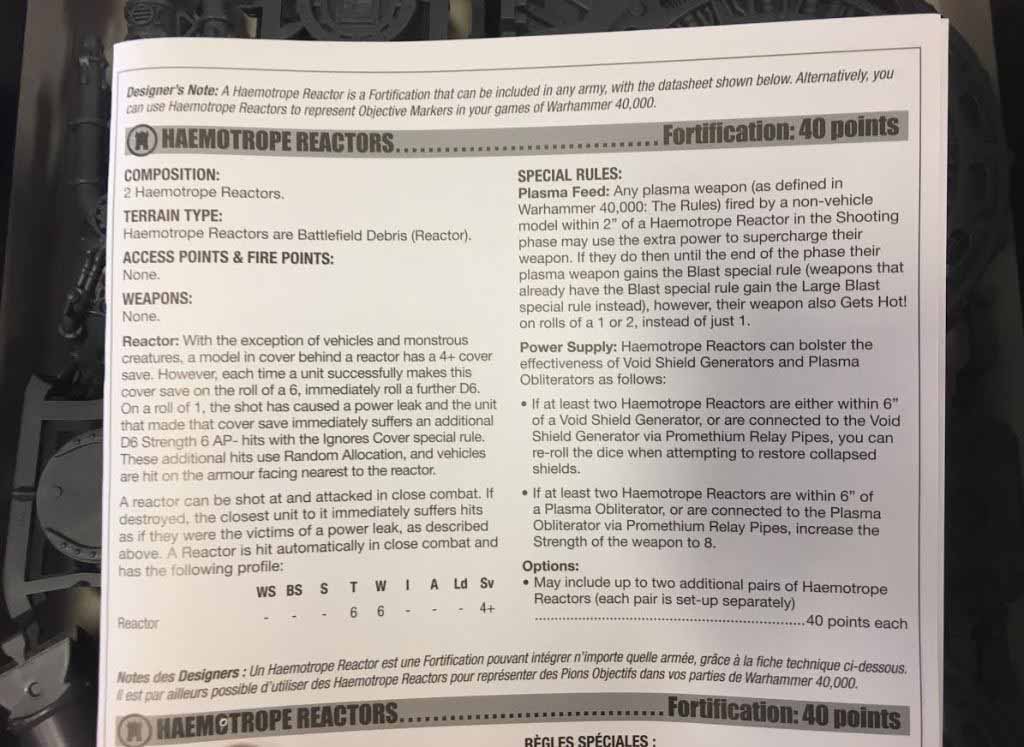 Well Plasma junkies this fortification is for you! Let's break this down really quick:
Pros:
Plasma Weapons become a "Blast" size larger than they were before. (Check page 177 in the BRB to learn which weapons count) Plasma Guns and Pistols gain up to "Blast" and Plasma Cannons gain "Large Blast" which is kind of scary. Rapid Firing Blast Templates here we come!
Two Reactors (or 1 set of the fortifications) allows you to re-roll the dice when attempting to restore shields to a Void Shield Generator
Two Reactors (or 1 set of the fortifications) boosts the shots from the Plasma Obliterator up to 8
Only 40 points
T6 with 6 wounds and a +4 save
Grants cover to non-vehicle and non-monsterous creature models
Cons:
Might cause a "power leak" attack when using the cover save
Auto hit in close combat
When destroyed causes the "power leak" attack to trigger on the nearest unit
Get's Hot rolls on a 1 or 2.
Personally, I think this isn't too bad of a trade-off. The increase in firepower should offset the danger. Think about it – a squad with two Plasma Guns that is next to this fortification can output as much damage as a Plasma Devestator Squad that's not (although not at the same ranges). Sure they might fry themselves but that's the fun of Plasma!
Keep in mind that if you combine this with a Void Shield, Plasma Obliterator and a Promethium Relay Pipe you get ALL of those advantages. They aren't mutually exclusive. Something to consider next time you're adding a VSG into your army list…paying 40 points just to get re-rolls on the shield regen seems like a bargain to me.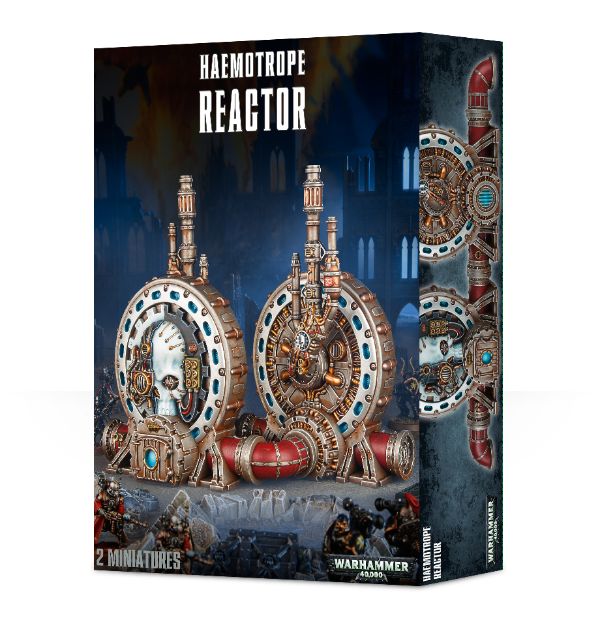 Designed and deployed to provide additional power on the battlefield, the Haemotrope Reactor is an indispensable tool for armies wishing to unleash ever-more destructive waves of plasma upon their enemies. An imposing structure, understood fully by few, it is used to bolster the defensive capabilities of the Void Shield Generator – or amplify the already intimidating destructive capacity of the Plasma Obliterator. In a pinch, the Haemotrope Reactor can be used as cover; this can be a terrible decision however, as the cowering warrior opens himself up to the potential of horrific injuries resulting from power leaks…

This multi-part plastic kit contains the components necessary to assemble 2 Haemotrope Reactors. Compatible with the Promethium Relay pipes, they make the perfect centrepiece of a larger network of Warhammer 40,000 scenery, and the included rules mean your already-existing plasma scenery will be hugely bolstered!
What's your take on Games Workshop's latest fortification? Will this bring Plasma Tech back into your games?