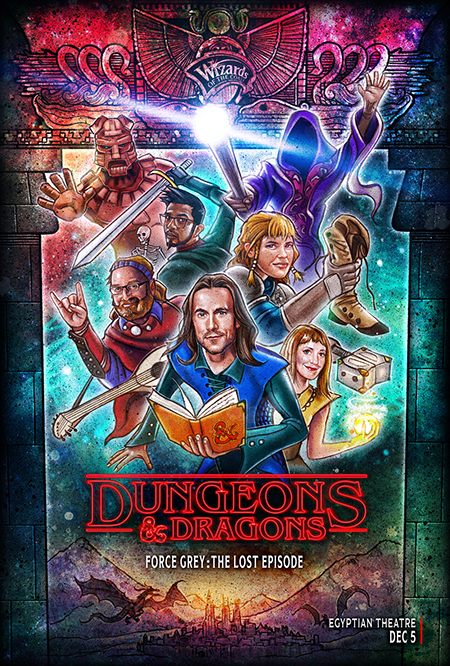 Grab your sword, bow, and wand and join the Grey Force cast live as they continue their giant adventure.
Over the summer Marr Mercer led an all star cast of actors and comedians through an epic Storm Kings Thunder campaign. It had a lot of unforgettable moments – like the whole displacer beast sticking his own head up his butt incident. It was a great series to tune in to every week – and it ended in a cliffhanger. Now we're going to get to see how it ends!
The party is gathering once again on December 5th at Egyptian Theater in Los Angeles to continue the adventure. The session will be broadcast live on the official D&D Twitch channel on Monday December 5th.
Brian Posehn (The Sarah Silverman Program), Utkarsh Ambudkar (The Mindy Project, Pitch Perfect) and Shelby Fero (Emmy Award-winning writer on Robot Chicken), will return to reprise their roles from Force Grey: Giant Hunters, but there will be some new faces joining the party. Emily V. Gordon, co-writer of the upcoming film The Big Sick and producer of three seasons of The Meltdown with Jonah and Kumail on Comedy Central, will take up arms against the giants. We're also keeping a chair or two open for any surprise friends of the cast to drop in, put on a wizard's hat, and cast magic missile!
Be sure to mark December 5th at 5pm PT on your calendar
and tune in to Twitch!
Catch up with the whole adventure this weekend…