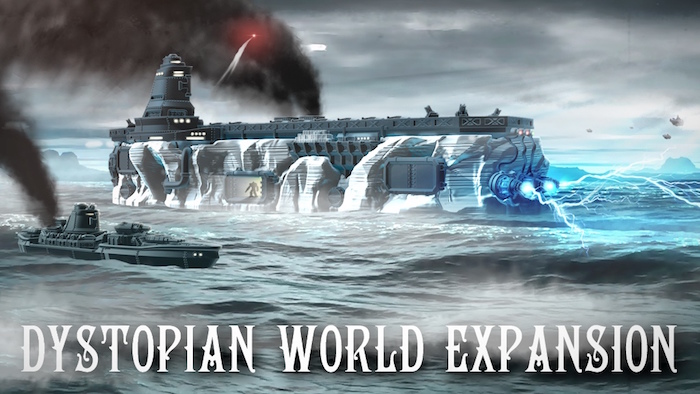 This new KS includes 45 new models, the brand new 2.5 Ed Core Rule book, and much more.
Two of the Dystopian World's most powerful nations come together in our awesome new 2-player set as they battle for control of the Baltic Sea! Naval forces of the Prussian Empire are steaming for the fabled city of Konigsberg to relieve it from enemy attacks. But facing them is a Russian Coalition fleet full of new war machines and led by the massive Murmansk Fleet Operations Vessel. The Prussians, however, have their own array of new ships and their secret weapon – Ice Maiden – the largest ship to ever be built in the Dystopian World that just happens to be made from an iceberg! Both behemoths of the sea are represented as full-size digitally painted card sheets which feature within the campaign scenarios.

Our brand new 2-player set brings together over 45 stunningly detailed models, plus all the materials needed to play (dice, rules, tokens, templates, scenery, campaign guide and TWO softback copies of the brand new Dystopian Wars 2.5 Edition Core Rulebook). This Starter Set is perfect for new players to start their Dystopian adventures, and a fantastic expansion for existing fans of the game and represents superb value for money.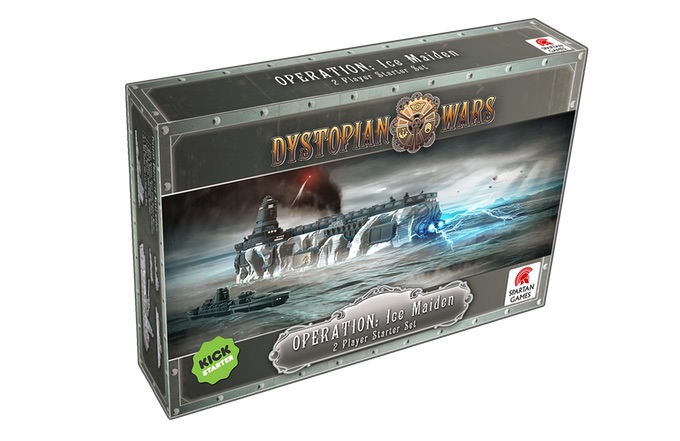 Prussian Empire (22 Naval models)
1 x Large Squadron (Gutav Class Bombard Monitor) (1 model)
1 x Medium Squadron (Konigsberg Battle Cruiser) (1 model)
1 x Medium Squadron (Brandtaucher Class Submarine) (3 models, 3 Submerged models plus 6 Mine Tokens and Dice)
2 x Small Squadrons (Lahn Class Destroyer) (4 models per Squadron) (8 in total)
6 x Wachter Escorts (we may make new Escorts for this set)
15 x SAS Tokens and 3 x SAW Trays and Dice
 Russian Coalition (20 Naval models – 30 if you count the Kavkaz Driller bases)
1 x Large Squadron (Magadan Class Submarine) (1 model, 1 Submerged model)
1 x Medium Squadron (Azov Class Battle Cruiser) (1 model)
1 x Medium Squadron (Onega Class Light Cruiser) (4 models)
3 x Velicky Escorts
8 x bases of Kavkaz Drillers
2 x Small Squadrons (Mezan Class Gun Corvette) (5 models per Squadron) (10 in total)
10 x SAS Tokens and 2 x Saw Trays and Dice
 Other contents:
TWO Dystopian Wars 2.5 Softback Core Rulebooks
1 x Starter Campaign Guide
Card Tokens and Templates (DW and Fleet Action)
1 x Generic TAC Cards
Resin Scenery (Icebergs and 2 x Sea Fortresses – these highly detailed Forts are 95mm across)
2 x A4 Card Large Ships (Ice Maiden Invasion Carrier and Murmansk Fleet Operations Vessel)
20 x D6 Dice

There are stretch goals left to open, and some great bolt on options.