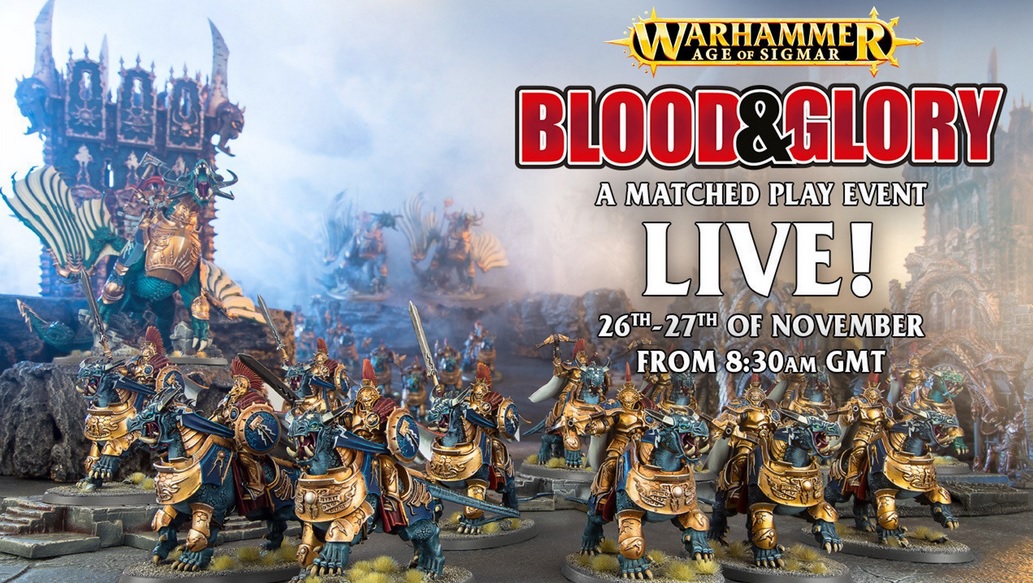 Get ready for your Age of Sigmar fix – it's Blood & Glory time!
Games Workshop is at the Blood & Glory event in Derby UK and they are live steaming the whole weekend!
via Warhammer TV (Twitch)
Watch live video from Warhammer on www.twitch.tv
The event starts at 8:30 GMT and runs for several hours and starts up again November 27th. Be sure to check it out for all the live game coverage you can handle!
via Warhammer-Community
Blood and Glory is one of the largest independent Warhammer Age of Sigmar matched play events in the world.
This is the first time that we've done a live-stream from an independent event of this sort, and we're excited to see how it goes – so be sure to tune in. Blood and Glory is also renowned for the quality of the painted armies, so we're looking forward to bringing you some of those too.

Of course, this isn't the only live-stream action we have for you this weekend, as you can also tune into the Blood Bowl Bugman's Full Beard Cup, live from Warhammer World.
So be sure to pop over to their Twitch Channel to watch or chat with the rest of the fans – it's going to be an action packed weekend in Derby!
The first Games Workshop broadcast from an Independent event – I can't wait to see what's next!