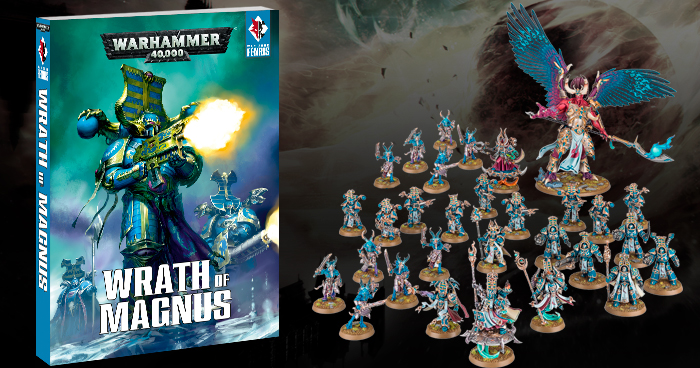 Join us as we take a look inside War Zone: Fenris Part II: Wrath of Magnus!
Hello again BoLS Readers – we got a copy of the Wrath of Magnus and we wanted to show off some of the cool new stuff you'll find in these new books. Buckle-up 40K fans, Tzeentch has arrived in force with this one…
Spoilers from this point out – You have been warned!
Where to start! Let's talk about whats in these books first off. There are indeed two books in this set. The first book is a 136 page hardback that basically catches you up on what's been going down in the Fenris sector. It also explains all the repercussions and Magnus' end game. I won't go into all the details here but lore fans are going to go nuts over this one – the Planet Fenris still stands but the system is pretty much wrecked. One planet (and it's population) is gone and because of their exposure to daemons, 1/2 the population of Fenris has to be culled. The Inquisition has to tie-up all those daemonic loose ends somehow…
That's not all either. Between Magnus' Raw warp power, Ahriman's skill at Sorcery and the Silver Towers full of "soul-juice" (from the population that got bombed – thanks Inquisition/Dark Angels) they were able to complete a ritual that transported their planet from the Eye of Terror back to the Prospero System. This also causes a MASSIVE "Warp Scar" across the galaxy. I'm really hoping that Games Workshop runs with this idea because it opens up so much more from a story telling perspective. The Imperium has been dealt a massive blow and all Magnus has to say is: "We're Home."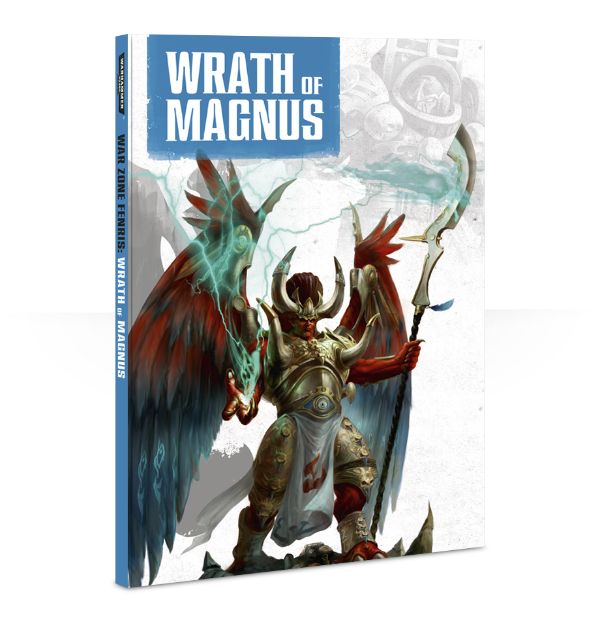 The lore book also has some awesome art and different paint schemes for the Thousands Sons. It really has some fantastic spreads to check out and hopefully inspire all you hobbyists out there with cool army/painting ideas.  I really like the palette GW used for the Thousand Sons – there is more to them than just the Blue/Yellow scheme they've had for years now.
The second book is "The Rules" book – this is the one everyone has been waiting to get there hands on. We show off a few samples in the video but it's going to be a major boon to Chaos Players out there. Everyone has been pretty focused on the Thousand Sons portion (and for good reason – they have some really powerful stuff) but I think the Tzeentch Daemons are getting some major love with this book.
Pink/Blue/Brimstone Horrors are going to cause lots of problems for folks in the Tournament Scene – not because they are particularly deadly, but because they are ridiculously resilient. Have fun trying to clear them off an objective…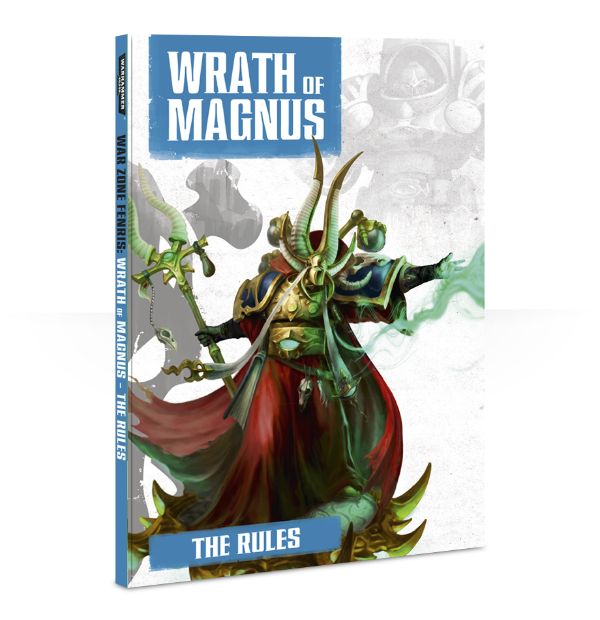 Tzeentch Daemons are also getting their own Warp Storm table which is kind of neat. I won't even get into all the formations that both the Thousand Sons and Tzeentch Daemons are getting. Let's just say the ones we showed off were just the tip of the Iceberg.
Overall, this book is a must buy for Chaos Tzeentch players. And who doesn't have a Lord of Change laying around at this point. (And if you happen to have more than one lying around there's formation for that…) This book really does have some great new options for Chaos Marines and Daemons. We haven't even talked about some of the offensive options these guys bring to the table (aside from the AP3 bolters, that is). The Wrath of Magnus is here to stay!
The Imperium will never be the same!