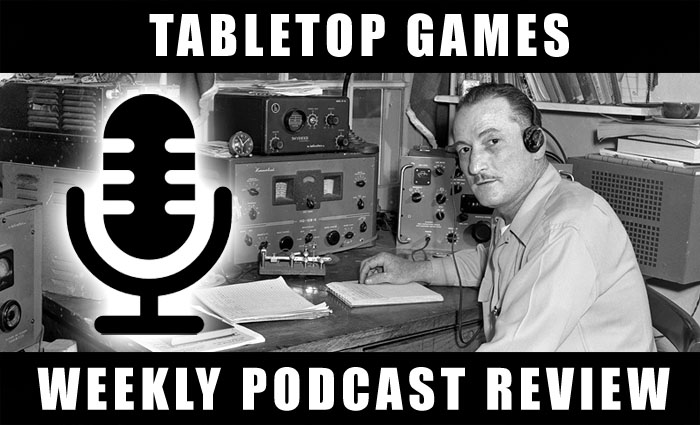 Bahkara here for this week's podcast reviews. Let's get to it!
Hey all, Bahkara here, from TFG Radio, for this week's reviews! A lot of talk about LVO and the new chaos rumors. With all that, lets get on with the reviews!
After Ullanor Episode 10.02 – The final part on their coverage of the "Tales of Heresy" book. They go into a good discussion about the last 3 stories, and give you some things to ponder that you may have missed in the first read through. Always good coverage, so if your looking for a 30K book club, this is it. Also of note is that the show is moving over to the Freebooters Network, so you can see their earlier episodes there.
Garagehammer Episode 157 – This episode they cover the book "Godbeasts" As always, they do an in depth coverage of both the fluff and the rules for the various creatures contained in this tome. Although the book has been out for a while, it is nice to see someone cover it with the perspective on how the units are actually being play, not on how they think they should be played. Always a good listen.
Combat Phase Episode 172 – Nice interview with Aaron Dembski-Bowden. They discuss his various books, his writing style, and his latest book, "Master of Mankind". Nice talk and well worth the listen about one of Black library's fan favorites.
Also Out This Week.
40K Radio Episode 7 (40K)
9th Realm Episode20 (AoS)
Adpetus Terra Episode 27 (40K)
Beer and Bolters Episode 57 (40K)
Canhammer Episode 92 (40K)
Chain Attack S2 Episode 23 (Warmachine)
Chapter Tactics Episode 10 (40K)
Chapter Tactics Episode 11 (40K)
Combosmite Episode 135 (Warmachine)
Crippled System Episode 181 (Warmachine)
Eye of Horus Episode 81 (30K)
Eye of Terror Episode 28 (40K)
Forge the Narrative Bonus Episode 15 (40K)
Forge the Narrative Bonus Episode 16 (40K)
Forge the Narrative Bonus Episode 17 (40K)
Heroic Intervention Episode 29 (40K)
Hobby Night in Canada Episode 66 (General)
Kessel Run Episode 49 (X-Wing)
Long War Episode 78 (40K)
Lost Aspect Episode 9 (Warmachine)
Master of the Forge Episode 73 (40K)
Mortal Realms Episode 12 (AoS)
Mynock Squadron Episode 44 (X-Wing)
On the Road Episode 2 (FoW)
Orbital Bombardment Episode 18 (Dropzone Commander)
Overlords Episode 193 (General)
Personal Flashpaper Episode 20 (Infinity)
Sons of Heresy Season 1 Episode 2 (30K)
TDH60M Episode 57 (Warmachine)
Wolfkin Episode 65 (40K)
Wrong Side of the Maelstrom Episode 16 (40K)
As always, check out our blog, at TFG Radio, and give the podcast a listen. We talk 40K mainly but delve into other game systems. This week we talk about the current chaos rumors, our field trip to Frontline Gaming, and our love of the holidays!. Be sure to go to our facebook page about our contest to win a painted army!
Have a different opinion? Post in the comments below or email me at [email protected] and let me know!