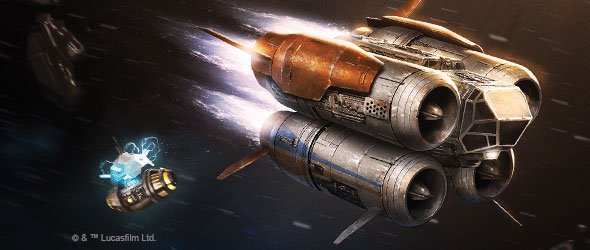 Fantasy Flight Games shows off the newest Scum ship – the Quadjumper. It has a very cool trick!
The Quadjumper is one of the mysterious ships from the next wave for Star Wars X-Wing. It was only in the Force Awakens for a few shining moments but it certainly left a mark. Now the Scum and Villainy faction is getting a surprising new ship with some new game changing mechanics. Let's dive into the Quadjumper!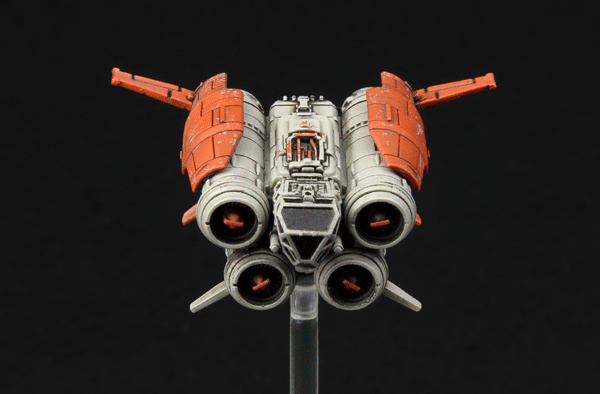 The Pilots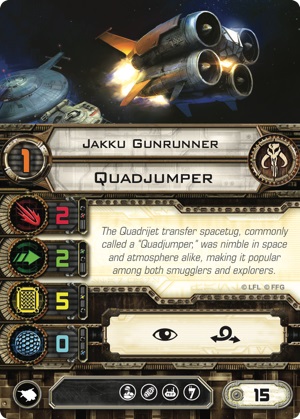 First up is the basic ship – the Jakku Gunrunner. It's got a decent attack and agility score but nothing to write home about. It does come with a respectable 5 hull at the lower cost of 15 points. Not too bad considering the upgrade bar. It's the first Scum ship to have a tech slot. It's also rocking a crew and bomb slot as well as the illicit slot. Seems like it's got potential.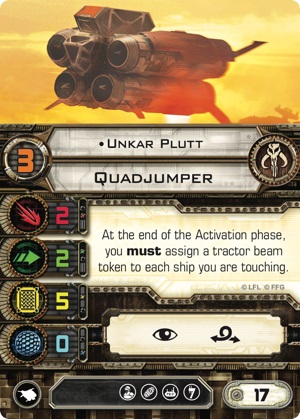 Unkar Plutt is the next pilot to be shown off. Only a PS 3 but at 17 points he's not too bad. He also wants to be in base-to-base with the enemy to he can toss them a tractor token. That could be tricksy…What else do we have to work with…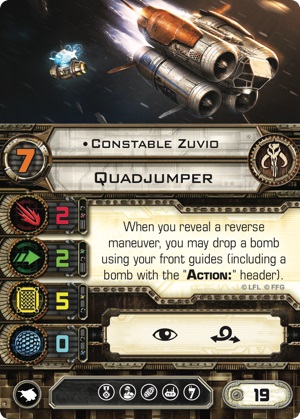 Constable Zuvio is also here at the higher PS 7. He's got a pretty great ability and yes, you're reading that right – a "reverse" maneuver. What the heck are those? Well let's take a look at the dial!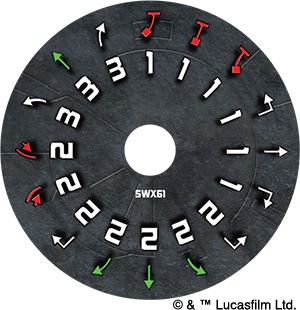 Yes, you aren't seeing things – those Red 1 maneuvers? Those are Reverse Maneuvers! The Quadjumper is the first ship in the game with the ability to move backwards on the dial! This is pretty huge because it opens up some interesting movement scenarios. First and foremost that makes this ship uniquely cabable in close-quarters, especially combined with a barrel roll action if you can ditch the stress first or use some other cards to ignore stress (here's a hint check the tech cards). And speaking of upgrade cards lets take a look at those next!
Upgrades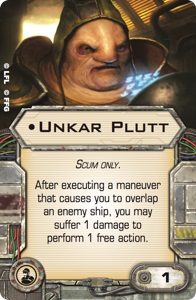 The Crew version is Unkar Plutt is sort of a Scum version of Dash Rendar – only you have to take damage to trigger the free action. It could be useful in other builds but in a ship with only 5 hull I'm not sure yet. I'll get back to you.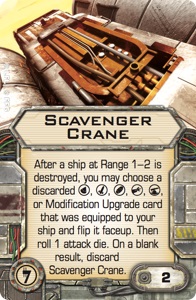 The Scavenger Crane is a pretty cool Illicit slot. This is a great way to get back valuable munitions or maybe repair a damaged cannon or turret. It's kind of a weird counter to Boba Fett in a way, too. I also like that you have a chance to keep using it! Pretty great for reloading.
This is a Quadjumper only mod. It assigns a tractor beam token to a ship at range 1 and in your arc. This is actually a really powerful ability. Why? Because it just happens! You don't have to roll to hit. And those tokens still reduce their agility by 1. If you're a high-flying ace who relies on your agility you better keep out of range of these Quadjumpers.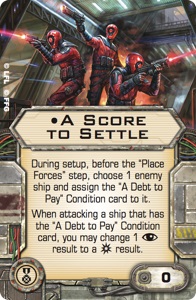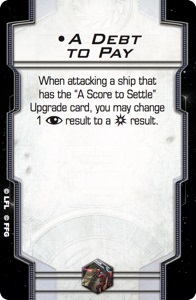 The Quadjumper is also rocking one of the condition cards. It's not a bad ability and it's also free. It does take up an EPT slot however…but if you're looking for a way to increase your crits that could be useful!
Fantasy Flight Games has positioned this ship as a new Scum Blocker. I can see why – it really geared up for being able to fly in the face of other ships and mess with their maneuvers. If you want to read more tips & tricks you can check out the FFG Article HERE. It's a pretty good read and a great insight on how FFG thinks this ship will be used. That said, I have a couple ideas myself which we will go over in a later installment. Until then – Fly Casual!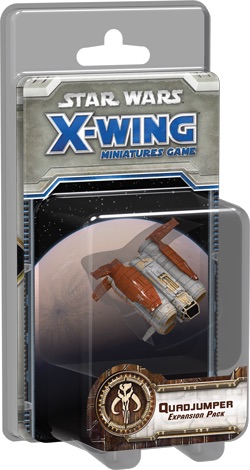 First appearing in The Force Awakens, the quadjumper arrives to X-Wing™ as a Scum and Villainy ship, full of new maneuvers and dirty tricks. In addition to its pre-painted quadjumper miniature, the Quadjumper Expansion Pack allows you to militarize this typically unarmed ship with four Scum pilots and eight upgrades. These include new crew members, illicit technologies, and a modification that grants extra versatility to your tractor beam tokens. Finally, a unique elite pilot talent and associated condition help your elite pilots pay back their debts against those who have done them wrong.
The Quadjumper – the Boba Fett of Spaceships.