Dreadball 2: New Playtest Teams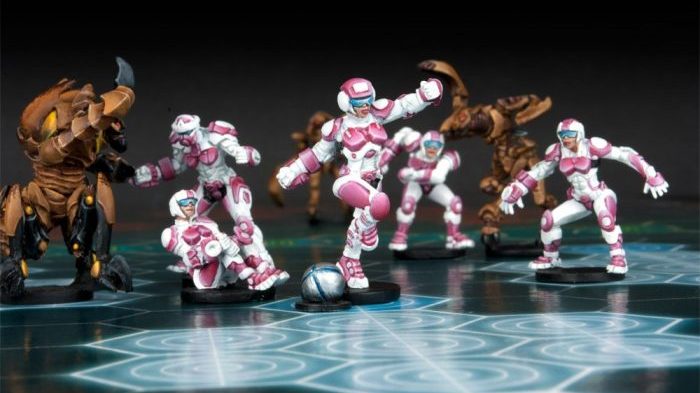 There's a new playtest packet for Dreadball 2 available!
This update includes six teams, and some advanced rules for exhibition matches. If you're playtesting download and print some these surveys, and fill them out during/after your games so you can share them with the Rules Committee.
Changes

A number of changes are included in this playtest packet, both to the first edition of the game as well as to previous playtest packet rules. All playtest packet 3 changes are highlighted in green. Similarly, Playtest Packet 2 changes have been highlighted in blue (if they haven't been further updated in playtest packet 3 that is). As always, a number of new abilities as well as a number of teams have been added to the respective sections, and we recommend you reprint these sections in their entirety so that you don't miss anything.
The Teams

Speaking of teams, this playtest packet brings us up to a total of 17 teams available for testing. We want to hear as much as we can you guys, so be sure to fill out those surveys! This week's new teams include:

Human: Void Sirens

Z'zor: Locust City Chiefs

Subscribe to our newsletter!

Get Tabletop, RPG & Pop Culture news delivered directly to your inbox.

Zee: Koeputki Kolossals

Asterians: Shan-Meeg Starhawks

Rebs: The Unincorporated

Koris: Wu-Ling Wanderers

Note: Some of the model abilities and play stats have undergone changes, see the playtest packet for more information.
What we need to know:

How do the teams 'feel'?

How do you like the new teams and their abilities?

Do the costs of the teams properly reflect their abilities and stats?

As stated earlier, a few of the teams have undergone some changes here as well. In the last release, the Tenth Moon Tree-shark's Captain was mistakenly listed as a Jack, when he was meant to be a Striker. Meanwhile, the Chromium Charger's captain was mistakenly listed with a 4+ armour. As a Keeper he should have had an armour value of 3+.

You will also want to re-read Long Arms and Transform, as both abilities have been modified since the last playtest packet, and look at the Veer-myn Striker's new ability while you're at it. Some of the new team's abilities have changed as well, so read over 'Portal' and 'It Wasn't Me' if you're interested in what has changed for the Koris and Zee respectively.
Get some games in and then let the Rules Committee know your thoughts. Mantic is collecting feedback from players via this dedicated survey, as well as on the Mantic Forums.