Konflikt '47 British & Soviet Latest Minis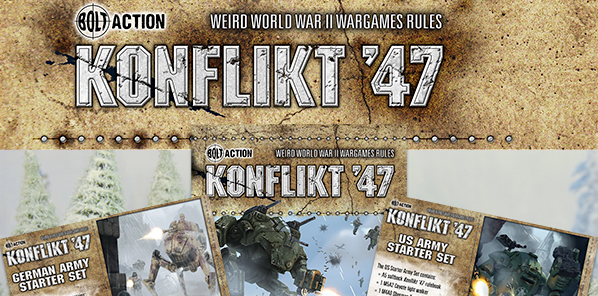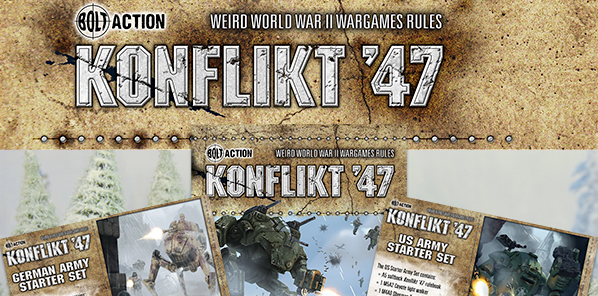 The Wierd War continues with new units from the British and a terror from Siberia.
Contains: 8 Galahad Armoured Infantry
As most nations began adopting heavily-armoured infantry, the British took a more extreme view. With automatons providing close fire support to the infantry, it was decided that any armoured troops should be capable of providing a punch beyond that of current infantry. Therefore the British developed the Galahad Armoured Suits, intended to overwhelm opposition strong points. Although limited in number, careful and considered use has meant they have a growing and largely victorious reputation.
Rules for Konflikt '47
These Troops are large, tough, and resilient infantry ideal for bolstering a weak point in defences or spearheading a break through attack!
| | |
| --- | --- |
| Cost: | 150pts (Veteran). |
| Composition: | 1 NCO and 3 men . |
| Weapons: | LMG |
| Options: | |
| | Add up to 4 additional men at 35pts each |
| | The squad may have anti-tank grenades for +2pts per model |
Contains: 5 Siberian Terror Infantry
Through a combination of espionage, scientific exploitation of prisoners, and defecting scientists, the Soviet Union gained substantial knowledge of the German super-soldier and genesplicing programmes and produced its own versions of DNA enhanced soldiers. In an effort to make soldiers immune to the cold, a method of making monsters out of men was discovered. With a form of anti-freeze in their veins, these 'ghouls' are immune to cold and fire and have a freezing touch that can cause immediate damage.
Rules for Konflikt'47
These fast fanatical nightmarish creatures can cause havoc in amongst your enemies lines, move up fast (don't worry about flame weapons as they're immune)to take advantage of their combat prowess!
Subscribe to our newsletter!
Get Tabletop, RPG & Pop Culture news delivered directly to your inbox.
| | |
| --- | --- |
| Cost: | 65pts (Veteran). |
| Composition: | 1 NCO and 4 men |
| Weapons: | Knife |
| Options: | |
| |  Add up to 5 additional men with knives for +13pts each. |
| |  Any models may be equipped with an SMG for +3pts/model. |
| |  Up to 2 men can have a captured panzerfaust in addition to his SMG for +5pts each. |
~Konflict 47 keeps growing like a weed.