Modiphius: Star Trek Adventures Playtest Open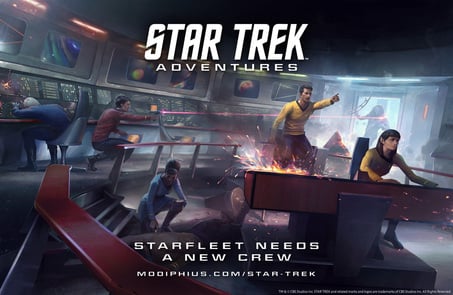 Boldly go where no gamer has been before – become a playtester for the new Trek RPG!
Modiphius Entertainment has released missions for the Star Trek Adventures™ living campaign playtest. Help develop the first official Star Trek RPG in more than a decade by joining more than 5,000 players – join the campaign!
The playtest gives fans of the legendary television series and films the opportunity to contribute to the development of the game; to sit in the captain's chair, seek out new life and new civilizations, give all they've got to a warp core breach, or explore their own adventures in the Star Trek universe.

The living campaign begins with playtest missions and will continue with the release of the core rulebook in the summer of 2017. The living campaign takes place in the Shackleton Expanse, an area of space vastly unexplored by both the Federation and the Klingons. Starbase 364, Narendra Station, named after the battle of Narendra III where the U.S.S. Enterprise NCC-1701-C was destroyed, serves as the keep on the borderlands for excursions out into the frontier of space.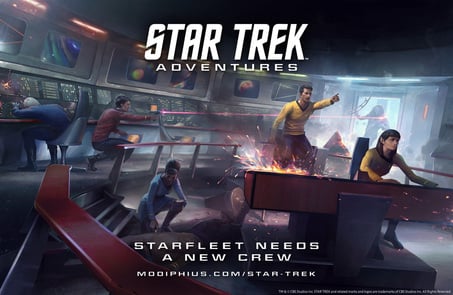 As the crews of the U.S.S. Venture, U.S.S. Bellerophon, U.S.S. Thunderchild, explore strange anomalies and discover new life while uncovering an ancient civilization and mysterious technologies, those aboard the U.S.S. Lexington will shape historical events for those very ships.

Assignments are still open for Captains and Officers to take their place aboard the bridge and make Star Trek gaming history. Further, local game shops organizing an in-store playtest group will receive starbase status with pre-order promotions for the game's retail release.
Register as a Retailer  – Tell your FLGS to sign up!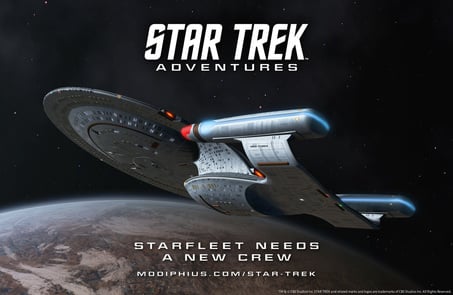 Star Trek Adventures will use the Modiphius 2d20 game system (Mutant Chronicles, Infinity, Conan, John Carter of Mars) designed by Jay Little (Star Wars: Edge of the Empire, X-Wing Miniatures Game). Modiphius is also sculpting an accompanying Star Trek miniature figure line, the first to be produced in 17 years. Resin 32mm-heroic scale hobby figures will feature classic Star Trek characters and crews, boarding parties and away teams. Geomorphic tile maps of burning Federation ships, mysterious colonies and embattled Klingon cruisers will set the scene for dramatic new voyages in the Final Frontier.

Subscribe to our newsletter!

Get Tabletop, RPG & Pop Culture news delivered directly to your inbox.
Star Trek Adventures is due out Summer of 2017 – all playtesters will be listed in the rulebook's manifest.