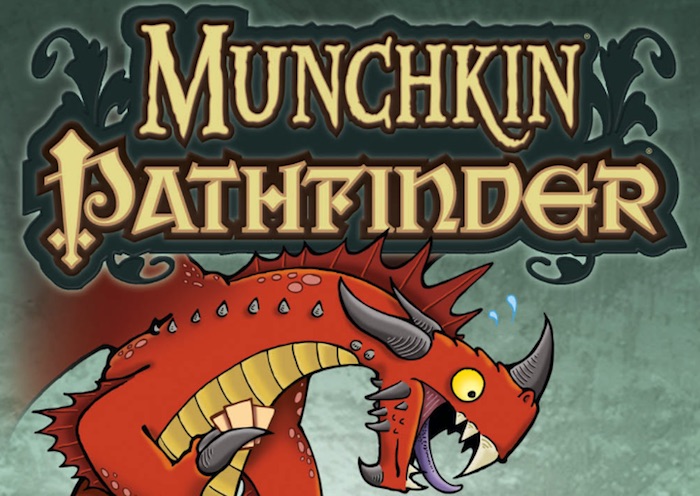 The classic gets a cool new look with new art in this special edition…
Munchkin turned 15 this year and Paizo is celebrating with some new guest artist editions – including  Munchkin Pathfinder! The folks in charge of the Munchkin line scoured issues of the Pathfinder comic books to find just the right artsts for the job.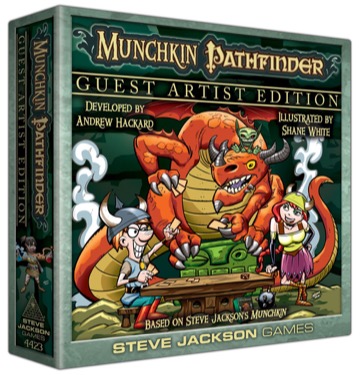 … we decided on Shane White, who has a strong visual style that's perfect for Pathfinder and for Munchkin. Luckily for us, Shane was just as excited by this project as we were and knocked it absolutely out of the park. We were so thrilled with Shane's work that we've contracted him for some more projects, including a new booster pack, Munchkin Pathfinder: Truly Gobnoxious, and the long-delayed Munchkin Pathfinder 2, scheduled for Summer 2017.
He's created art for 168 cards for this new set. A little preview…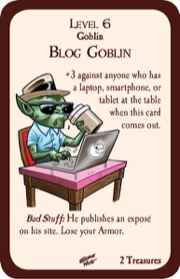 … the Blog Goblin, who absolutely embraces his anachronism with a jaunty hat, sunglasses, completely generic coffee, and a laptop whose logo deserves a second look. Watch your fingers! Writing all the Goblins in Munchkin Pathfinder and its expansions was fun and challenging, and even now I find myself coming up with more Goblin ideas than I have space to use them. (So far, anyway… no telling what the future might hold!)