30K Battle Report: Imperial Fists vs World Eaters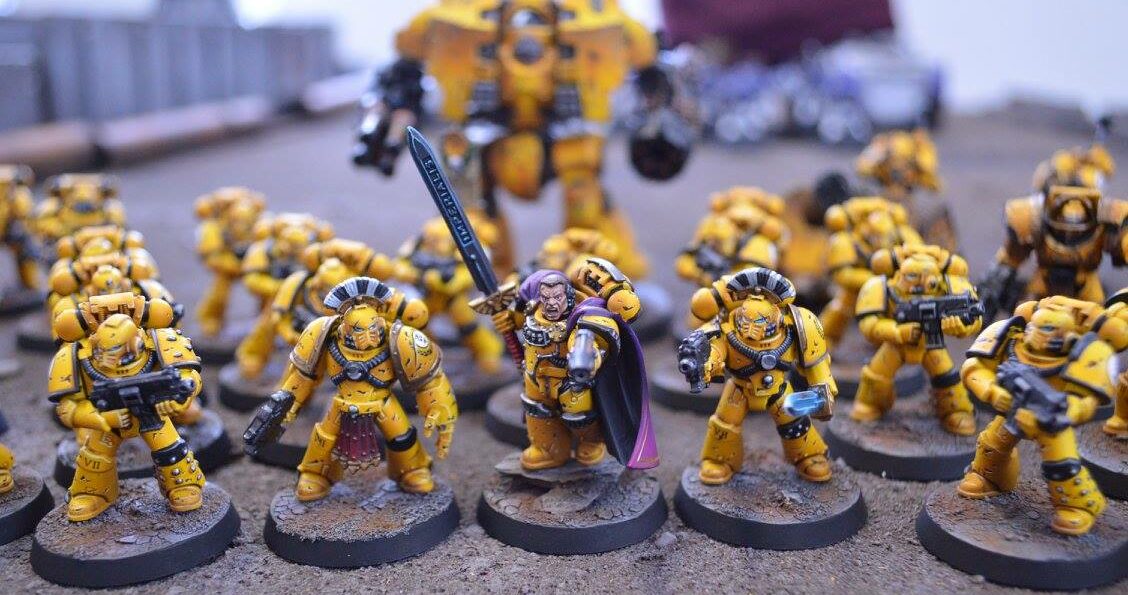 Ladies, Gentlemen, Loyalists and Traitors….. After what seems like a lifetime in the planning here is our first ever 30k battle report.
Happy New Year!
Castellan Zargo eased the grip on his half drawn bolt pistol, his gauntleted fist shaking with furious indignation barely held in check by his trans-human discipline. He was shocked to discover that he had reached for his side arm. The object of his ire cowered before him, her waxen skin taking on an even more unhealthy hue through the terror she felt towards the avatar of humanities manifest destiny to claim the galaxy through blood and fire which stood before her. Though physically blind, her aether-sight betrayed his anger and disbelief.
Truth be told, she felt the same. The entire galaxy had been turned on its head. "Repeat that for me mistress Xing'nou." hissed Zargo through clenched teeth. His oversized pistol reholstered yet still gripped. The astropath licked her dry lips, trying hard not to choke on the bitter content of the message she bore. "My Lord Castellan, the message bore the correct cypher rituals and the unmistakable mind print of Lord Dorn himself. It is authentic." Zargo took a step forward, dwarfing her trembling form in his towering Imperial Maximus plate. For the first time in his two hundred years of service to the VIIth Legion he was uncertain."
Points: 1400pts
Deployment: Vanguard Strike
Mission: Mission:(Age of Darkness) Onslaught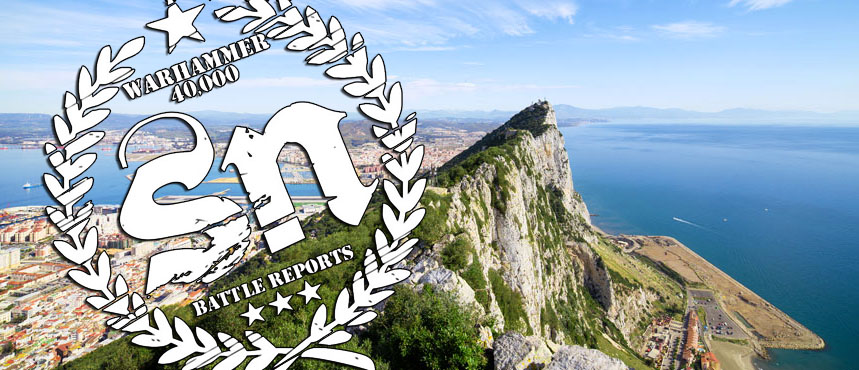 + HQ +
Subscribe to our newsletter!
Get Tabletop, RPG & Pop Culture news delivered directly to your inbox.
Legion Praetor [Artificer Armour, Digital Lasers, Iron Halo, Master of the Legion, Melta Bombs, Paragon Blade, Plasma Pistol]
+ Elites +…
Legion Destroyer Squad [Jump Packs, 4x Legion Destroyer Space Marine, Missile Launcher with Suspensor Web and Rad Missiles Only]
Legion Destroyer Sergeant [Phosphex Bombs]
Legion Quad Launcher Support Battery [Legion Rapier, Shatter Shell]
Legion Terminator Squad [Legion Terminator Sergeant, Legion Terminator Squad, 4x Legion Terminators, 4x Power Fist, Cataphracti Terminator Armour with Combi-bolter and Power Weapon, Teleportation Transponder]
+ Troops +
Legion Tactical Squad [9x Legion Tactical Space Marines]
Additional Wargear [Bolters, Legion Vexilla]
Legion Tactical Sergeant
Power Weapon [Power Sword]
Standard Wargear [Bolt Pistols, Frag and Krak Grenades, Power Armour]
Legion Tactical Squad [14x Legion Tactical Space Marines]
Additional Wargear [Bolters, Legion Vexilla]
Legion Tactical Sergeant [Power Fist]
Standard Wargear [Bolt Pistols, Frag and Krak Grenades, Power Armour]
+ Heavy Support +
Leviathan Siege Dreadnought Talon
Leviathan Siege Dreadnought [Grav-flux Bombard, Leviathan Storm Cannon, Phosphex Discharger, Twin-linked Volkite Caliver]
+ Legion +
Legiones Astartes [ VII: Imperial Fists, Loyalist]
+ Force Organization +
Force Organization [Legiones Astartes: Crusade Army List]
Battles in the Age of Darkness [ Age of Darkness Primary Detachment]
+ HQ +
Legion Praetor [Artificer Armour, Digital Lasers, Iron Halo, Master of the Legion, Mastercraft PF, Plasma Pistol, Power Fist]
Warlord – Paladin of Glory
…
Legion Centurion [Artificer Armour, Conversion Beamer, Refractor Field] Consul Forge Lord
+ Elites +
Apothecarion Detachment
Legion Apothecary x 2 [Artificer Armour]
Legion Quad Launcher Support Battery [2x Legion Rapier, Shatter Shell]
+ Troops +
Legion Tactical Squad [10x Legion Tactical Space Marines]
Additional Wargear [Additional Chainswords/Combat Blades, Legion Vexilla]
Legion Tactical Sergeant [Artificer Armour]
Combi-weapon [Combi-weapon: Plasma]
Legion Tactical Squad [9x Legion Tactical Space Marines]
Additional Wargear [Additional Chainswords/Combat Blades, Legion Vexilla]
Legion Tactical Sergeant [Artificer Armour, Plasma Pistol, Power Sword]
Legion Tactical Support Squad [Legion Rhino Armoured Carrier, 6x Legion Space Marines, Plasma Guns, Support Squad, Additional Chainsword or Combat Blade]
Legion Sergeant [Artificer Armour]
+ Heavy Support +
Legion Vindicator Siege Tank Squadron
Legion Vindicator Tank [Extra Armour, Laser Destroyer Array, Twin-Linked Bolter]
+ Legion +
Legiones Astartes [World Eaters]
+ Force Organization +
Force Organization [Legiones Astartes: Crusade Army List]
Battles in the Age of Darkness [ Age of Darkness Primary Detachment]