GW: 2016-17 Half-Year Financials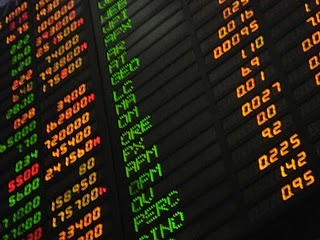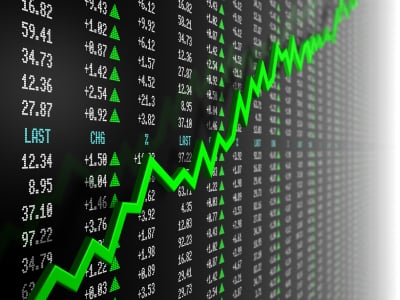 The Half-Year numbers are in and things are looking up for Games Workshop.
Games Workshop's latest numbers are looking really solid. Keep in mind this Half-Yearly report covers their fiscal year and not the standard year (that's why it ends at November 27th, 2016).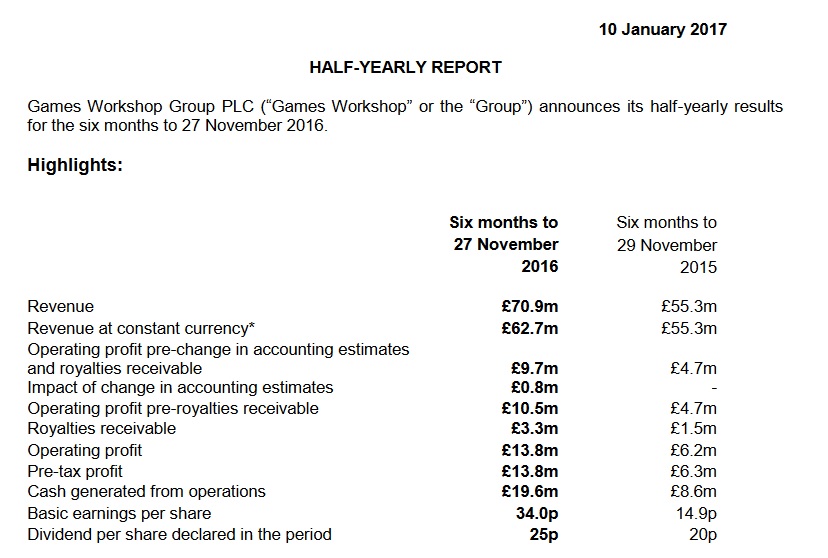 via GW Investor Relations
Kevin Rountree, CEO of Games Workshop:
"Our business and our Hobby are in good shape. We are pleased to report sales and profit growth in the period across all channels. This improvement was built on a considerable team effort across the business.

In the period we focused and delivered on our operational plan and are making good progress on our strategic initiatives. I'm delighted that our new approach to marketing and merchandising has been received well. It's early days, we're having fun, and the feedback we've had is that our customers are enjoying the changes too. I intend to build on these improvements in the second half.

One of our key measures of our performance is return on capital. During the period our return on capital grew from 36% at November 2015 to 40% at November 2016. This was driven by the increase in operating profit before royalties receivable, offset slightly by an increase in average capital employed."
Top Level Numbers (2016 vs 2015)
Revenue: +28%
Operating Profit (Pre-exceptional item & royalties): +106%
Operating Profit: +122%
Earnings Per Share: +128%
Sales Channel Reports (Revenue):
(Constant Currency Numbers)
Retail: +20%
Trade Sales: +11%
Mail-order (web store): +5%
Subscribe to our newsletter!
Get Tabletop, RPG & Pop Culture news delivered directly to your inbox.
—–
Just comparing this report to the Annual Report from 2015-16 you can see there is a big shift in tone and, of course, the bottom line. And taking a look at their current stock price you can see that optimism reflected: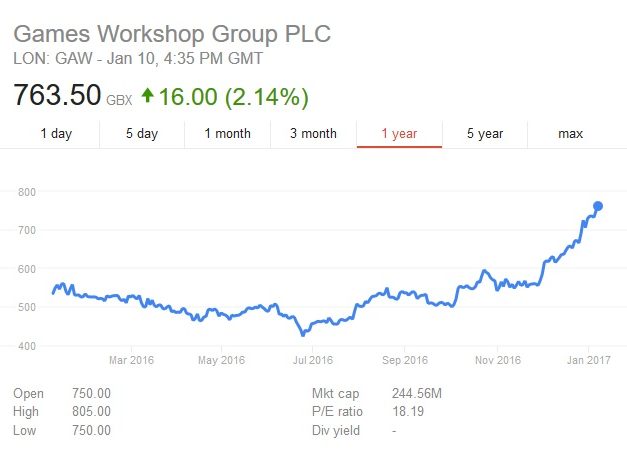 I'm not a financial analyst but I do wonder how much of an impact BREXIT had for GW. They are a company that has a lot of capital tied up in overseas investment (ie, stores and product in the US). Typically when your currency drops your exports tend to increase a bit. So a weaker GB£ leads to more exports and a stronger US$ means all US$ you have on hand is now suddenly worth more.
But I also don't want to forget about the huge strides they have made as a company to reach out to the fan base (Warhammer Community & Warhammer TV). And we can't forget all those value bundle deals they have been putting out (Start Collecting & Battle Force Boxes). It sounds like Games Workshop has noticed too.
Have fun with this one – and remember NO CHAIRS – be nice!