GW: New Releases January 21 "Pricing & Links"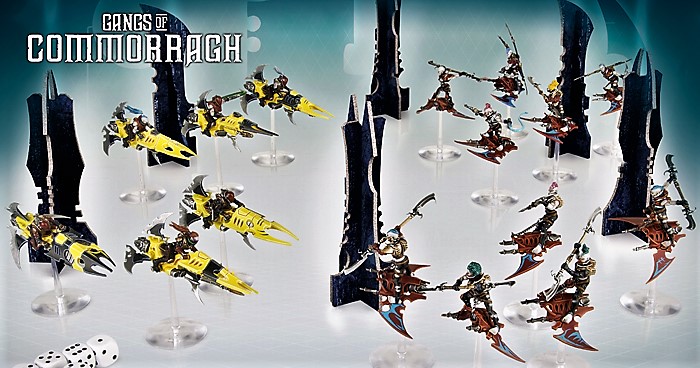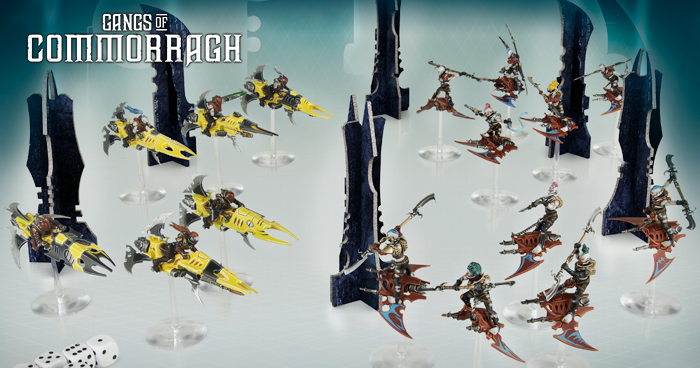 Gangs of Commorragh is up for Pre-order along with a slew of Tzeentch Disciples!
via Games Workshop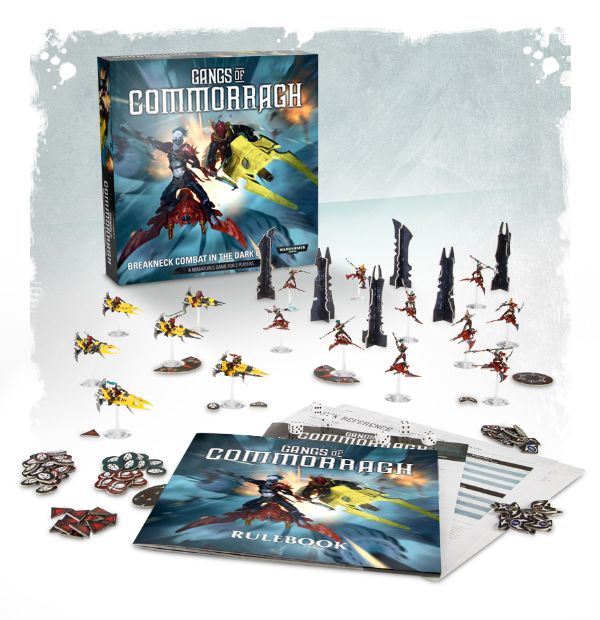 Death among the spires

The skies of Commorragh are equally as perilous as its bone-paved streets. The air above the shrouded spires thrums and darkens with roving murder-packs of Hellions and Reavers, engaging each other in vicious territorial battles. Anti-grav skyboards and savagely fast jetbikes vy for supremacy – when a gang is broken, or completely destroyed, their opponents dance with sickening glee above the sanity-warping metropolis the Dark Eldar call their home.

Gangs of Commorragh is a tabletop game in which two players control murder-packs of Dark Eldar Reavers and Hellions against each other in bitter combat. It combines strategy, tactics and all-out violence to create a deep and tense gaming experience.

Inside the box, Gangs of Commorragh contains 6 Dark Eldar Reavers and 10 Dark Eldar Hellions, along with dice, a 24-page rulebook, 2 quick reference cards, counters and 6 easy to assemble pieces of card scenery, representing the towering spires of this dark city.

The rulebook contains rules for different types of gameplay, including basic skirmishes in the sky between smaller packs of Dark Eldar as well as massive pitched battles in which every miniature fights as part of 2 massive murder-packs.

As well as this, there is a detailed Campaign, in which murder-packs grow and advance, earning new members and upgrades with each victory. Use the included condition tables to add complexity and interesting events.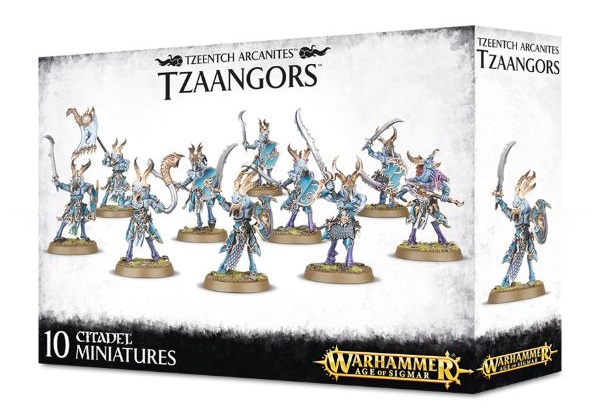 Subscribe to our newsletter!
Get Tabletop, RPG & Pop Culture news delivered directly to your inbox.
Savage, avian beasts dedicated to Tzeentch, Tzaangors have been willingly warped into shapes and forms pleasing to the Architect of Fate. They watch and wait, with bestial cunning and cold intelligence, and when the time comes to strike they fight with a bitter strength, hacking with sharp blades and gouging horns. Eager to impress their duplicitous god, they fight with lunatic energies, hoping to be rewarded with further gifts of change.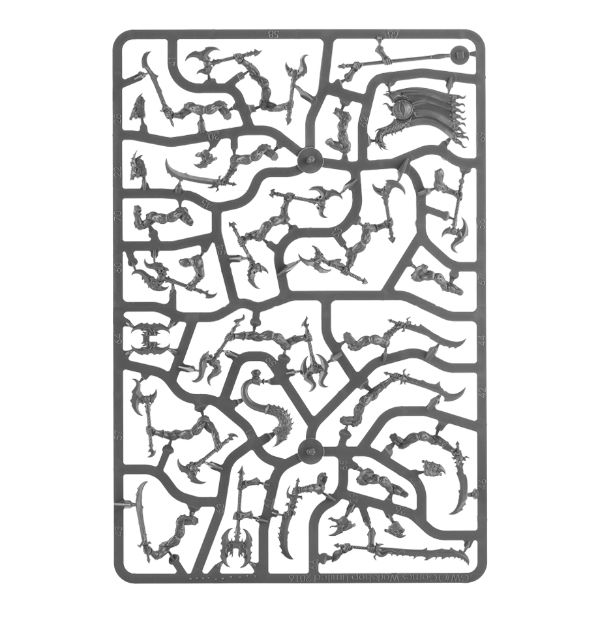 This multi-part plastic kit contains the components necessary to assemble 10 Tzaangors, bedecked head to foot in the avian symbolism of Tzeentch. These models have a huge amount of customisation available:

– 24 (24!) heads – 12 different designs with 12 different sets of horns, meaning your Tzaangors will be unique;
– 12 savage blades, 12 arcanite shields and 12 sets of axe and pick – pair up the savage blades or carry one and a shield on each model, your choice;
– 2 models can be assembled as Mutants – these have special, mutated heads. In fact, they have 2 heads. Each. Accompanying their terrible deformity are special mutated weapons – 2 swords and 2 axes, each featuring staring eyes modelled on the hilts;
– 2 models can be assembled as icon bearers;
– 2 models can be assembled as Twistbrays, the unit leaders – there are 4 specific sets of extra-ornate horns for them, and 2 double-handed savage greatblades.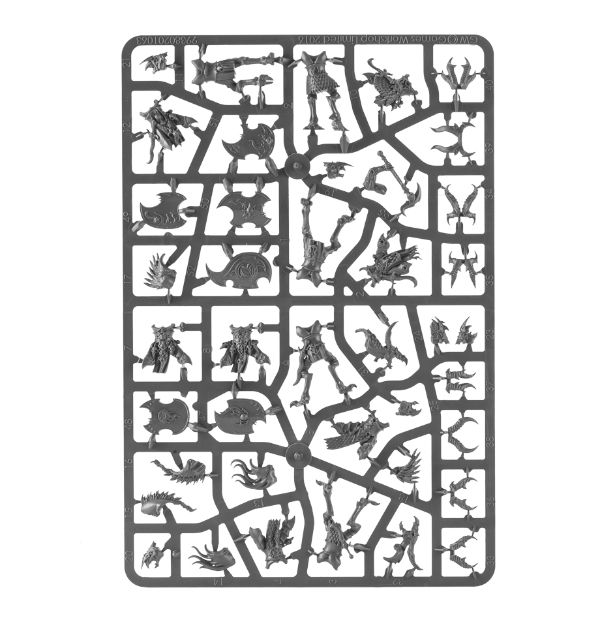 This kit comprises 142 components, and is supplied with 10 Citadel 32mm Round bases.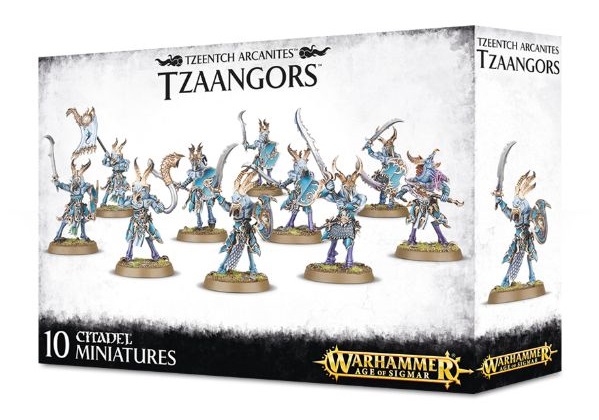 Elite Tzaangors, possessing strange feathers and elaborate horns, the Tzaangor Enlightened are truly blessed with the favour of Tzeentch. They wield ornate spears that set them above their lesser kin, some even riding upon Discs of Tzeentch. Tzaangor Enlightened can see strands of the past – foes cower in superstitious fear as the Enlightened give voice to events from their lives that no-one ought to have knowledge of.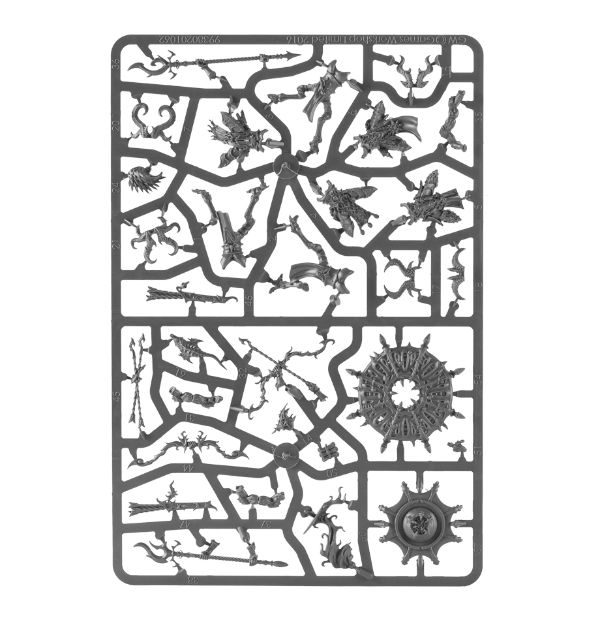 Atop weird Discs of Tzeentch the Tzaangor Skyfires soar across the battlefield into positions where they can rain death upon the foe. Able to catch glimpses of the future, the Skyfires send their Arrows of Fate on what appear to be baffling trajectories to an observer – but the missiles instead strike their targets' most vulnerable weak spots with confounding accuracy.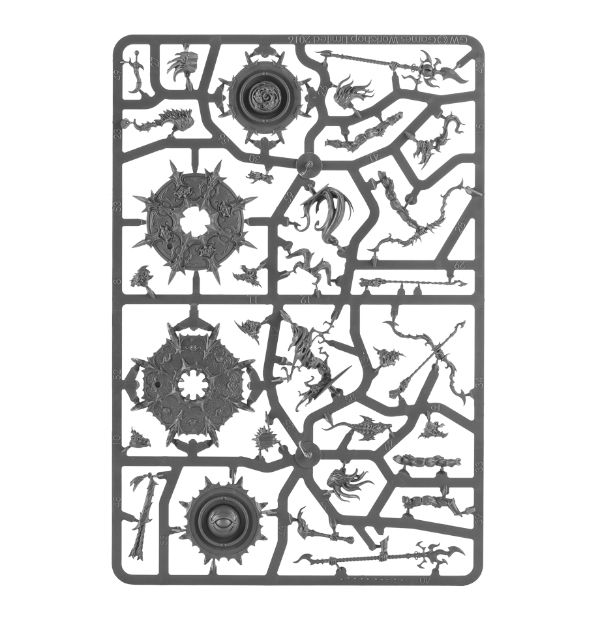 This multi-part plastic kit contains the components necessary to assemble 3 Tzaangor Skyfires. Atop fearsome, toothed-and-horned Discs of Tzeentch, they attack with greatbows – one model can be assembled as an Aviarch, whose greatbow is more ornate, and his headpiece (from a choice of 2) even grander than the already ostentatious coverings of the other Skyfires. Included are 3 quivers, and 6 different heads enabling you to customise your models.

This kit is supplied with 3 Citadel 40mm Round bases, and can optionally be used to assemble 3 Tzaangor Enlightened.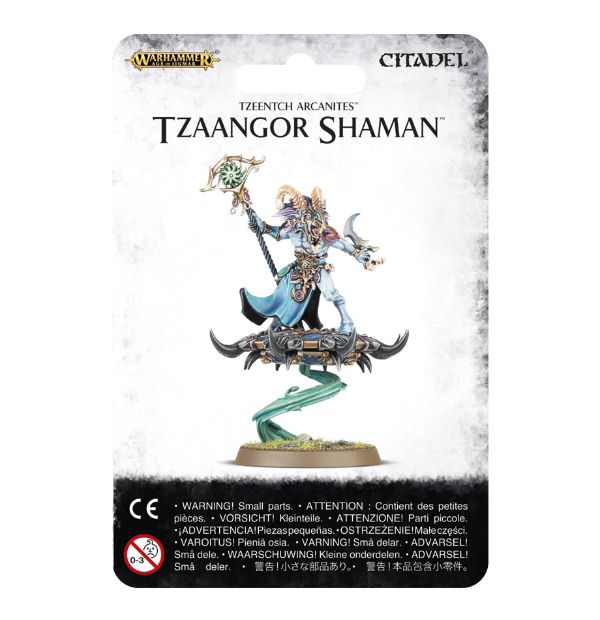 Gifted with arcane abilities, precognitive visions and savage intelligence, Tzaangor Shamans are the most powerful of their kind. Born beneath dark omens, they are born to greatness, gifted with Discs of Tzeentch that raise them figuratively and literally above the heads of their peers. With dark magics they can grant a dubious boon to their foes – mutating them into a form infinitely more pleasing to Tzeentch, that of a new Tzaangor. Not content to hang back and rely on magic, the Tzaangor Shaman is a formidable close-range fighter, attacking savagely.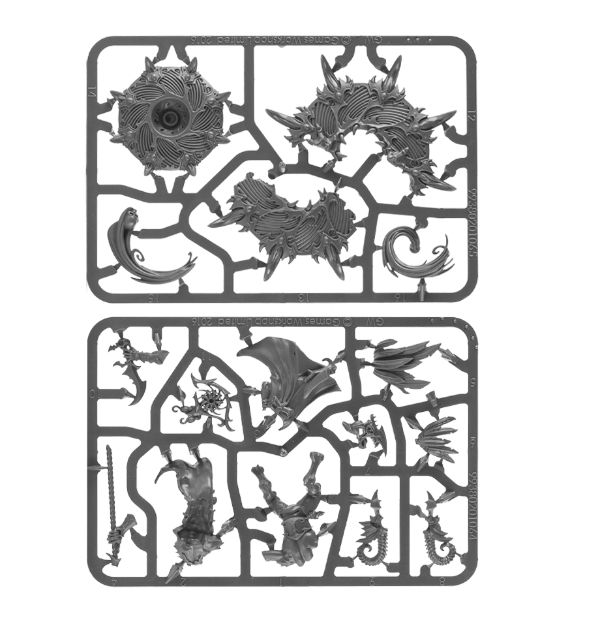 This multi-part plastic kit contains the components necessary to assemble a Tzaangor Shaman. Wielding a ritual dagger and staff of change, he hovers above the ground on an elaborate Disc of Tzeentch, covered in sharp teeth and spiked horns, attached to the base with a sculpted representation of the powerful magics holding it aloft. He's covered in ornate pieces of Tzeentchian armour, and carries an elixir which could possibly enhance his already impressive sorcerous abilities even further with a single great draught.

This kit comprises 16 components, and is supplied with a Citadel 40mm Round base.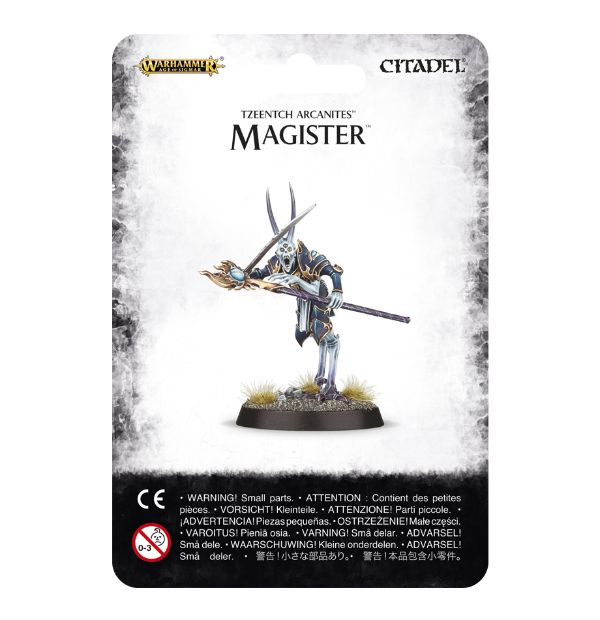 Magisters are powerful sorcerers in service to Tzeentch. Filled with eldritch energies, a Magister can wield fantastical fires to scorch the foe, or transform an enemy into the squelching, misshapen form of a Chaos Spawn. As a member of the cabal of an Arcanite Cult, a Magister will use all his fell powers to inflict change and ruin upon the Mortal Realms in the name of the Great Conspirator.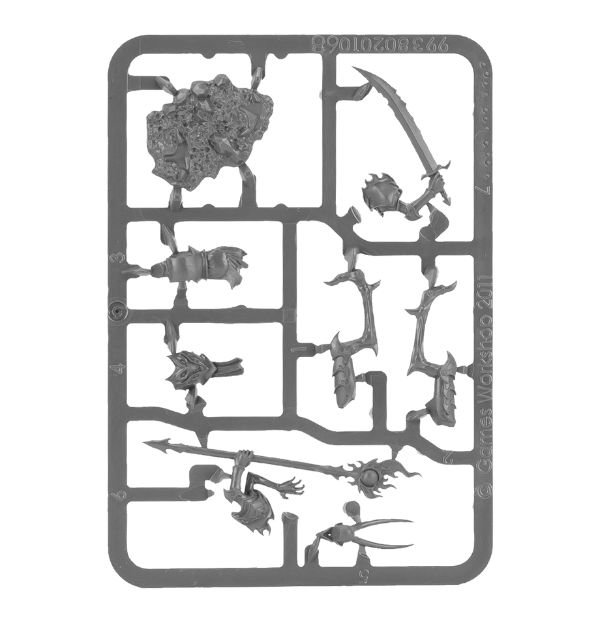 This multi-part plastic kit contains the components necessary to assemble a Magister. Supplied with a Citadel 32mm Round base.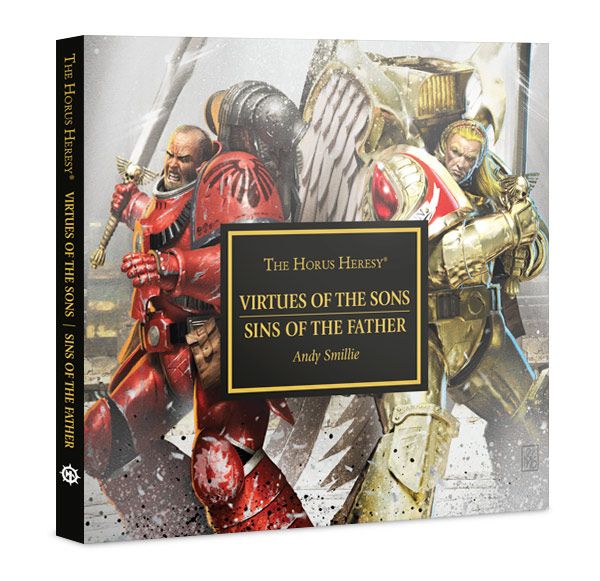 DESCRIPTION
For more than two hundred years, the armies of the Emperor of Mankind fought to reconquer the galaxy – led by the superhuman primarchs, the Space Marine Legions brought countless worlds back under the rule of ancient Terra. Now Horus, once honoured Warmaster and favoured son of the Emperor, has been corrupted by the whispered promises of Chaos. At his command the Imperium is torn apart by a terrible and bloody civil war, the likes of which the galaxy has never seen…

Many and varied are the ancient traditions of Baal Secundus, home world of the IXth Legion, and foremost among these traditions is the Tempest of Angels. Intended to demonstrate skill in attack or defence, in recent times this symbolic duel has been used by the primarch Sanguinius to test his most loyal sons. Now, with the galaxy descending into madness and civil war, he must urge Azkaellon and Amit to put aside their rivalry and learn the lessons of both the past and shadowed future alike.

LISTEN TO IT BECAUSE
For the first time, these two pulse-pounding tales are told back-to-back as audio dramas, each of them providing new insights into Azkaellon and Amit, and through them the Blood Angels Legion and their angelic primarch.

CONTENTS
Virtues of the Sons by Andy Smillie – running time 37 minutes; performed by Toby Longworth, Jonathan Keeble, Steve Conlln
Sins of the Father by Andy Smillie – running time 13 minutes; performed by Toby Longworth, Jonathan Keeble & Steve Conlln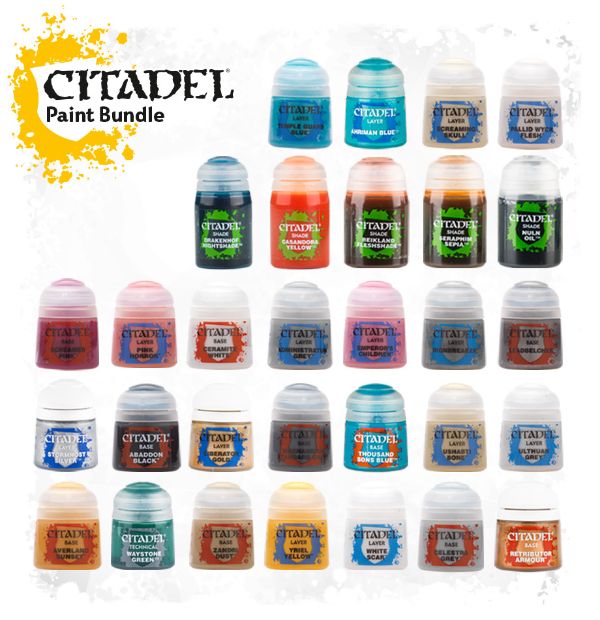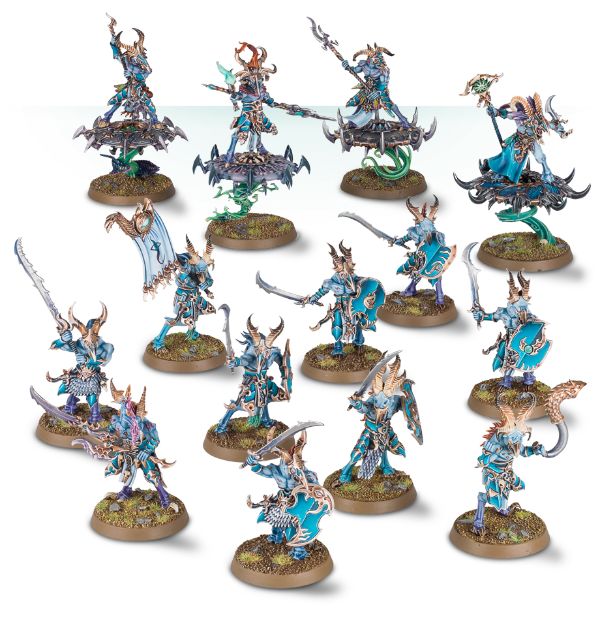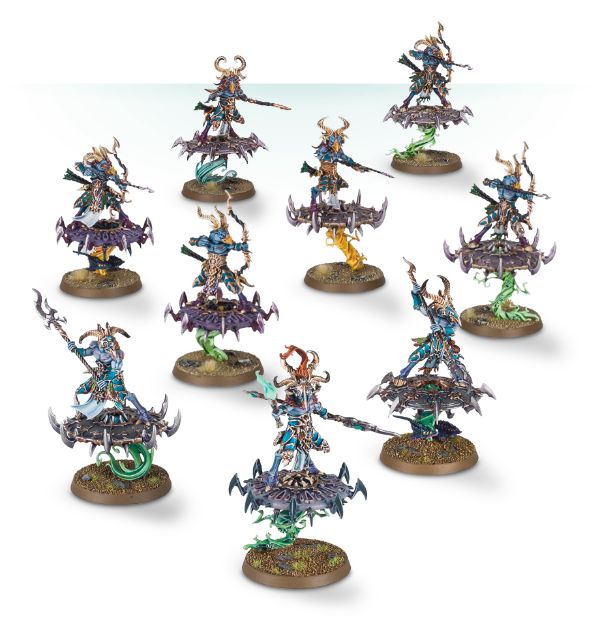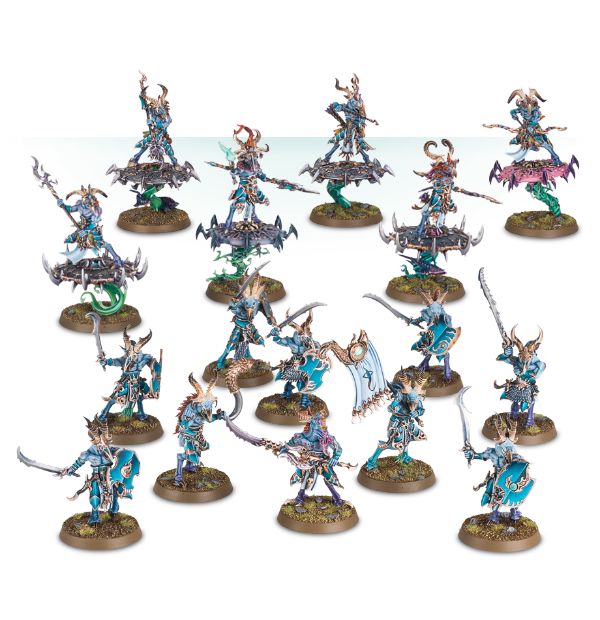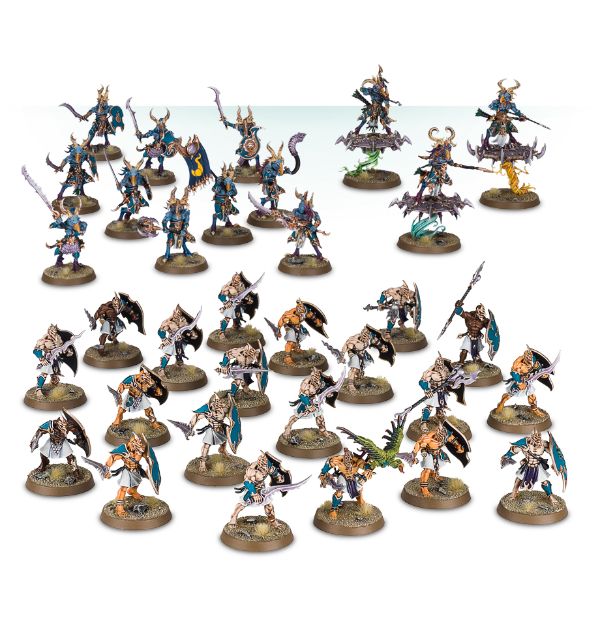 Have it at it folks!