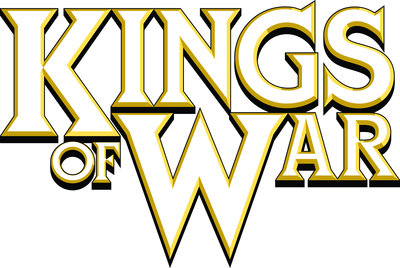 Mantic has a big 2017 update all things Kings of War; prices new armies & more.
Kings of War Army Sets

But, let's do the ugly stuff first. Over the last 18 months we have been hit with a heap of price rises, and on top of that the dollar prices have risen too. We have soaked this up for as long as we can, and held the armies sets at £50 this year, even though the regiment sets all went up in price.
However, the current Kings of War army sets will be going up to £59.99 from Feb 1st. We will look at reconfiguring the sets to see if we can bring them back to £50, and offer a better starter force at the same time. However, that does still give you 30 days to pick them up at the existing price, so if you've been thinking of starting KoW or picking up a new army for the summer campaign, there's no better time than now! Plus, we've currently got a special offer on the softback Gamer's Edition of the rulebook.

Tournament Book

Currently we're busy putting the finishes touches to the Kings of War Tournament Book. Over the past year or so, the tournament scene for KoW has exploded. We organised the biggest Clash of Kings ever (with 74 players all coming together for a weekend of gaming) and next year's event will be even bigger, with space for up to 120 players!
After numerous questions from the Kings of War community about tips for organising a tournament or suggestions about alternative scenarios, Rules Committee member Nick Williams has put together the ultimate Kings of War tournament guide. This great book will be released early next year and we're sure it'll become an indispensable go-to reference for the increasing amount of people that want to organise well-run, exciting and enjoyable tournaments in 2017 and beyond.

Trident Realms – Pre-order now!


In February we'll be officially releasing the Trident Realms army, featuring a veritable tide of new miniatures. We'll be producing new army sets for the Trident Realms of Neritica, so you can finally get your hands on some great units, like:
Water Elementals (mini waves that will crash against the enemy)
the awesome Riverguard (which look a little like ninja frogs)
Thuul (a bizarre mix of Halfing and octopus… we're not making that up)
Gigas (large crustaceans with massive pincers)
As a special Christmas treat, we're opening the pre-orders up for the Trident Realms Army and Trident Realms Mega Force early! Head over to the Mantic website to pre-order yours now! They will begin shipping from February 10th.

Summer Campaign

This is the big one for 2017 – a global summer campaign that will shape the fate of Mantica. We'll be working with Beasts of War to create an online hub where you can upload your results, which will then affect the future of Mantica.
The studio is currently hard at work putting together some background for the summer campaign, including new named characters and details of the key battles that will take place as part of the campaign. There will be new heroes for all of the armies that we currently produce and depending upon how they perform in the campaign, they'll live or die… so, if you've got a favourite, you'll need to fight hard to keep them alive!

We'll have more details about the summer campaign throughout the year and the Campaign Book is due for launch in the spring, so you can read all the background material before getting your army ready for battle! Mantica will never be the same again.

~Much more from Mantic soon.