Tabletop Spotlight: Dwarf Giants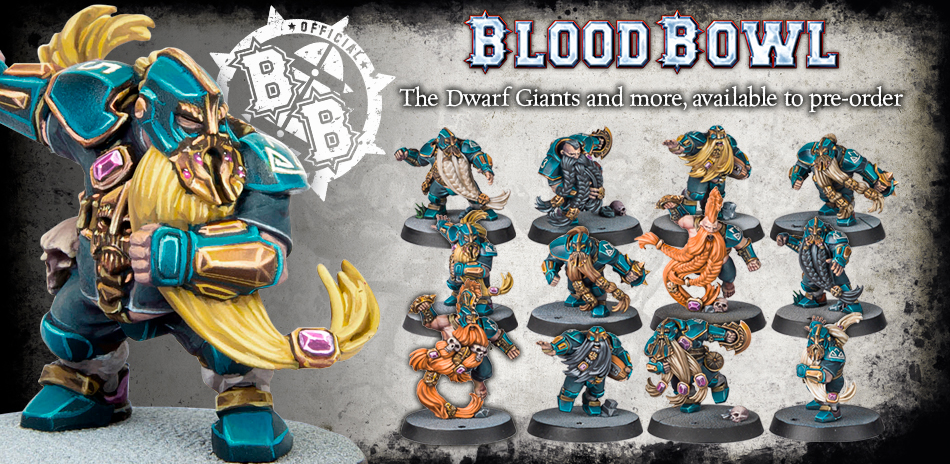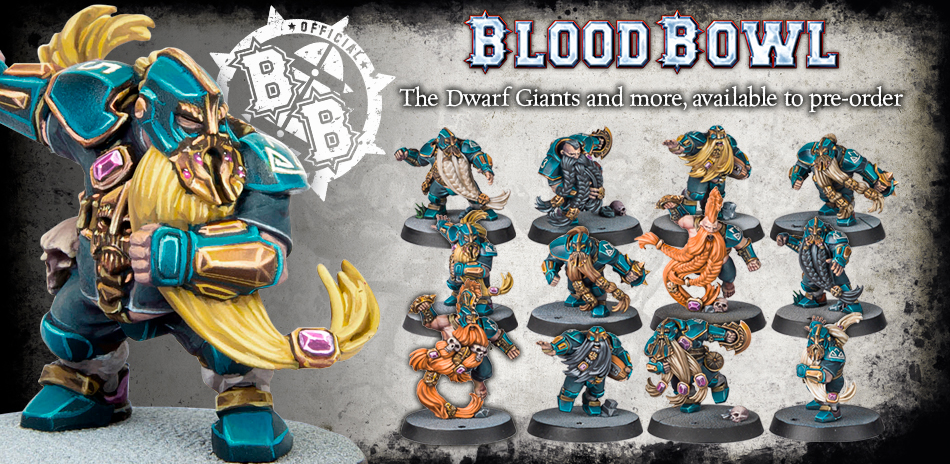 The Stunties are ready for Blood Bowl action – here come the Dwarf Giants!
The Tabletop Spotlight is on The Dwarf Giant Blood Bowl Team. Our Friends at Dragon's Lair Comics & Fantasy brought this box over and I'm really excited for the new Dwarf line:
I'm really hoping that these models are just a small teaser for the "new" style of Dwarf models from Games Workshop. I really like the way they look different from the old dwarf line. I think that when Games Workshop moved to these larger bases it really "opened-up" the models in a cool way.
These Dwarf models in particular have some very interesting proportions. They no longer look like shorter, fatter humans – they now look like stout warriors. Instead of just squashing a human for down, the design team appears to have taken those typical human features and widened them horizontally and elongated their arms as well. They almost have "gorilla-like" arms without the gorilla-like posture. These are by far some of the best looking Dwarf models I've seen from pretty much any line.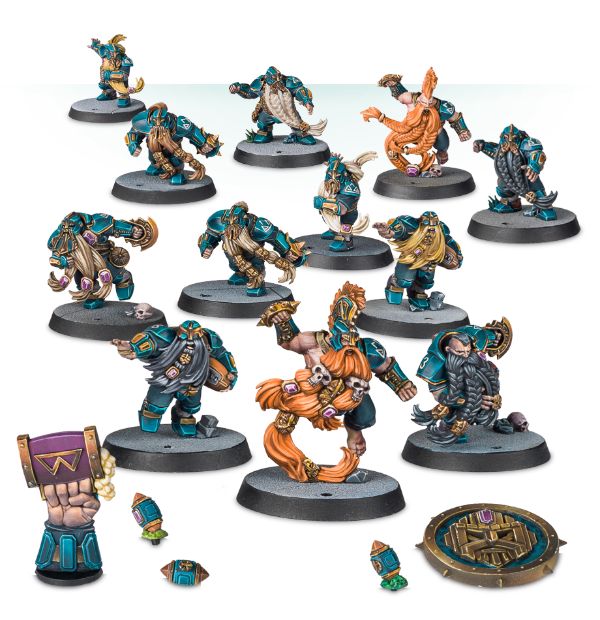 Aside from how the sculptors designed their bodies, I also think they have a fantastic armor aesthetic as well. While it looks like they are wear "Blood Bowl" Football pads, it also has a distinct dwarf look. I love the plates on the armor and how they are smooth but have those sharp slants and joints. It's got a very "carved" look and the gems are also a great touch. And how about those beards?! You can't have a proper dwarf model with out some amazing beards and GW nailed it.
Overall, I think The Dwarf Giants are one of (if not) the best looking teams in Blood Bowl. The models in this kit are really well done and if you're looking for a rock-hard (albeit slow moving) Blood Bowl team then go check out the Dwarf Giants! And GW, if you're reading this – please use these same proportions for ALL of your dwarf models moving forward because I think these models are absolutely perfectly dwarfs. (PS: I'm talking about the Duardin models!)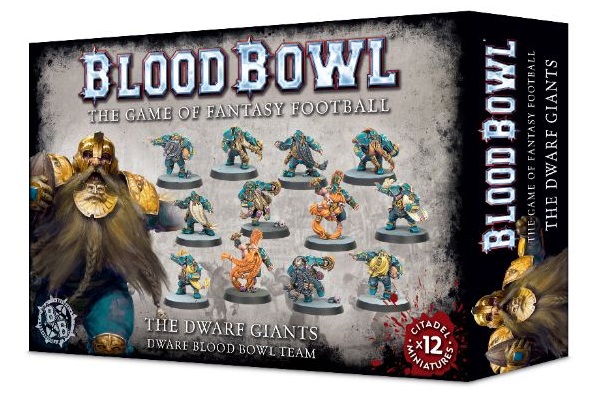 The Dwarf Giants are an old team with a very long and distinguished history. They were one of the original Blood Bowl sects, and have been present for every major development in the game's history. In more recent times they have consolidated their talents and re-launched themselves as major players in the modern Blood Bowl leagues.

Field the Dwarf Giants Blood Bowl team on the pitch with this set of 12 plastic miniatures! In the box you'll find 2 Troll Slayers, 2 Blitzers, 2 Runners and 6 Linemen, with alternative heads for the Troll Slayer and Blitzer, as well as 3 Dwarf balls, a double-sided score coin and a turn counter.

Subscribe to our newsletter!

Get Tabletop, RPG & Pop Culture news delivered directly to your inbox.

There's also a decal sheet featuring symbols for the Dwarf Giants, and a 1,000,000 gp roster allowing a coach to use the team straight out of the box, and 12 32mm bases.

Full rules for putting together your own Dwarf teams can be found in Death Zone Season 1.
With some creative conversions, I'm pretty sure I could attach some weapons to these guys…Or just use them in Blood Bowl!