D&D: Dragon+ Issue 12 – Get Inspired!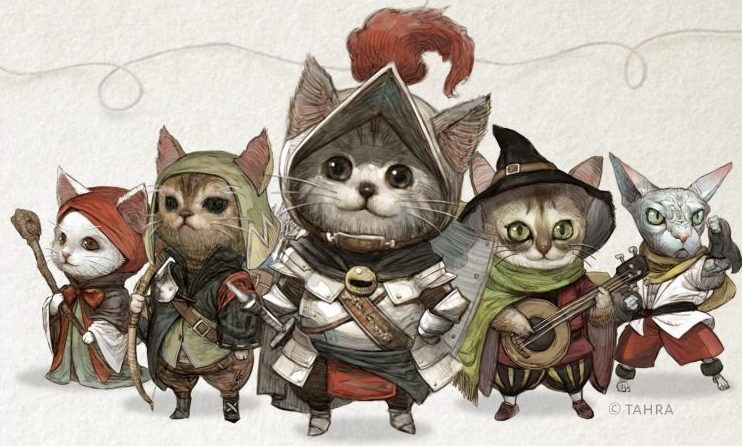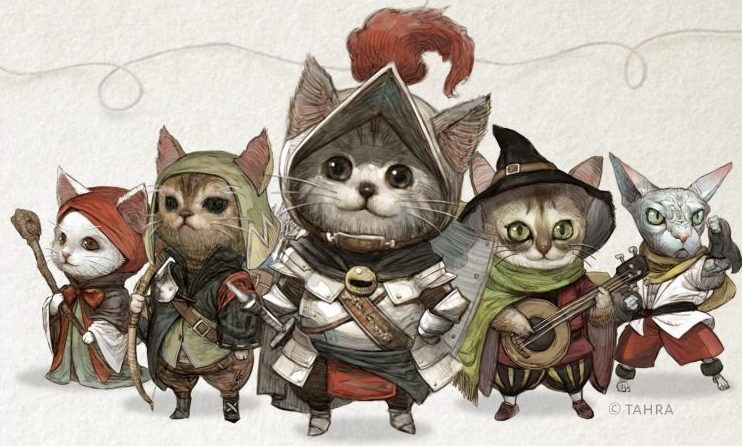 The latest Dragon+ has everything you'll need to get inspired to get out there and play!
This issue is all about different ways to get inspired, or to inspire others. Oh, and cute cats–which are, doubtless, the entire reason the magazine existed in the first place. Don't worry guys, we got there. Mission Accomplished. But for real though, those cats are pretty cool. There's a lot of heart in that article, and it's one of the best examples I can point to of "hitting the theme hard" in recent issues. PLus I am a big fan of getting to see how other people do their worldbuilding–their concept of a Story Guide is definitely something I plan on exploring. It's not the way I usually do things, but I'm curious to see how it works.
On with the show: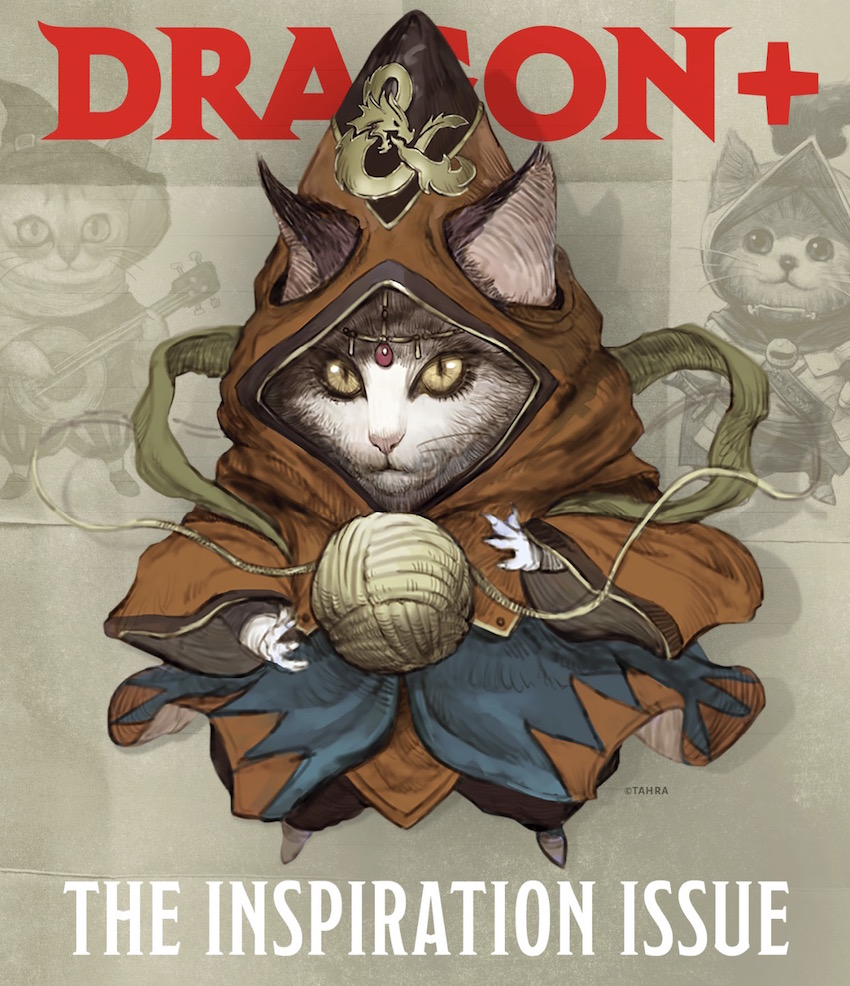 What's New in Issue 12:
"We explore some of the real-life stories of how Dungeons & Dragons continues to encourage and motivate gamers from all walks of life. Then read how D&D designer Adam Lee was inspired to create a new pocket dimension by the work of this issue's cover artist Tahra (Kyoung Hwan Kim).

As part of an early preview of the upcoming Tales from the Yawning Portal, Mike Shea provides tips for DMs for getting the most out of published adventures, while Bart Carroll recounts how he mashed up the classic Tomb of Horrors with an unusual bit of cinematic inspiration. DMs and players alike also have a chance to be inspired by not one but two free adventures in this issue—Banquet of the Damned, featured as part of the Best of the Dungeon Masters Guild; and The Barber of Silverymoon, a tale of horror and whimsy written and illustrated by cartoonist Jason Thompson.

Also in this issue, we talk to designer Andrew Parks about the new Assault of the Giants board game, Daniel Gelon offers a painting master class as our Paint by Numbers series goes beyond the basics, and our delve back into the Dragon magazine archives takes us to the lair of the undead dragon Dragotha. All this, plus a wealth of regular features like Unearthed Arcana, Video & Audio Highlights, Maps of the Month, and much more."
Tales of Inspiration
Rob Gruber, Matt James, and Kat Kruger share stories of the impact Dungeons & Dragons has had on their lives, the inspiration the game has provided them—and how D&D has helped them inspire others.
Herding Tahra's Cats 
Adam Lee explores the process of world building for Dungeons & Dragons, as inspired by a clowder of mystical cats.
Subscribe to our newsletter!
Get Tabletop, RPG & Pop Culture news delivered directly to your inbox.
Use This Book Tonight
In preparation for running Tales from the Yawning Portal, Mike Shea lays out Dungeon Master tips for squeezing the most value out of published adventures.
Paint by Numbers Part 2: Beyond the Basics
Master artist Daniel Gelon tames a cave bear mini from an unusual source as he explores some advanced painting techniques.
Standing on the Shoulders of Giants
WizKids' designer Andrew Parks reveals some of the secrets behind the creation of new board game behemoth Assault of the Giants.
Best of the Dungeon Masters Guild
Designer Benoit de Bernardy reveals the creative recipe behind the adventure Banquet of the Damned—available as a free download for Dragon+ readers.
Behind the Screen
As we take a sneak peak at the upcoming Tales from the Yawning Portal and its seven classic dungeon adventures, Bart Carroll talks about his experience running a most memorable remix of the deadliest dungeon of them all.
Video & Audio Highlights
Mike Mearls previews Tales from the Yawning Portal, Chris Perkins talks storytelling at PAX South, and the celebrity adventurers of Force Grey: Giant Hunters make a final stand.
Maps of the Month
This issue features more sumptuous maps from Storm King's Thunder—including Ironslag, Lyn Armaal and Maelstrom—from master cartographers Jason A. Engle and Lee Moyer.
The Barber of Silverymoon
Highlighting some of the many new creatures in Volo's Guide to Monsters, writer and illustrator Jason Bradley Thompson unveils a darkly humorous adventure with a unique walk-through map—free for readers of Dragon+.
Dragon Magazine Throwback
Inspired by the classic adventure White Plume Mountain, this "Lords & Legends" article from 1988 marked the first appearance of the legendary Dragotha, the undead dragon.
~Make sure you have everything you need for the dungeon, because we're leaving right meow.