FFG: New Releases "Runewars, Arkham Horror & More"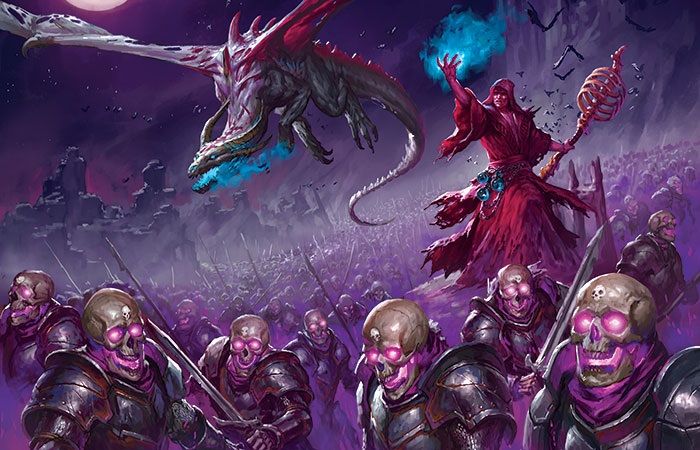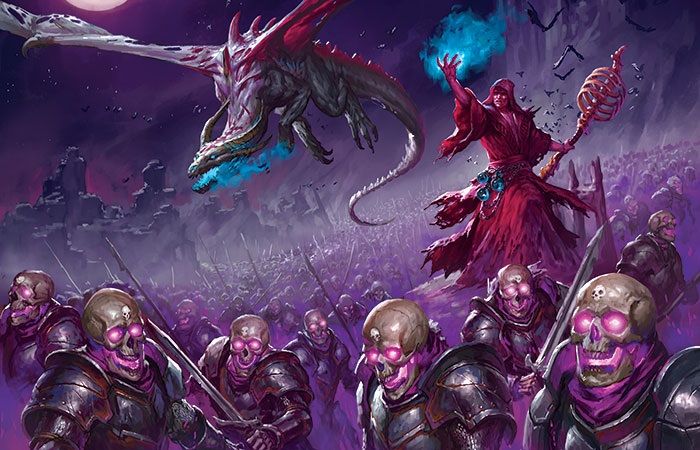 Fantasy Flight Games has a ton of new stuff coming out this weekend and some more products launching next week – come see it all!
via FFG
In Stores Now April 9th-15th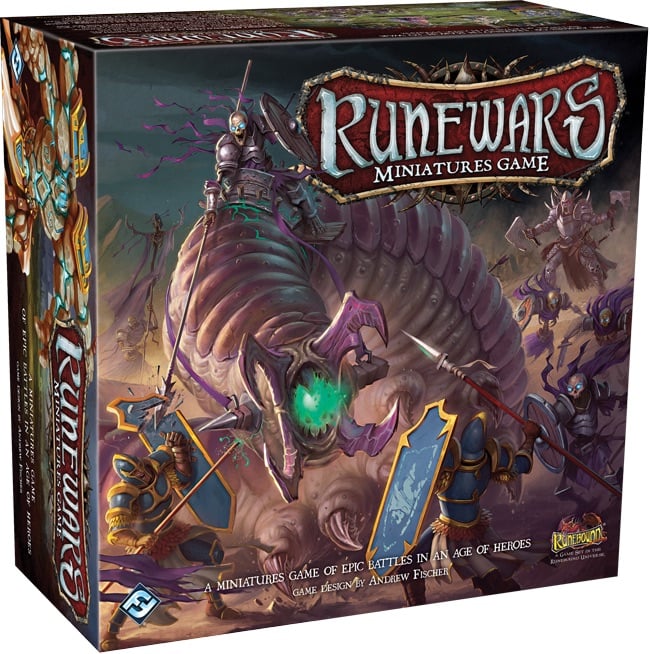 For years, the armies of Waiqar the Undying have stayed within their borders, launching only minor raids across the border. But now, a nameless threat stirs within the Mistlands, and legions of undead cross into the realm of Terrinoth under Waiqar's command! The Daqan Lords have sounded the call to war, and their finest generals lead armies of warriors and golems to take up defensive positions in the border territory of Roth's Vale. The first battles of the next great war are about to begin. 

RuneWars: The Miniatures Game is a two-player miniatures game of battles between the great powers of Terrinoth. In each game, you and your opponent will gather armies of miniatures and lead them into battle—blocks of infantry will maneuver for position, cavalry wings will wheel and slam into a weakened flank, and monstrous rune golems or carrion lancers will smash through formations of lesser warriors. Innovative command tools, two distinct factions, and countless ways to customize your experience combine to offer an unparalleled miniatures gaming experience in RuneWars. Finally, with forty-eight beautifully sculpted, unpainted figures, you'll be able to paint and customize your armies to bring an entirely unique touch to your games and enter the hobby of miniatures painting!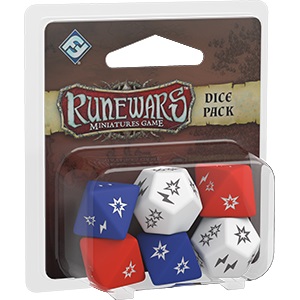 Your set of custom dice is essential to claiming victory during a game of RuneWars: The Miniatures Game. After all, you may be able to maneuver and wheel your troops perfectly into position, but you'll want to have your dice close at hand when it's time to attack. The RuneWars: The Miniatures Game Dice Pack offers you a tool of convenience: another set of custom attack dice, identical to the set that you receive in the RuneWars Core Set. When you've added the dice in this Dice Pack to your dice from the Core Set, it'll be easier than ever to keep your focus where it belongs—on the deeply tactical movements and combats of RuneWars.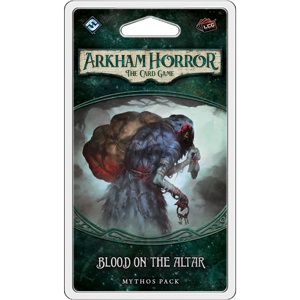 Blood on the Altar is the third Mythos Pack in The Dunwich Legacy cycle for Arkham Horror: The Card Game. Its sixty cards (including a complete playset of each new player card), challenge you to delve the secrets of Dunwich, where you suspect a series of recent disappearances may be related to the events in Arkham. But the more you explore, the more you get the impression the townsfolk aren't exactly pleased to see you. There are secrets in this town that its inhabitants don't wish to share…

Subscribe to our newsletter!

Get Tabletop, RPG & Pop Culture news delivered directly to your inbox.

Even as your investigation of the town leads you to many of the locations infamously identified in H.P. Lovecraft's classic tale, The Dunwich Horror, the player cards in Blood on the Altar allow you to translate the experience you gained in your previous adventures to Permanent new Talents, several new assets, events, and skill cards, and higher-level, more efficient versions of cards from the Core Set.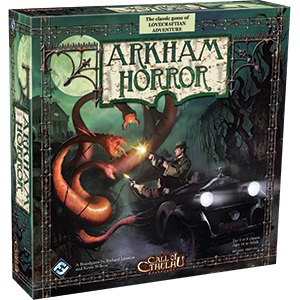 It is the roaring 20's, and while there's electricity in the air, unnatural storms are brewing as well. Strange things are happening in the small Massachusetts town of Arkham; people have gone missing, sightings of indescribable creatures grow more and more frequent. And the very air thickens with a sense of foreboding that roils like an acrid mist through the streets. The Ancient Ones are stirring…

Arkham Horror was originally published by Chaosium, Inc. , in  1987. This new, updated edition features stunning new artwork and graphical design (including a new gameboard, counters, cards, and playing pieces) as well as revised and expanded rules from the game's original creator, Richard Launius.Players can select from 16 unique playable investigator characters, each with unique abilities, and will square off against the diabolical servants of 8 Ancient Ones, including Ithaqua, Hastur, and the terrible Cthulhu! No fan of the Cthulhu Mythos will want to miss the opportunity to acquire this classic Call of Cthulhu board game!Arkham Horror is a cooperative game for 1-8 players ages 12 and up, and can be played in 2-3 hours.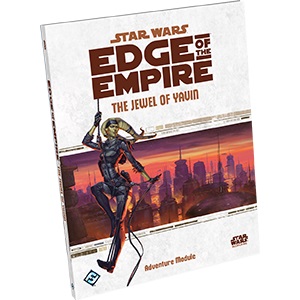 Scrape together a crew and prepare for the heist of a lifetime in The Jewel of Yavin, a ninety page adventure supplement for Star Wars®: Edge of the Empire™.

Set in Bespin's Cloud City, The Jewel of Yavin includes plenty of opportunities for all characters to shine as they work to steal the priceless corusca gem.

Game Masters will find the Cloud City gazetteer section especially useful, both for running The Jewel of Yavin adventure and for basing their own Edge of the Empire campaigns on the floating city. The section features over a dozen pages of material detailing locations in the plaza district, Port Town, and the industrial levels.
Coming Soon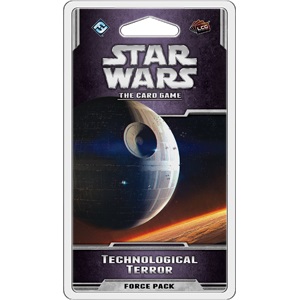 The Star Wars galaxy is a place where unbelievable technology is commonplace. Blasters fire lethal bolts of energy, hyperdrives propel ships many times faster than the speed of light, and sentient, sapient droids fill every conceivable role in society. Still, these great technologies are not inherently good or bad—they only reflect the morals of those who use them. And in the hands of the Galactic Empire, even the most impressive technology can become a weapon of evil. 

Delve into the stunning technologies of Star Wars with Technological Terror, the sixth Force Pack in the Opposition cycle for Star Wars™: The Card Game. Within this pack's five unique objective sets, you'll find astromechs, assassin droids, Imperial shuttles, and beat-up Skyhoppers. Like the other expansions throughout this cycle, many of these objective sets and new fate cards play into the rivalries between factions, goading the Jedi against the Sith, the Imperial Navy against the Rebel Alliance, and the Smugglers and Spies against the Scum and Villainy. No matter which side you fight for, you'll find the technology to support your goals in this Force Pack.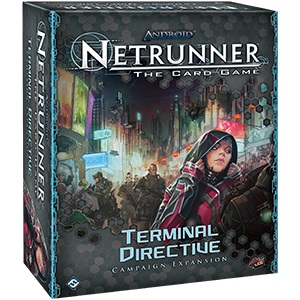 An augmented killer is on the loose… Terminal Directive is a narrative campaign expansion for Android: Netrunner The Card Game that allows you and a friend to enjoy a constantly evolving murder mystery in the Android universe.

Corp and Runner compete in a thrilling race for the control of valuable data that plays out over the course of an extended campaign. Each match impacts the larger shape of your investigations. Each data set you unlock leads you in a new direction. You may have run before. You may have pursued your corporate agendas. But nothing you've done has yet prepared you for Terminal Directive and the narrative-driven campaign play it brings to Android: Netrunner.

Two PAD sheets, one sticker sheet, one rulebook, and four data sets of campaign cards and stickers allow you to track your progress, even as the expansion provides a massive infusion to your standard, tournament-legal Android: Netrunner matches with 163 new cards (86 Corp and 77 Runner) divided between the Criminal, Shaper, Haas-Bioroid, and Weyland Consortium factions, as well as neutral. With its four new identities and a complete playset of each new player card, Terminal Directive comes with everything you need to grab your Core Set and enjoy a thrilling campaign full of cyberstruggles and meaningful decisions. Altogether, this makes Terminal Directive an ideal second step for new and casual Android: Netrunner players looking to delve deeper into the Net!
Runewars is going to be a big one to look out for this year – but don't skip out on those other releases. Lots of great stuff from FFG!
Latest News From BoLS: