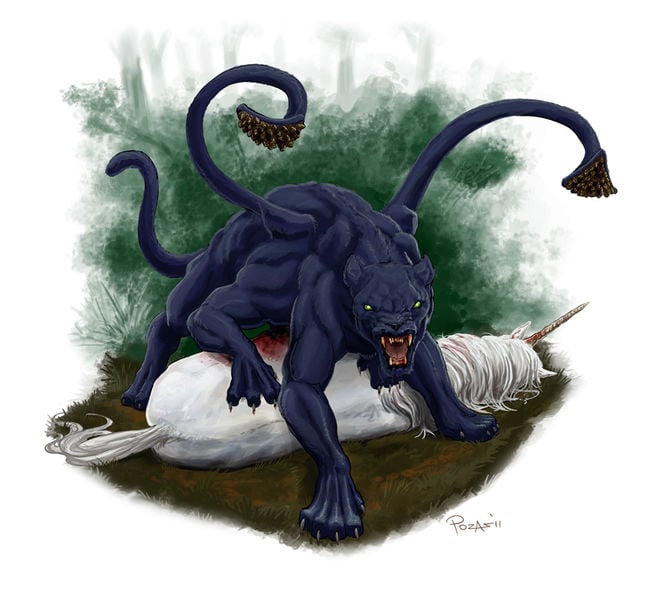 This week's monster is a nice kitty…just stay right there…don't make any sudden movements.
That's right folks. This week we're climbing up into the temperate mountains and forests of the world to drag everyone's favorite evil tentacle-cat out of its hiding place and right into the spotlight. Well, okay, three feet or so to the right of the spotlight–or was it the left. At any rate, this is one beast whose place in D&D history will never be displaced.

The Displacer Beast has appeared in every monster manual since AD&D first came out, and it remains there to this day. It's a perfect example of a D&D monster–a souped-up big cat that has magical powers. It combines the normal and the supernatural just enough to make it feel like you're not playing in the real world (compare fighting a displacer beast to fighting a bear or even like a Dire Wolf). When you're stalked by a displacer beasts (or a pack thereof) you're being hunted by a supernatural predator that is full of malice and wants to tear you limb from limb. Intelligent enough to be spiteful, these monsters can be difficult for unprepared parties.
Although the Displacer Beast is a mainstay of D&D's fantasy setting, its origins actually lie among the stars…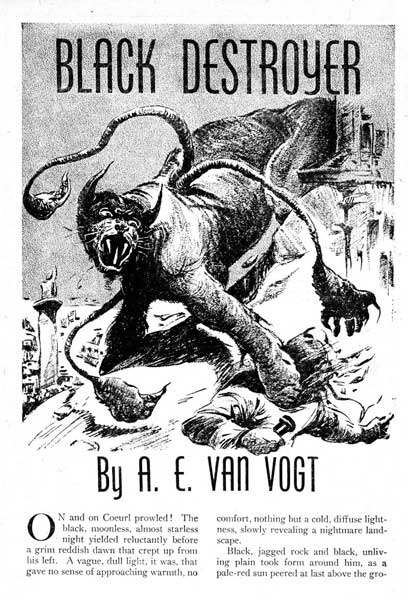 It first appeared in A.E. van Vogt's short story "Black Destroyer," where it was called a Coeurl. In this story, the coeurl lived on an alien planet and appeared to be an unintelligent creature that was taken aboard by a bunch of exploring humans. However, it was cunning, and played along once it realized that it could feed on humans–those tentacles you see up there attach to its victims and it drains them of their Id, Then it kills one of the crew, and, well, you can imagine how the rest of it goes from there.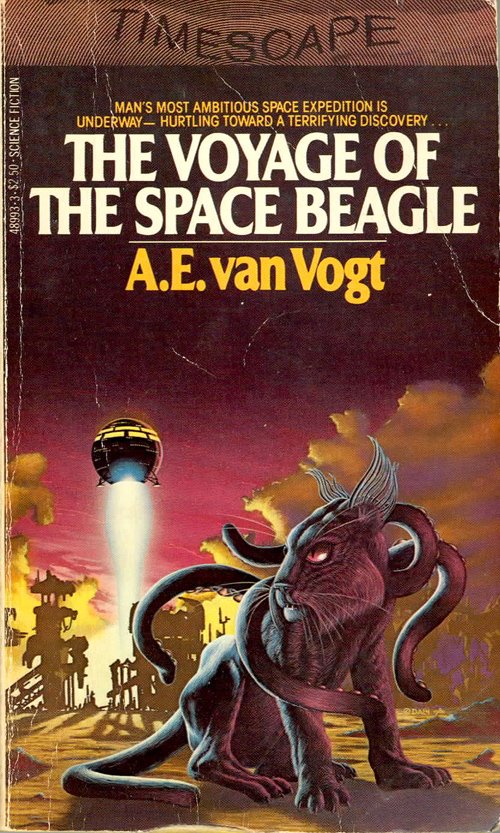 Black Destroyer was later incorporated into The Voyage of the Space Beagle, and this saw a few changes to the coeurl. Its tentacles changed from stinger/finger-esque appendages into the sucker-lined monstrosities that we all know and…love(?). As you might imagine from the title, the Voyage of the Space Beagle was a story about a ship that's exploring space to catalogue the various species they encounter (no finches, though), and the Coeurl made such an impression that it ended up in D&D, Final Fantasy, and the anime Dirty Pair.
Not bad for a malicious little sucker beast.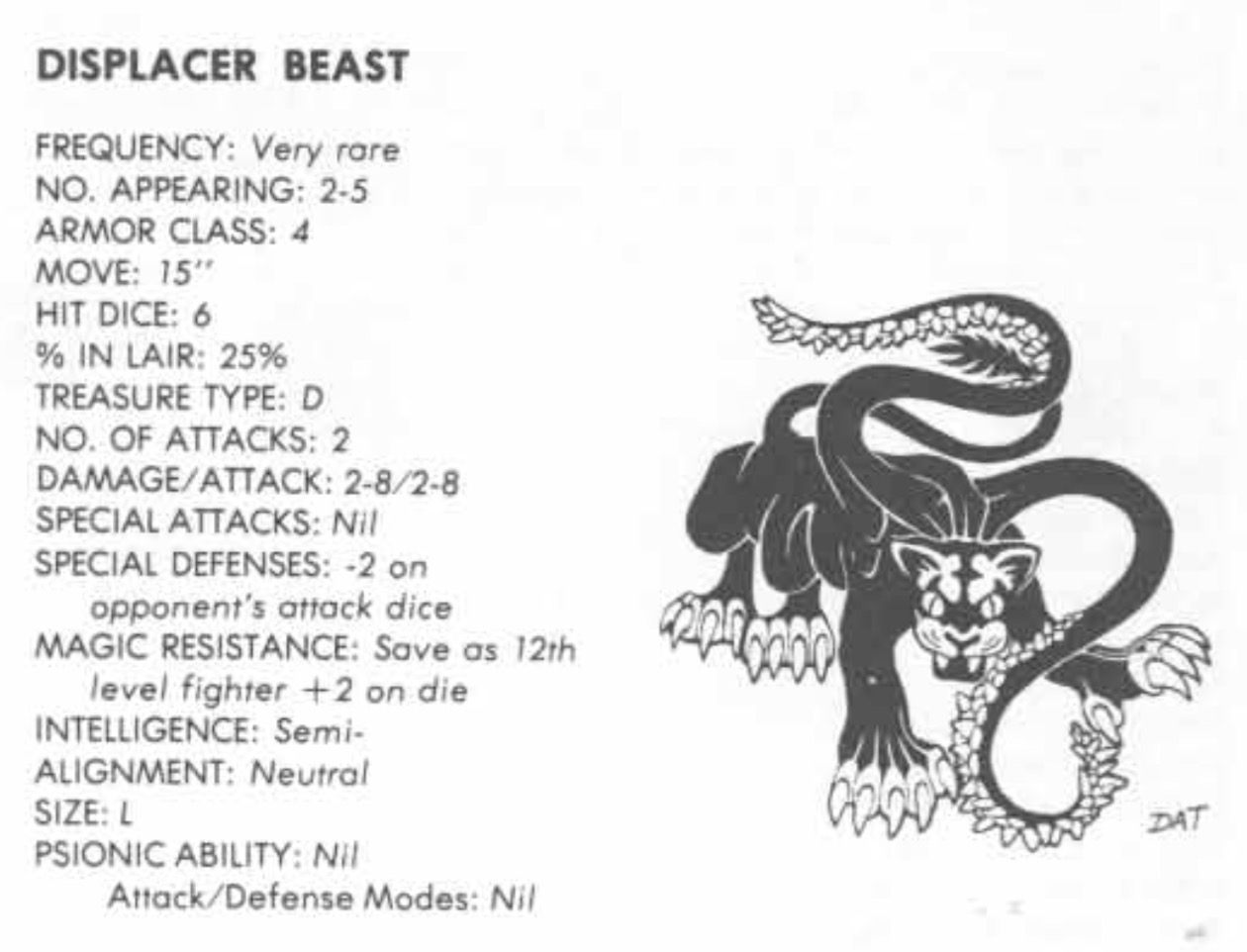 The 1st edition displacer beast was fairly simple. 6 hit dice, a decent armor class (effectively AC 2 because of its special displacement ability), and two attacks that dealt 2d4 each. Not bad–more defensive than you'd think–but the real threat from these comes from the fact that they always appear in packs. Much like late night regrets and thoughts of existential dread plaguing you at the cusp of sleep, you'll never face just one.
Also I'm surprised that original artwork hasn't been used as a high-school mascot somewhere. It looks exactly like something the school team would have.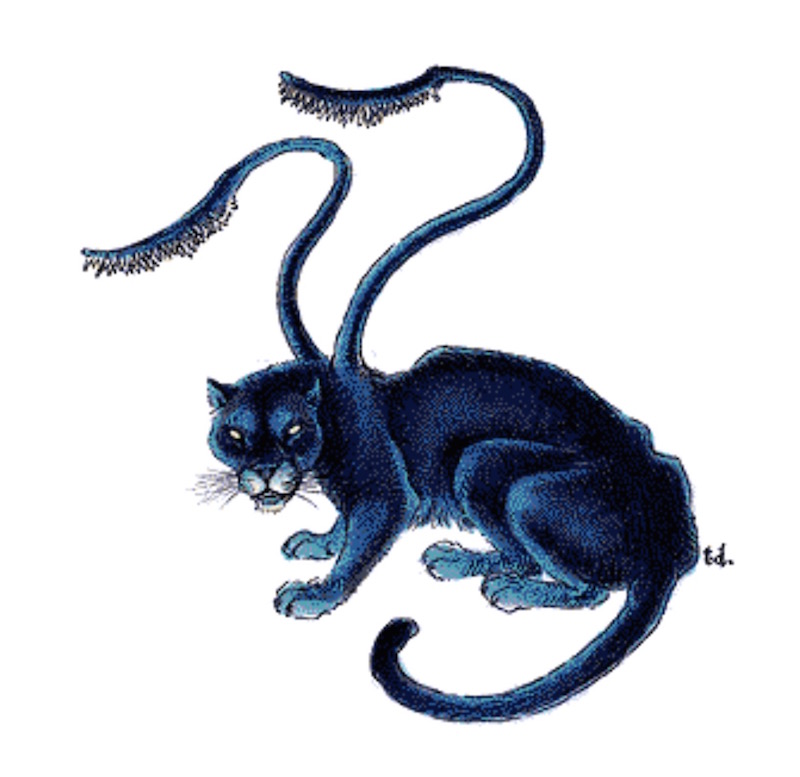 Alright, I think this is one case where the 2nd edition artwork is in the running for best picture of any of the editions (it's not always the case). I mean that is definitely an evil panther–its eyes are glowing, there's a certain presence to it, almost like it's staring right back into you…
Whoa. Got sidetracked there. Anyway the 2nd edition displacer beast is mechanically the same as its 1st edition antecedent, but if there's one thing 2nd edition does well, it's adding to the ecology and flavor of the game. We get a rich feast of detail here: displacer beasts are carnivores, always run in packs, and most importantly hate all life. To the point that sometimes they will kill for pleasure. Look at the character in just those few sentences.
2nd edition also introduces the feud between Blink Dogs and Displacer Beasts (theorizing that their natural abilities interfere with each other) which is fantastic–because the very next entry in this Monster Manual is the Dog entry.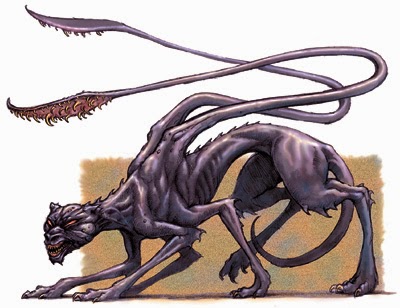 The 3rd edition displacer beast is another big leap forward for our friend. Though I don't particularly like the art (especially since they're supposed to weigh 500 pounds). But the displacer beast in this edition gained attacks that do more damage (1d6+4 instead of 2d4), as well as an extra bite attack. On top of that, the displacement ability got seriously tweaked–any ranged or melee attack just straight up had a 50% chance to miss it. And for once it's 3rd edition that adds a variant (whaaat?!) with the displacer beast pack lord (a huge variant) putting its name on the roster. Most striking though:
Displacer beasts speak Common.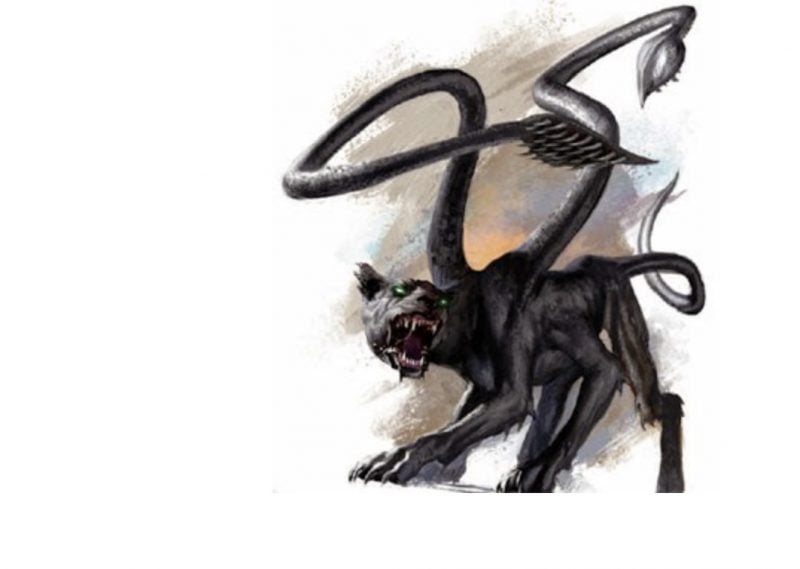 The 4th edition displacer beast leans into that a little more. This is the toughest that displacer beasts have been yet, moving up to level 9 creatures. Their tentacles have a 10 foot reach, and deal the same amount of damage as their 3rd edition counterpart, their bite hits a little harder–a d10 + 4 instead of a d8 + 2–and they gain a number of mobility options that let them shift around when missed by attacks.
The Packlord gets a buff as well, becoming much more of a harasser–its defensive abilities trigger a move and a counterattack whenever it's missed.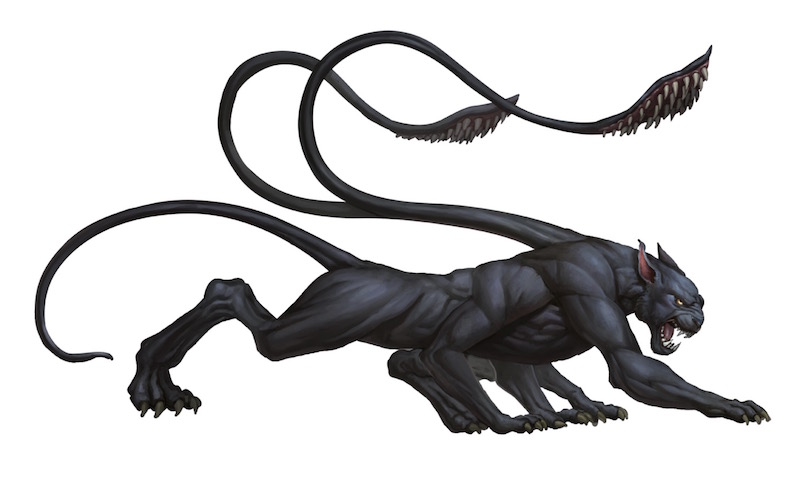 5th Edition finds a wonderful sweet spot. Displacer beasts are back down in threat–only CR 3 now, but they utilize the flavor of D&D so much better. They came from the Feywild, and were hunted and bred by the Unseelie Court to use as pets and hunters, right up until the displacer beasts used their newfound intelligence to escape and turn the tables on their masters. Roaming free in the Feywild, the Seelie Court came after them with blink dogs and drove them out of the Feywild, basically, which is why they forever hate each other now.
We also get a look at their personality again–they are predators who kill because they enjoy it, entertaining themselves in a very literal cat-and-mouse game before finally killing their prey. As far as their abilities go, they are very heavily skewed towards defense–attacks on them have disadvantage AND they have evasion. Their attacks even get a boost, doing 1d6 + 4 bludgeoning damage, and an extra d6 piercing damage, because the person writing the entry actually noticed the art.
---
Anyway, there you have it. Whatever the edition, displacer beasts have always been fearsome predators. But I noticed a disturbing trend… starting in 1st edition, they only had an intelligence of 2-4. By 3rd it was 5…and in 5th edition, their intelligence is 6… are they getting smarter?

I'm going to go…now…just uh, lock up the comments when you're doneokaybye…