RPG: New Paranoia RPG – All Hail Friend Computer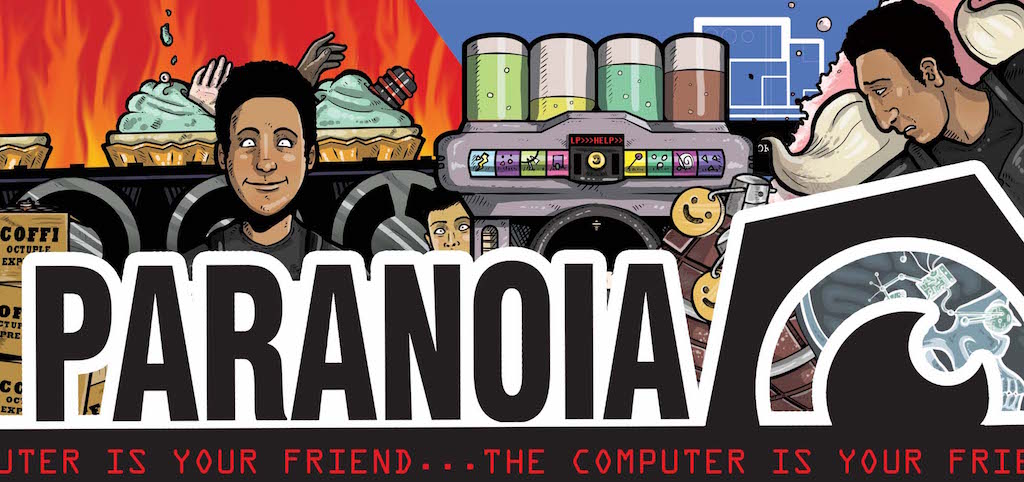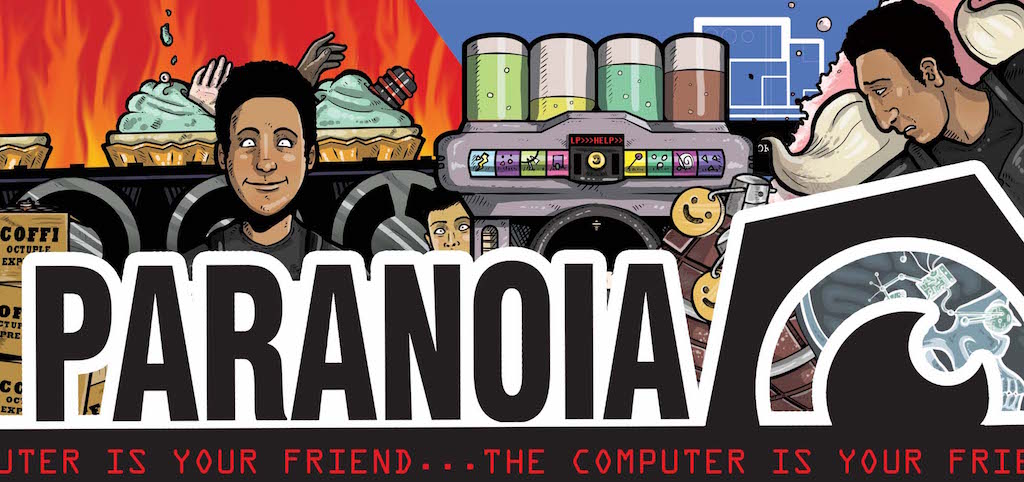 Brace yourselves, troubleshooters, new orders from Friend Computer are due to arrive any minute now…
[BLAM] Apologies dear readers, that was clearly a mutant lie, there is DEFINITELY NOT a new edition of Paranoia out now. That would mean that the Computer could be improved upon, and we all know that Friend Computer has our best interests at heart and is also infallible, and therefore cannot be improved upon and any evidence to the contrary, such as this product page appearing on Mongoose Publishing is to be regarded as treasonous perfidy at best, and perfidious treason at worst.
Additionally I've been informed that a number of rebellious secret societies have infiltrated our ranks and you should all report to the Computer for summary execution. Thank you for your cooperation. In the meantime, let's all take a moment to reflect on the heady days of 1984–West End Games (who also made that RPG about those sci-fi movies being celebrated right now) unleashed a temporally appropriate Dystopian Dream upon us all–it was an RPG of Orwellian Ordeals and Obfuscatory Orders. Full of dark humor, zany humor, and more than a little backstabbing, betrayal, and treachery, Paranoia won over the twisted hearts and minds of gamers everywhere, taking home the Origins Award for best role-playing rules.
They also published a 2nd and 5th edition of the rules, with Mongoose Publishing picking up their legacy with Paranoia XP (again, this is heresy and lies, clearly none of these ever existed and you cannot find them on the web, only artifacts of deceit which should be reported to the Computer). And now, the successful Kickstarter the Computer enjoyed a while back, a new, Red Clearance edition is available for pre-order with eventual release scheduled for later this year.
NO IT'S NOT WHY DO YOU INSIST ON LYING I'LL HAVE YOU ARRESTED FOR TREASON!
via Mongoose Publishing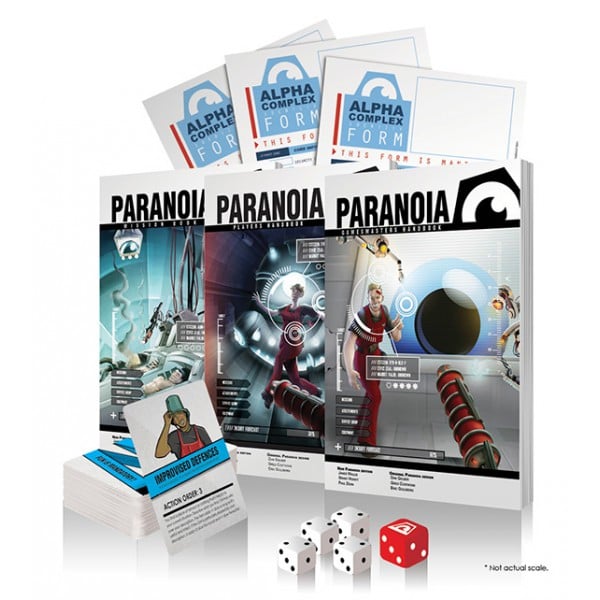 TRUST THE COMPUTER!
THE COMPUTER IS YOUR FRIEND!

You are a Troubleshooter! Congratulations!

As a Troubleshooter, you are a member of Alpha Complex's most expendable elite force. Tasked with finding trouble and shooting it, you will be hunting mutants, terrorists, traitors, [CLASSIFIED], secret societies, renegade bots, and DAIVs, which are [REDACTED]. You'll save Alpha Complex from its greatest threat, unless you accidentally become Alpha Complex's greatest threat.

All-new mechanics include a simple yet brilliant character-generation system, a bluffing-based card-driven combat system, a special Computer Dice which means even the simplest interaction can become hilariously fatal, in-game XP Point rewards, and more advice to GMs than you can shake a stick at.

Everything is the same but everything is different. And more perfect than ever.

Subscribe to our newsletter!

Get Tabletop, RPG & Pop Culture news delivered directly to your inbox.

You look worried, citizen. Relax! It's still Paranoia. The year is still 214. You still have six clones and a laser pistol. The Computer is still your friend.

Contains:
The Player's Handbook
The Gamesmaster's Handbook
The Missions Book
110 Playing Cards
Character Cards

The PARANOIA INTERACTIVE SCREEN is an experimental but entirely safe device developed by those totally non-mutant geniuses over at R&D. How will it make you happy?

* TOUCH SCREEN! It's entirely tangible. There is, actually, a piece of cardboard on the table, not just a hologram or social convention.
* INTERACTIVE! Slam your Action Cards (TM) on the screen's ACTION SLOTS for SPECIAL BONUS POWERS!
* DANGEROUSLY INTERACTIVE! Knock over the screen and win BIG PRIZES1
* SO STYLISH AND AWESOME, you'll think it's above your security clearance!

1 Prizes may include termination.

Citizen! Fill out this mandatory fun form immediately. Failure to complete this form promptly may result in unspecified formal form sanctions, including reassignment to form checking, cranial deformation, or more forms.

I LOVE FORMS FOR

[  ] Accusing people of treason

[  ] Claiming backdated XP points

[  ] Reporting Coretech issues including buzzing in ears, hallucinations, a large pink umbrella, and inability to reaaduvhqq

[  ] Sector travel permits!

[  ] All of the above

[  ] None of the above. Also, I am an anarchist traitor unwilling to truncate my essential self down to a checkbox on a form, and so should be terminated with extreme prejudice.

I AGREE TO THE END USER AGREEMENT FOR THESE FORMS, WHICH I WON'T READ OR, INDEED, EVER SEE

[  ] YES
Trust the Computer. The Computer is Your Friend.