Tabletop Podcast Review: April 23rd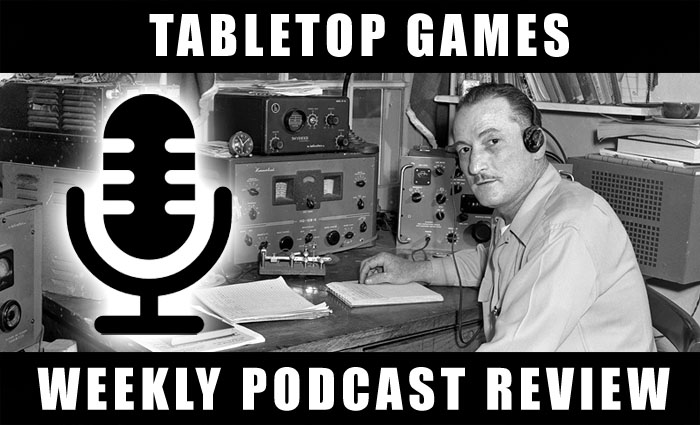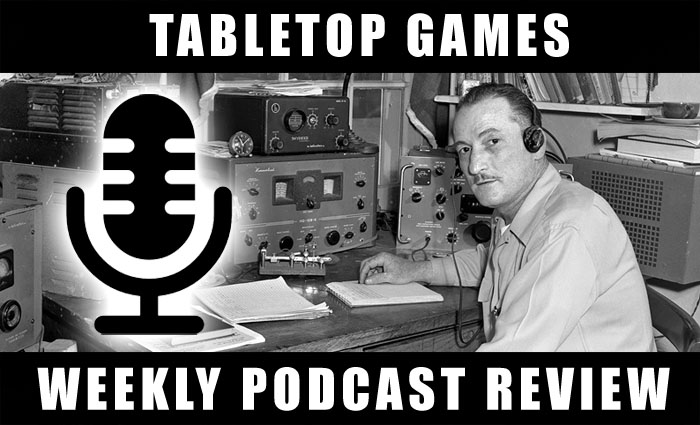 Adam here for another week of tabletop podcast reviews! Rumors, new 40K announcements, & More!
Hey all, Adam here, from TFG Radio, for this week's reviews!  This week we are still seeing a few Adepticon recaps, along with some talk about the new edition of 40K that was just recently announced! So, let's get on with the reviews!
Signals from the Frontline Interview – This interview is from Adepticon. Reece and Frankie talk to the designers for the new AoS book, Kharadron Overlords. They talk about the process of designing the army, some of the reasons behind the ideas, and how to actually pronounce the army name.
Meeples & Miniatures Episode 205 – This episode, with the eventual release of Adeptus Titanicus, the guys have a panel, that include the creators of NetEpic, to talk all things epic 40K. They discuss the their collections, which edition was the best, how the game was killed by GW, the origins of NetEpic, and what they hope to see in the new edition of epic 40K. Nice episode about, probably, my favorite GW game.
Chapter Tactics Episode 28 – I am a guest on this episode, along with Salty John. We talk about "seeing the matrix" in 40K, among other games. Give it a listen if you are curious about what it takes to be Techno-Jesus.
Roll to Seize 40K Arena Episode 9 – This month the undercard is Necron Triarch Praetorians vs Fulgurite Electro-Priests. The main event involves a couple mysterious figures.
Signals from the Frontline – Always a good listen for new and rumors on 40K and other miniature games in the industry.
Also Out This Week
4 Man Meta Season 2 Episode 8 (Warmachine)
9th Realm Episode 40 (AoS)
Bad Dice Podcast Episode 153 (AoS)
Battleshock Episode 7 (AoS)
Subscribe to our newsletter!
Get Tabletop, RPG & Pop Culture news delivered directly to your inbox.
Black Sun 4/17/17 (AoS)
Beermachine Episode 51 (Warmachine)
Caledonian Deathwatch Radio Episode 34 (40K)
Canhammer Episode 102 (40K)
Chain Attack S2 Episode 44 (Warmachine)
Chasing the Dragonfather Episode 5 (Warmachine)
Combatphase Episode 192 (40K)
Combined Arms Podcast Episode 1 (General)
Dark Guidance Episode 21 (Warmachine)
Epic D6 Episode 16 (40K)
Exploding Dice Episode 2 (Firestorm: Armada)
Eye of Horus Episode 95 (30K)
Forge the Narrative Episode 188 (40K)
Fully Boosted Episode 38 (Warmachine)
Heroic Intervention Episode 42 (40K)
Lecture Notes from the Breach Episode 15 (Malifaux)
Life After the Cover Save Episode 198 (General)
Long War Episode 96 (40K)
Masters of the Forge Episode 91 (40K)
Mayacast Episode 129 (Infinity)
Mob Rules Episode 48 (40K)
MoM Podcast Episode 309 (Warmachine)
Mynock Squadron Episode 64 (X-Wing)
NOVA Squadron Episode 68 (X-Wing)
Overlords 2.0 Episode 16 (40K)
Preferred Enemies Episode 148 (40K)
Scrumcast Episode 6 (Warmachine)
Storm Chamber Episode 19 (Warmachine)
TDH60M Episode 74 (Warmachine)
As always, check out our blog, at TFG Radio, and give the podcast a listen. We talk 40K mainly but delve into other game systems. This week we talk tournament recap, what to do until the next edition of 40K arrives, and Imperial shaming!
Have a different opinion? Post in the comments below or email me at [email protected] and let me know!