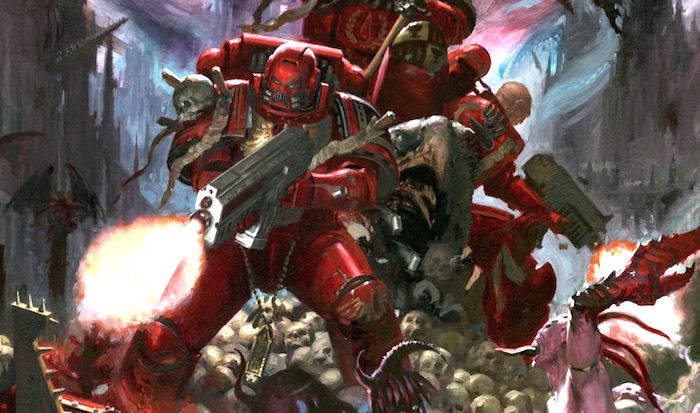 Games Workshop is back with a Preview of the non-codex Space Marine Chapters. The Angels of Death Return!
Not every Space Marine Chapter adheres strictly to the Codex written by Guilliman all those millennia ago. For Chapters like the Dark Angels, the Blood Angels, and the Space Wolves, they have carved out their own identity in the Grim Dark. They are still Space Marines but they have a distinct flavor they bring to the table. When you factor in other non-codex Marines like Deathwatch and Grey Knights it's easy to see that not all Marines are created equal – but they all have something special to bring to the table.
Today Games Workshop is showing off rules for each of those non-codex Space Marines. Let's take a look at what makes each one unique and why you would want to bring them to the tabletop:
via Warhammer Community
Dark Angels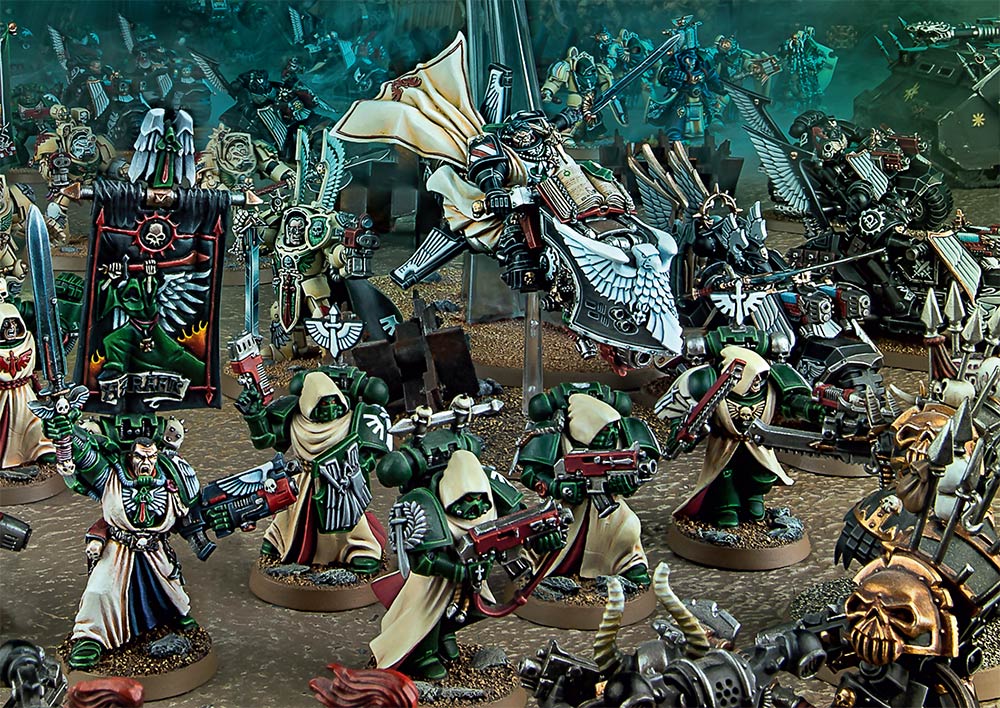 The Dark Angels have a toolbox of weapons they can bring to bear against your foes. Azrael is a fantastic commander as he brings the beat-stick in both shooting and melee. On top of that, he is an excellent buffing commander providing friendly Dark Angels with 6″ a +4 Invulnerable save. Plus his Chapter Master Aura grants them re-rolls for failed hit rolls in both shooting and melee!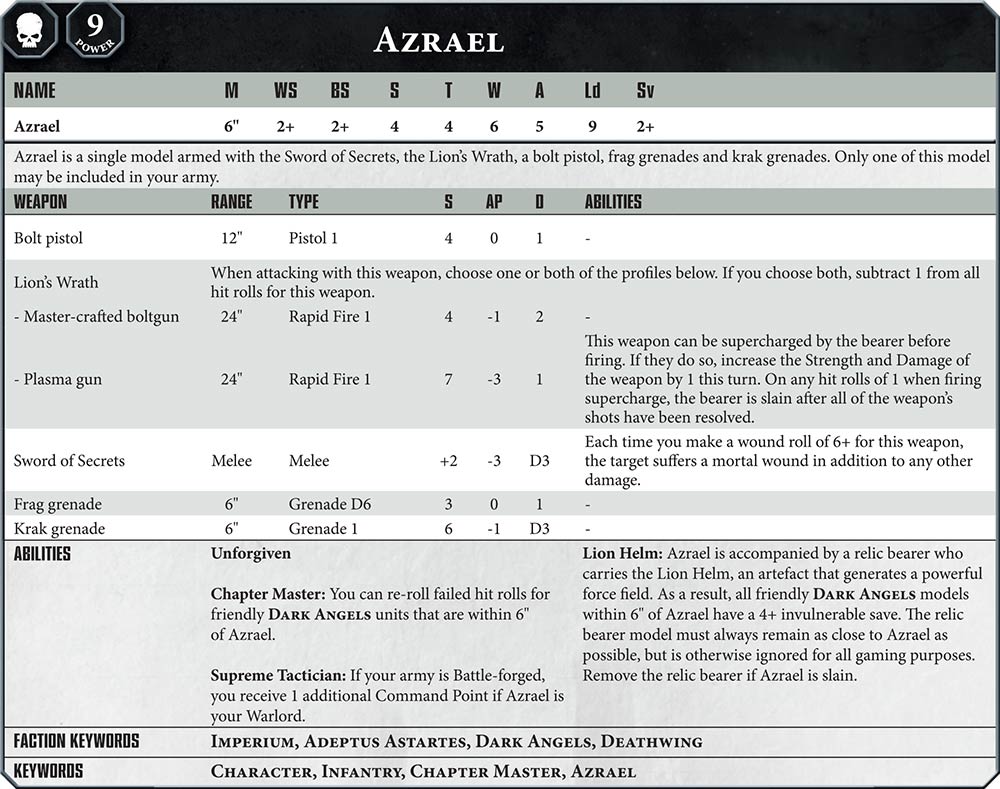 The Dark Angels are also know for their Deathwing Terminators. These guys are back and they are badder than ever! They can go toe-to-toe with any unit in the game and are perfect for smashing up tough units. And don't think Hordes are going to be safe either. The Knight Master has the chance of clearing out 6 single wound models solo… Combine that with their +2/++3 saves and good luck chewing through this squad.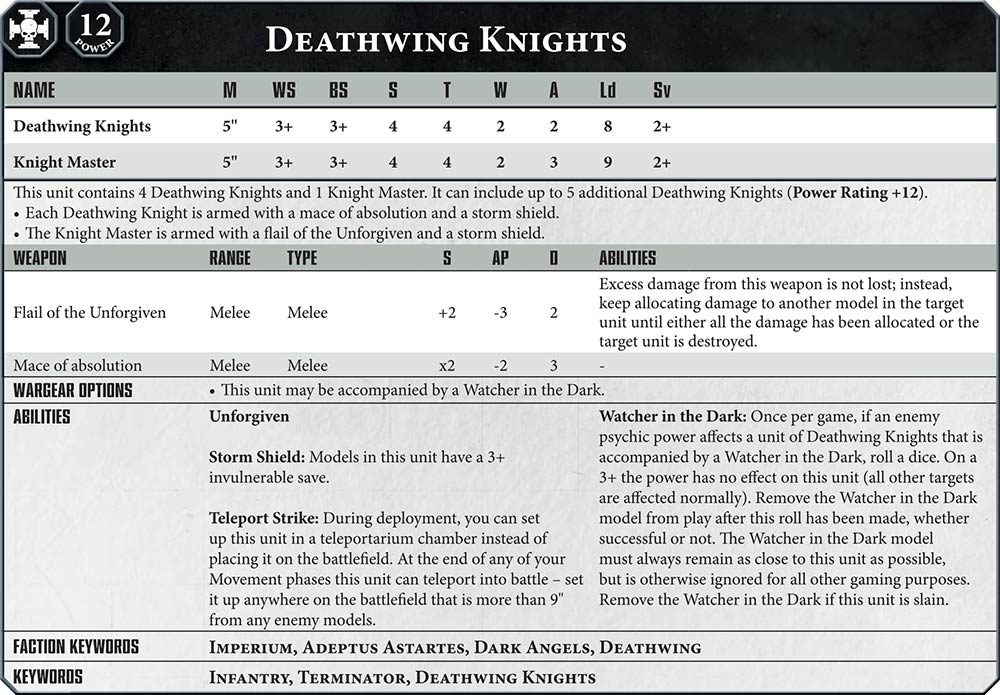 Blood Angels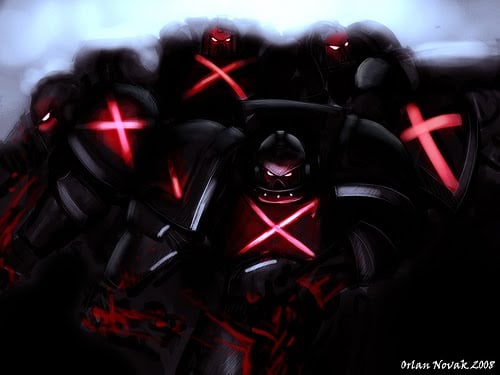 The Death Company is back with a vengeance. If you plan it right, you can create one of the most devestating melee units in the game. I'll let Reece explain:
"Death Company who begin with base 2 Attacks, and gain 1 on the charge, can get another Attack using the Blood Angels psychic power Unleash Rage for a total of 4. On top of that, a Sanguinary Priest can give them +1 Strength with his aura. Astorath provides further bonuses with an aura that lets them ignore morale, and provides re-rolls to hit in the Fight phase. But wait, there's more! The Sanguinor can give them another Attack with his aura…wow. You can end up with Death Company boasting 5 Attacks each on the charge, re-rolling hits at Strength 5. Give them Power Swords and nearly nothing in the game will survive a full strength charge from them. A truly scary unit."
Is that a lot of eggs in one basket? Sure! But when they get there they are going to make one heck of an omelette! If only there was a way to get them to their target area in a fast and quick manner. The Blood Angels sure could use a good flying transport or something…
But hey, enough day dreaming! Let's take a look a their psychic powers: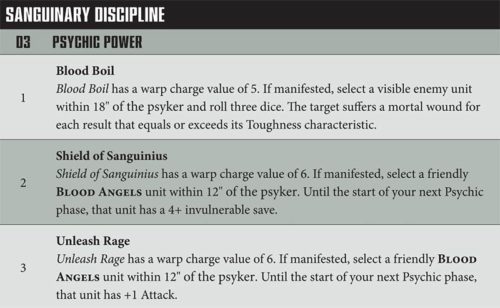 I like ALL of these powers. It's a small list but each of those can be super useful. Blood Boil will take a bite out of horde units with low strength. Shield of Sanguinius granting a +4 invulnerable save is no joke and Unleash Rage…well, we've seen what it can do!
Space Wolves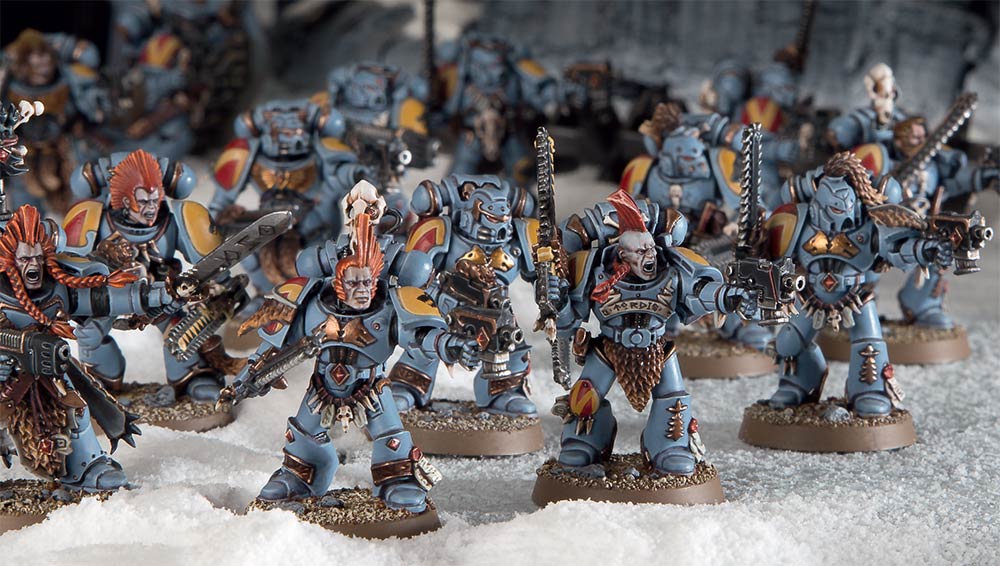 Grey Hunters have been a fantastic Troop option for the Space Wolves for a more than a few editions. Tactically flexible with the ability to fill whatever combat roles you need they are still a great option in 8th. I mean, just look at their Datasheet – They got OPTIONS: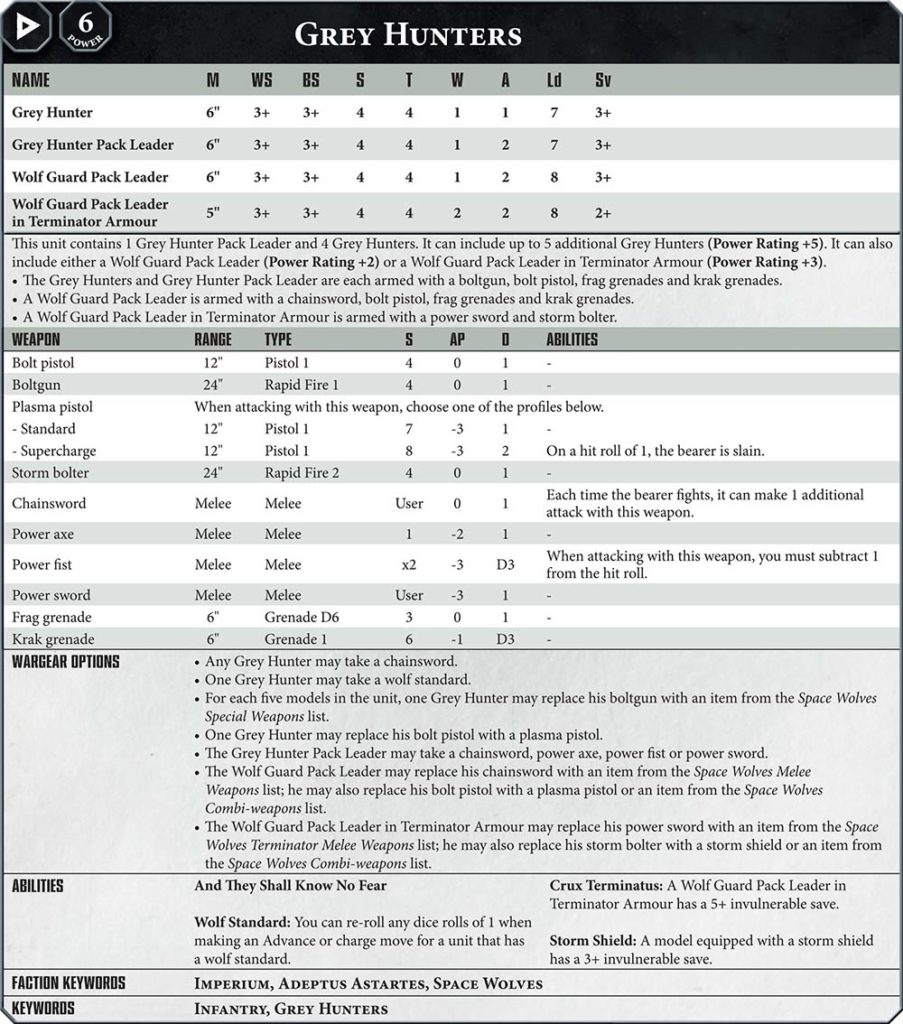 Reece also talks about Blood Claws, who are also a very viable choice. They still hit on a +3 in melee and if you stack your buff auras right they can be very deadly combatants in their own right. A Wolf Priest running close by will help out with a re-roll for melee attacks and a nice boost to their lower leadership.
Deathwatch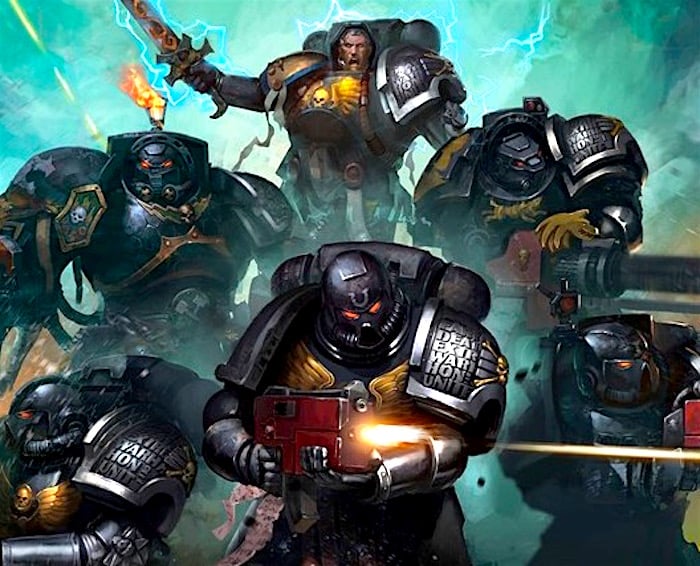 I've seen the Deathwatch first hand and they have a LOT of tricks up their sleeves. They offer some mixed units and you can really do some amazing things with the right unit load out. Add in a Terminator to let them tank the big hits or teleport. Toss in a Bike an they get the ability to "hit-and-run" or just load up on standard marines and unleash death with their special issue ammo: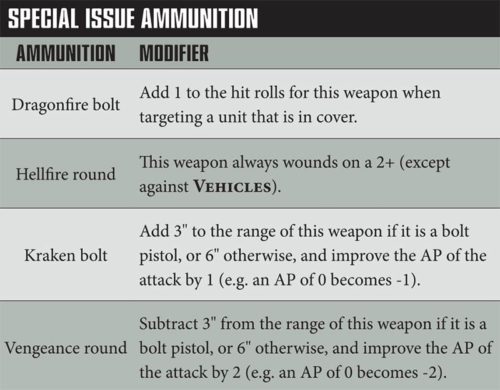 Take it from me, those Rapid Firing Hellfire rounds HURT.
Grey Knights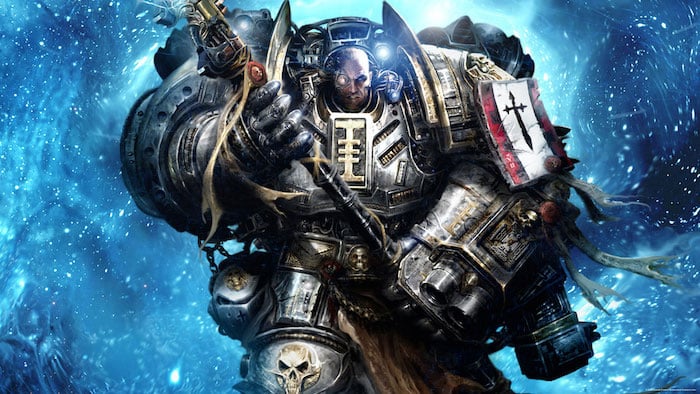 Finally we take a look at the Grey Knights. In what should be an absolute shock to no one, they are still pretty amazing. Pretty much the entire army is psychic, which means they are going to be able to smite-spam with the best of them. And, they are still Grey Knights which means they have access to some of the best gear around. Check out the Strike Squad and note their Psyker rules: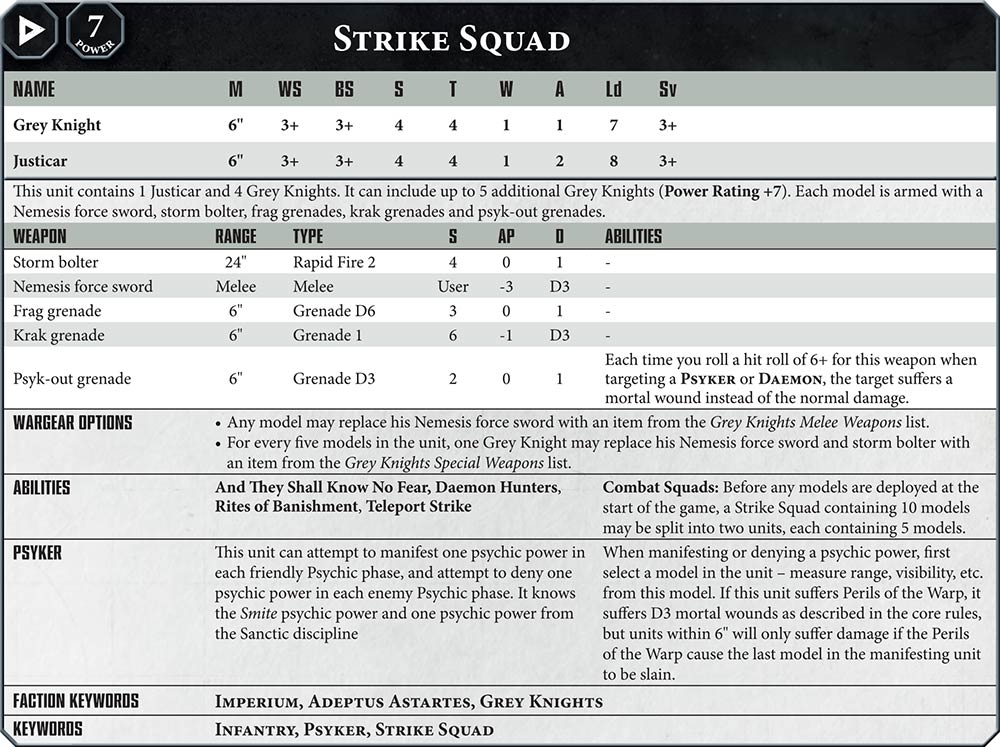 The last thing I'd like to point out is that because they share keywords you can totally mix-and-match these units in a battle forged list. Now, that doesn't mean that auras/buffs are going to stack! It just means you can make a legal list – it just won't synergize like the "Super Friends" lists of old. But I think it's super cool to add in a squad of Deathwatch with my Blood Angels!
What do you make of the non-codex Space Marines? Anything jump out at you?