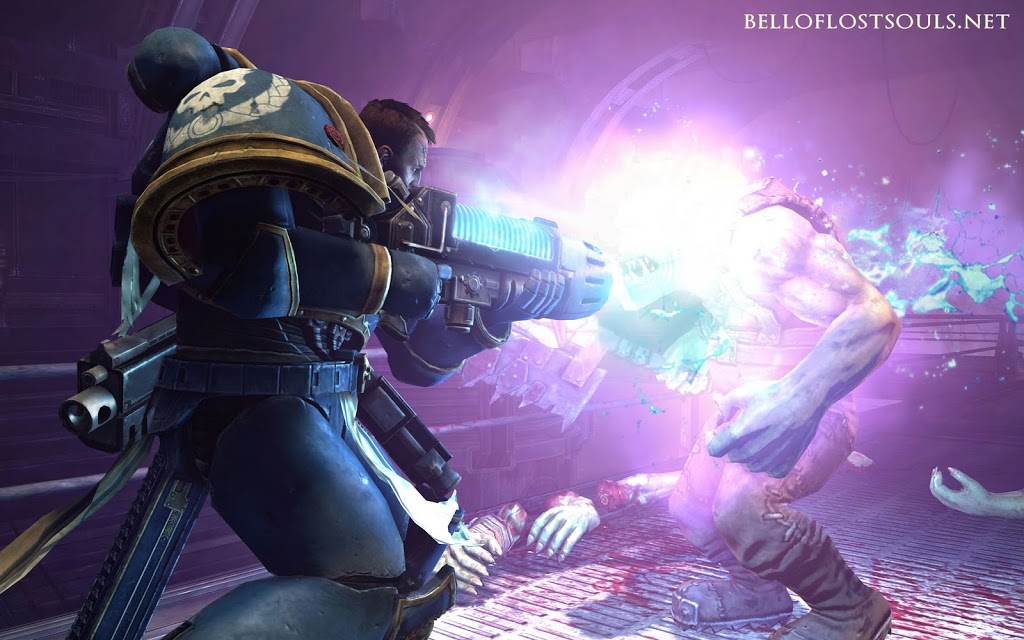 Plasma Weapons might be the most "effective" Anti-Tank Weapon in the game – but probably not for the reason you think.
After spending the last few weeks feverishly playing my Tyranids, I decided to change gears and start tweaking my Blood Angels army for 8th. I pulled my models out, assessed what I had and what I could build list-wise, and started plotting out the pain.
In my building, I came across a few interesting discoveries thanks in part to my use of Razorbacks.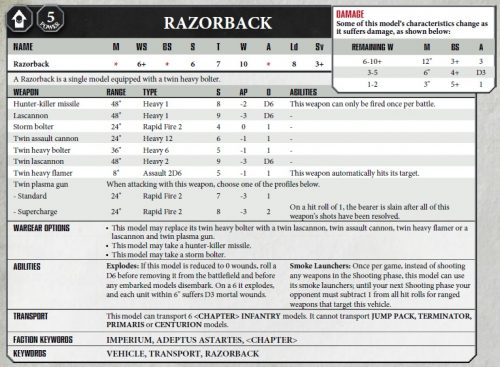 Back in 5th and 6th, I was a big fan of the Lascannon/Twin-linked Plasma combo so a fair chunk of my Razorbacks were converted to have that load out. So when I sat down to figure out their points and power level, I took a closer look at the Twin Plasma Gun rules, particularly the Supercharge option:

Do you see anything odd?
"On a hit roll of 1, the bearer is slain after all of this weapon's shots have been resolved."
Wait, what?! That can't be right – surely it's a mistake, right? Why would a single 1 on the to hit roll destroy a Razorback? So I did what anyone else would do: I checked other vehicle entries to see what they said about plasma.
Rhino Primaris – DEAD!

Land Raider Excelsior – DEAD!

Holy Smokes! A lone Plasma shot gone wrong can ONE-SHOT a Land Raider Excelsior! I left the stats in there to show how tough that thing is and I still can't believe it.
In my investigation I only found one Space Marine vehicle that could take the "hit" and survive:
Stormraven Gunship (Heavy Plasma) – 1 Mortal Wound (okay, not bad)

Maybe it's because it's a Heavy Plasma Cannon – perhaps those are safer to operate. Yeah…that had to be the reason, right?

After finding that, I decided to check other Imperial vehicles to see what the trend was. Turns out things are not looking good:
Armoured Sentinels – DEAD!
Leman Russ Battle Tanks – DEAD! Edit: Emergency Plasma Vents allow it to 'only' suffer 6 Mortal Wounds instead.

Leman Russ Demolishers – DEAD! Edit: Emergency Plasma Vents allow it to 'only' suffer 6 Mortal Wounds instead.
Again, I was just looking at Imperial Vehicles that could take Plasma weapons in the Imperial Arsenal. I'm afraid to go looking around at everyone else at this point.
Folks, no matter how you slice it Plasma is the best Anti-tank weapon in the game right now – at least when you supercharge it. So next time you're considering Rapid Firing your Twin Plasma Guns into another vehicle, maybe consider the risks before you roll those dice.
PSA: Don't supercharge vehicle plasma guns
Plasma has always been deadly – but now it's just comically silly! Welcome to Warhammer 40k 8th.