Games Workshop is back with a preview of what you can expect to find in the July issue of White Dwarf!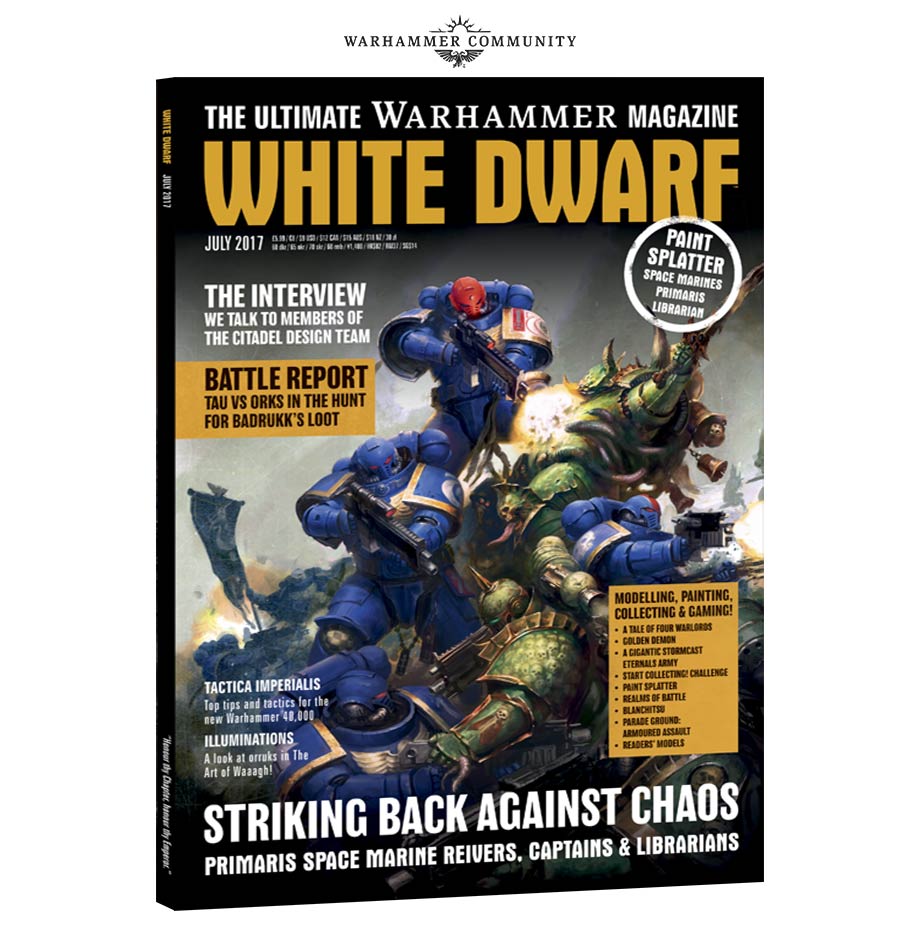 The July 2017 edition of White Dwarf promises to be a solid pick-up for players and hobbyists alike. For starters we're going to get an in-depth look at all the new releases for Warhammer 40,000 – which, if haven't been under a rock, has been kind of a big deal. The Primaris Marine Heroes and getting started sets look to be a large focus. On top of that we will also get a look at the Open War cards for the first time. I'm curious about these as they could something as simple as decks for missions or some type of additional resource for generating game types – looking forward to learning more.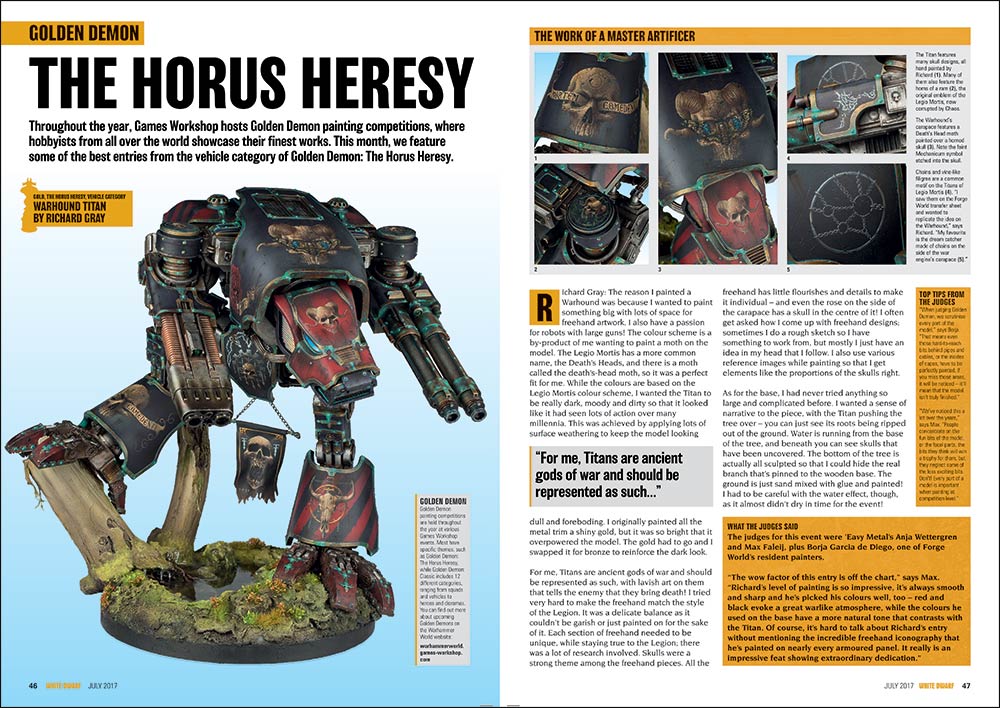 For the Hobbyists out there, there will also be a ton of awesome pictures to drool over/get inspired by. Plus the Citadel design team will have an interview inside that will cover all the nitty-gritty on what it takes to create the miniatures you love to collect and paint. As a person who gets to look at miniatures from a very wide pool of manufactures I'm always curious about what goes into producing their miniatures. I'm hoping to learn a lot about the process GW uses just because I'm curious!
The White Dwarf team is also starting a new series called "Tactica Imperialis" where they focus more on some of the strategy of the new edition. This month they are focusing on list building with an overview of datasheets and how all those army special rules work. We had a list of our own recommendations for list building in the new edition as well.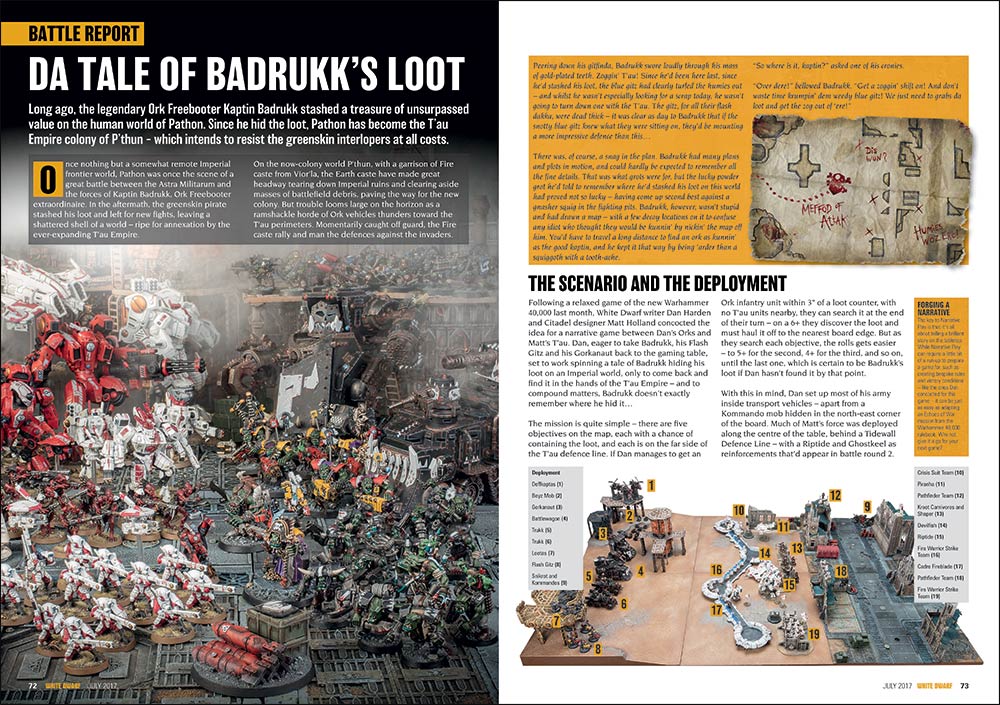 If you're a purveyor of print battle reports this issues battle report involves the T'au and the Orks as they duke it out over Kaptin Badrukk's loot! This one promises to be a very bloody and bullet-riddled fight. There will also be a follow-up on Warhammer Age of Sigmar: Skirmish from last month. Death is getting featured and it looks like we'll see some example warbands as well as some in-game examples as well: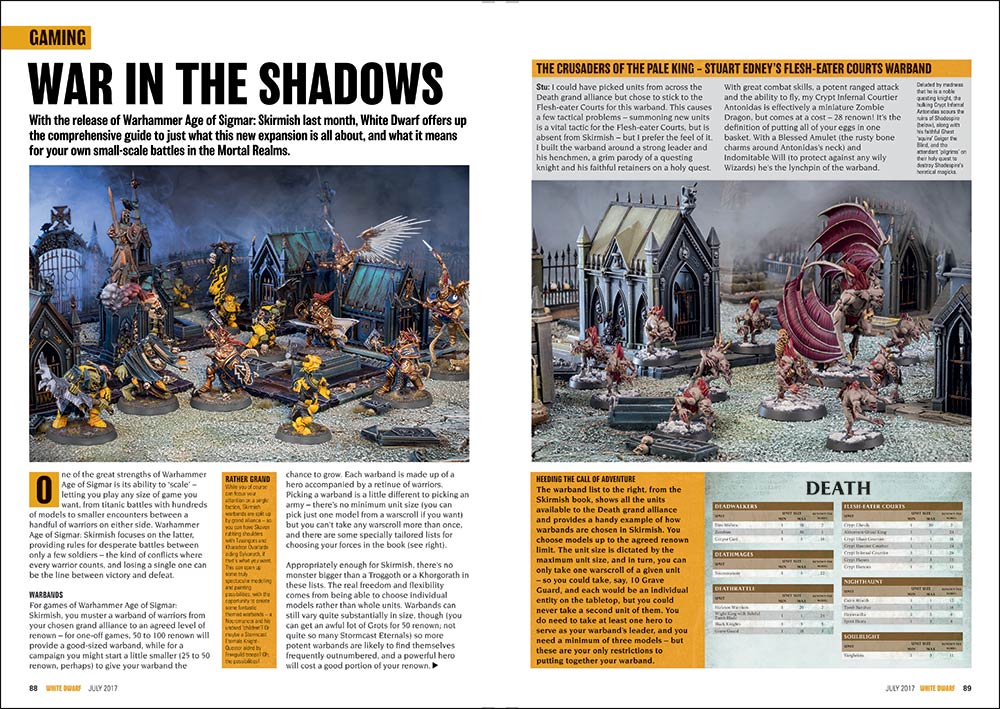 There will be tons more in the July 2017 White Dwarf like all the regular features like painting guides, Illuminations, and much more! White Dwarf is slated to hit stores July 7th, so keep an eye out for it or you can subscribe for deliver as well.
Open War cards, eh? GW you have my attention…