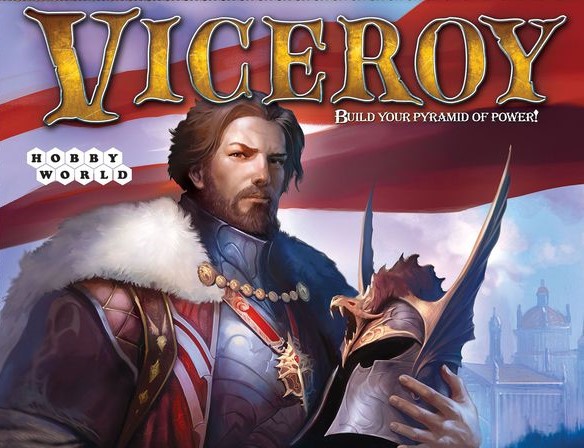 In Viceroy, you get to build your own Pyramid of Power!
No – it's not a multi-level marketing scheme! Viceroy is game our friends at Dragon's Lair Comics & Fantasy brought over to show off on this edition of the Tabletop Spotlight:
Viceroy is a game involving resource management and strategic decisions wrapped-up in a colorful card game. Each player is trying to create their "Pyramid of Power" so they can accumulate power points. The player with the most points at the end of the game wins. You get those points by card placement and triggering effects off of the cards you recruit. This all sounds well and good – but you have to spend resources to gain more followers and that is done though an auction phase.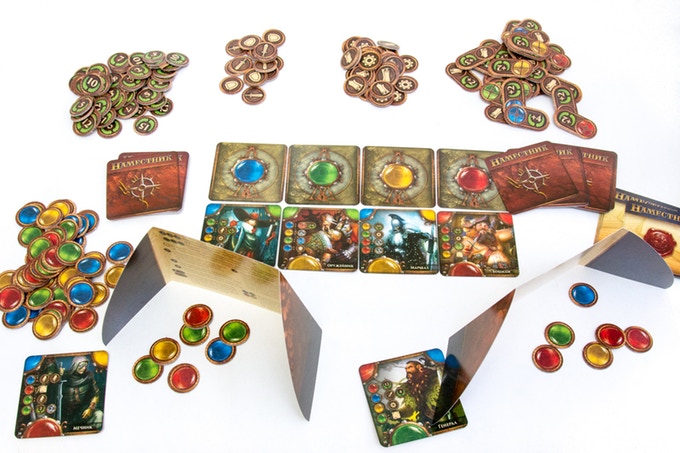 All recruits are in the market and that's where the first part of the play sequence begins. Players bid on the card they want based on the corresponding color. If you both bid on the same color neither player gets that card! You must be shrewd in your bidding because when you bid, you "spend" those gems. This adds some defensive strategy to the game. This can go on for 3 times in a round.
The second part of the play sequence is called the development phase. This is where you place your newly recruited cards in your pyramid. The cost to play the character depends on the level of your pyramid you wish to play them. The bonus is that when you do place them you get a reward of some type. Now, there are MANY different cards and they have lots of different rewards. If you'd like to take a look at them, you can check out the rulebook right HERE.
Card placement is important and there are rules to follow – however, one thing I would like to mention is that while most of the time you do need to form a circle with the different colors, they don't have to match. (See the colored sections – if they DO match, you get a bonus. But if they don't it's okay.)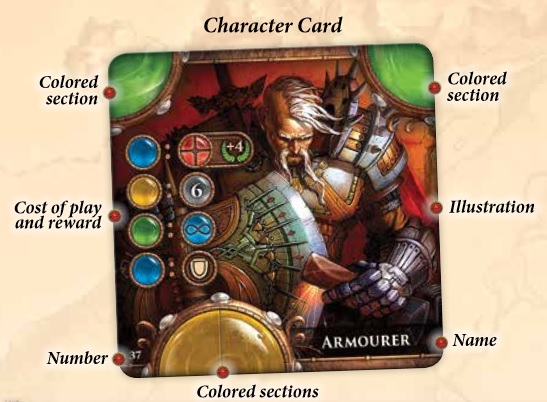 Overall, Viceroy is a pretty interesting game with lots of replay value and challenging decisions. It's best with 2-4 players but there is a solo mode if you want to practice. So if you're looking for a game with some great art, lots of replay value, and a setting that is fantasy inspired then check out Viceroy – in stores now!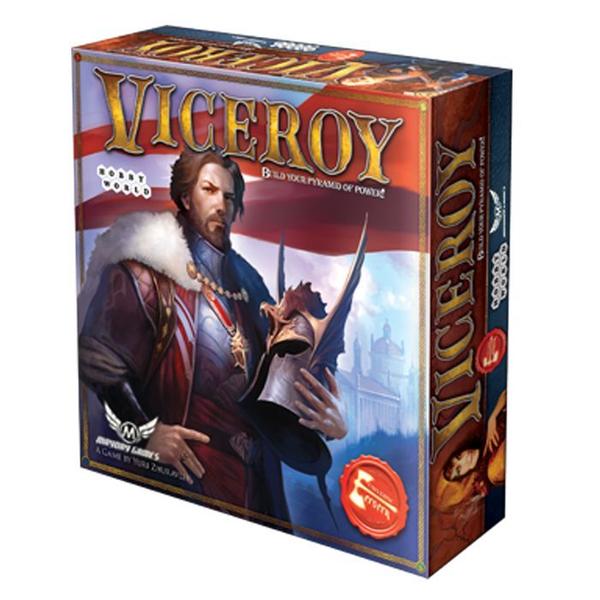 The fantasy world of Laar needs a new ruler – and that ruler could be YOU! Build your state's power pyramid by developing your military and magical might, increasing your own authority and earn precious gemstones you need to expand your nation. This 1-4 player boardgame pits players against each other as they compete to become the ruler – and winner of the game. Players recruit allies, from wanderers to Princes, enact laws and earn power points to become ruler of Laar.
Do you have what it takes to become the ruler of Laar? Find out in Viceroy!