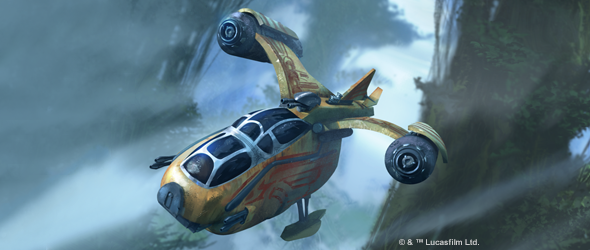 The Wookies bringing their own ship to the game. Here comes the Auzituck Gunship!
The Auzituck Gunship was first spotted in an episode of Star Wars Rebels and was used by the Wookie Bounty Hunter Black Krrsantan in the Darth Vader comics. Now it's flying on to a tabletop near you!
via Fantasy Flight Games
With its six hull and three shields, the Auzituck gunship is a powerfully resilient vessel and one that's easily worthy of its notoriously durable pilots and crew, many of whom have found ways to leverage their ship's toughness to the Rebellion's advantage.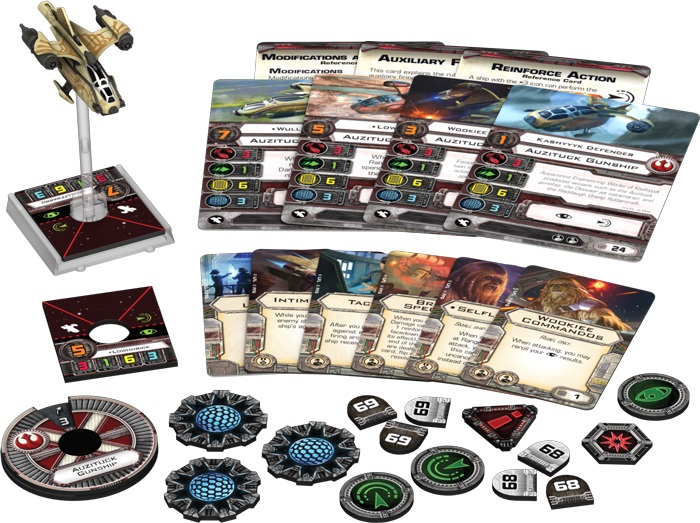 The Pilots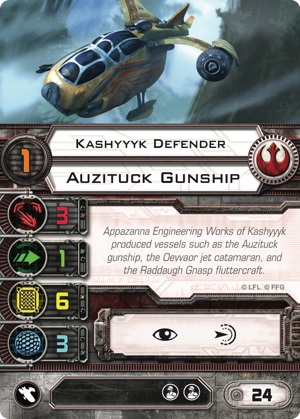 The Kashyyyk Defender is the basic PS 1 version of the Auzituck Gunship. At 24 points, it's a no-frills ship with a 3 attack primary, 1 agility, 6 hull, and 3 shields. It's action bar has a focus and the modified reinforce action (more on that below). One good thing about this ship's Primary attack is that it does have a 180° attack from the front 1/2. Combine that with the 2 crew slots and you could create some interesting attack options. Upgrades like Tactician combined with Baze or Gunner would allow you to stack extra stress on enemy ships. Then again, that's a lot points for a PS 1 ship. You might want to invest those in better pilot…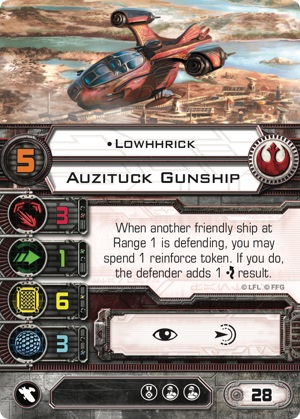 Lowhhrick is 4 more points but his ability allows you to aid your squad mates. For the cost of your reinforce token you can add an evade result. Plus he as access to an Elite Pilot Talent. You could make this ship a super support gunboat with crew like Jyn Erso and/or Jan Ors. Or maybe you could go with the combo of Kana Jarrus and Kyle Katarn so you can remove stress from yourself and get free focus. Then on your turn you can reinforce and have that as an option to buff yourself or help a friend – and you still have a focus to play with.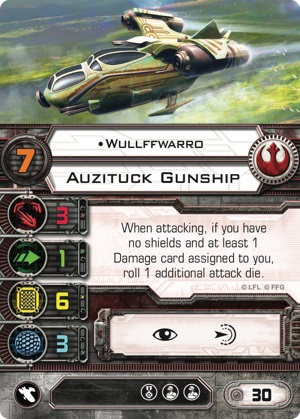 Wullffwarro is the highest pilot skill the Auzituck Gunship has on deck. His ability showcases that not-so subtle Wookie Rage. Once this ship starts taking damage, it becomes a potent attacker with a 4 die primary. You could also load up crew that intentionally do damage to this ship to trigger the effect faster. "Chopper" for example will allow this ship to stress itself, perform an action and take some damage. I'm also thinking of running this ship with Finn as a crew member and Shara Bey flying nearby. I think there is some potential there but it still needs to be refined.
The Upgrades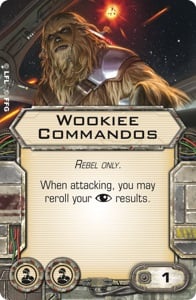 Wookie Commandos was teased before – it takes up both crew slots but for a ship with no Target Lock option, it's not a terrible upgrade…On the plus side, it's also cheap. Re-rolling your focus results could be good for those times you're caught without a focus so it's a chance to convert what are basically blanks into hits or crits.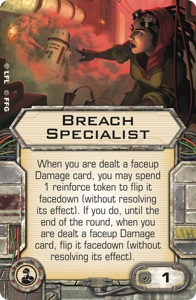 Breach Specialist is another cheap option that is going to increase this ship's survivabilty. When you have this card, you basically ignore crits for the cost of your reinforce token. That's not too bad in my book and the price is right for 1 point.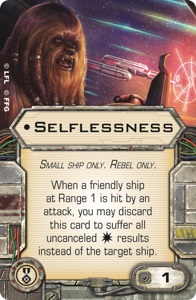 Selflessness is another one of those support cards that fits with the theme of this Gunship. It's a very tanky ship with a lot of HPs to throw around. Taking all the damage for a friendly will keep that ship in the game for a little longer and it can also help trigger Wullffwarro ability…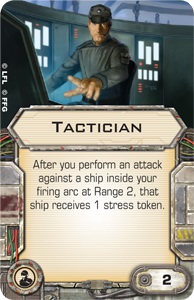 We've seen Tactician before – it's not a new card but it is included with the Auzituck.
The Extras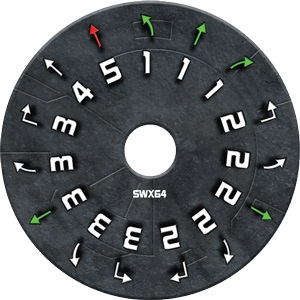 The dial on this ship is interesting. It's rocking a full set of 2's and 3's. It also has the option for a speed 5 straight ahead! That's some surprising speed in a ship most folks would think of as bulky. The down side is that this ship doesn't have a ton of Green maneuvers. Then again, it only has the 1 red… but it's also lacking in K-turns! This ship's biggest weakness is that while it has a 180° firing arc, if you can get behind it, you'll probably be able to stay behind it and shoot it down.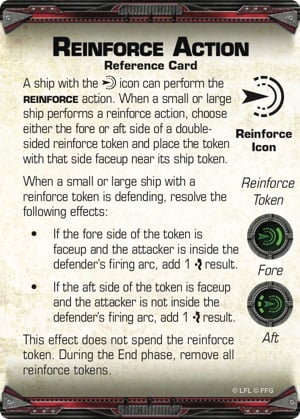 And here is that reinforce action we've been talking about. Again, it allows this ship to get a little bit more survivability on the table. It's not an evade token so it doesn't trigger those effects and it doesn't go away after you defend either! That's not a bad trade off in my mind.

Overall, I think the Auzituck Gunship is an interesting new ship for the Rebels. I'm not quite sure how I would want to fly it as it doesn't fit my play style – it's very tanky and I'm more of an Arc-Dodger fan. But I can see this ship being useful in the right list. I can also see this being one of those ships that can survive for longer than it should have. If you can keep the enemy in front of you, then I think the Auzituck Gunship will be just fine.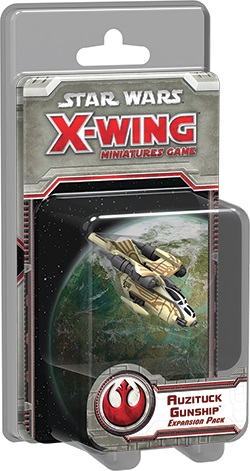 Designed by Appazanna Engineering Works of Kashyyyk and equipped with three wide-range Sureggi twin laser cannons, the Auzituck gunship was known for its impressive firepower and incredible durability. The Auzituck Gunship Expansion Pack brings this ship to X-Wing™ as a resilient, pre-painted, small-base Rebel starship with three attack, one agility, and six hull protected by three shields and the reinforce action. You'll find even more ammunition and defensive options among the expansion's four ship cards and six upgrades.
Let the Wookie Win…