Photosynthesis, a new game from Blue Orange will be debuting at GenCon.
Photosynthesis is a game about the life cycles of trees. Played on a luscious green board with a wide variety of species of trees, this game looks about as soothing as a Bob Ross painting.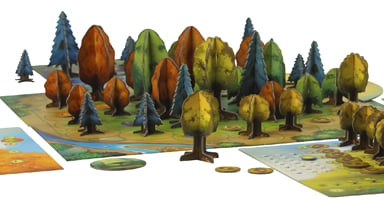 And it plays about as cutthroat and rough and tumble as Bob Ross "cleaning" one of his brushes. There have been some "happy little accidents," is what I'm saying.
That said, this game looks incredible. It branches out from the usual themes of board games these days, and explores the life cycles of trees trying to out-compete each other in a race to the top. Gameplay is simple–each turn has two phases, the photosynthesis phase, where players store up sun energy depending on their placement on the board, the position of the sun, shadows cast by other trees (aka your former "friends"), and so on. Then there's the Life Cycle phase where you spend that hard earned sunlight on growth and development.
You can plant seeds, grow your trees–this game is rooted in the kind of design philosophy that combines relatively simple surface mechanics with a rich depththat reveals itself over time. But you also get a nice glimpse into the life cycle of a tree as you take your pieces from seedling to towering ancient. Sure, you may have to leaf your friends in the dust, but once you win, it'll all be worth it.
via Blue Orange Games
Welcome to the world of Photosynthesis, the green strategy board game! Plant and shape the ever-changing forest as you cultivate your seeds and your strategy. Take your trees through their life-cycle, from seedling to full bloom to rebirth, and earn points as their leaves collect energy from the revolving sun's rays. Carefully pick where you sow and when you grow, as trees in the shadows are blocked from light, and from points. This game features realistic gameplay and beautiful graphics.
Photosynthesis is a 2 to 4 player game geared towards ages 8 and up. The game play mimics the life cycle of trees, with two phases occurring each round. In the first, the Photosynthesis phase, players' trees generate light points depending on their location, and the location of casted shadows, as the revolving sun hits the board. The second phase, the Life Cycle phase, is where players can use the lights points they have earned as currency to buy, plant, grow, and harvest seeds and trees. As players end the life cycle of their trees they collect points correlating to the value of the soil, or space, that the trees were rooted in.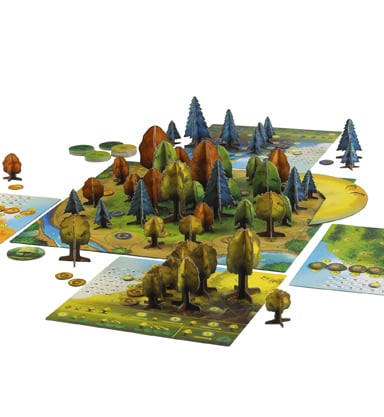 Blue Orange will be selling copies of Photosynthesis at Gen Con in Indianapolis August 17th-20th, at booth #1811. The game is being rushed to production so that it will arrive just in time for the show. Post-show it will be available in-stores and online.
Contents:
1 Game Board
1 Sun Segment
4 Player Boards
1 First Player Token
24 Scoring Tokens
4 Sun Marker Tokens
24 Seed Tokens (6 of each species)
32 Small Trees (8 of each species)
16 Medium Trees (4 of each species)
8 Big Trees (2 of each species)
Illustrated Rules
Stick around for more GenCon news and updates.