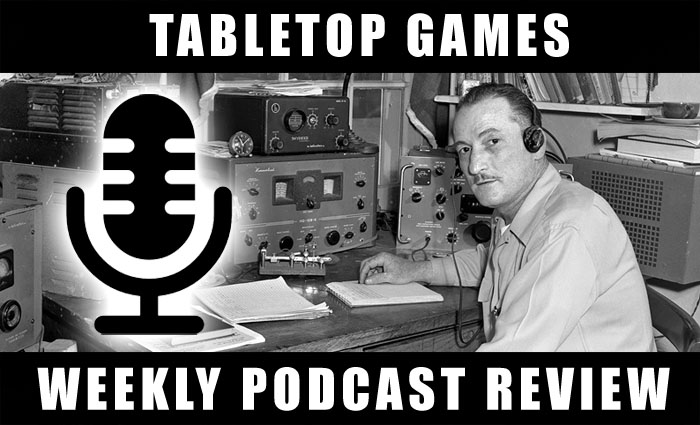 Adam here for another week of tabletop podcast reviews! Age of Sigmar, Grymkin talk, & more!
Hey all, Adam here, from TFG Radio, for this week's reviews! This week we are seeing the first 40K tournament results come in, talk about the new Grymkin, and more. So, let's get on with the reviews
Garagehammer Episode 171 – This episode they delve deep into the battletome that is the Kharadron Overlords. They go over the units, special rules, and backgrounds of the new dwarf faction in Age of Sigmar. The in depth discussion, at just over 4 hours, provides new players, as well as veterens, a good look at the army. If you are interested in playing sky dwarfs, then give this episode a listen.
Chain Attack Meta Preview: Grymkin – The group does an extra episode to talk about the new faction in Warmachine, The Grymkin. They talk about the units in the new faction, how they operate and give possible ways to build a Grymkin army. Helpful tool for those wishing ti start the new faction.
Age of Sigmar Daily – Nice source for daily Age of Sigmar talk.
Signals from the Frontline – Always a good listen for new and rumors on 40K and other miniature games in the industry.
Also Out This Week
40K Radio Episode 18 (40K)
9th Realm Episode 50 (AoS)
Adeptus Terra Episode 34 (40K)
Black Sun 6/26/17 (AoS)
Caledonian Deathwatch Radio Episode 44 (40K)
Canhammer Episode 110 (40K)
Chain Attack S2 Episode 54 (Warmachine)
Chapter Tactics Episode 33 (40K)
Chasing the Dragonfather Episode 6 (Warmachine)
Combatphase Episode 201 (AoS)
Combined Arms Episode 3 (General)
Combosmite Episode 162 (Warmachine)
Countercharge Episode 15 (Warmachine)
Crippled Systems Episode 203 (Warmachine)
Eye of Horus Episode 100 (30K)
Exploding Dice Radio Episode 4 (Firestorm Armada)
Facing the Grey Tide Episode 51 (40K)
Forge the Narrative Episode 196 (40K)
Fully Boosted Episode 46 (Warmachine)
Heroic Intervention Episode 49 (40K)
Imperial Truth Episode 70 (30K)
Kessel Run Episode 48 (X-Wing)
Long War Episode 106 (40K)
Mayacast Episode 139 (Infinity)
Mob Rules Episode 53 (40K)
MoM Episode 303 (Warmachine)
Mynock Squadron Episode 74 (X-Wing)
ngc40K Episode 30 (40K)
Overlords 2.0 Episode 24 (40K)
Party Foul Episode 8 (Warmachine)
Radio Free Isstvan Episode 61 (30K)
Roll to Seize Episode 36 (40K)
Scruby & Wells Episode 21 (AoS)
Scrumcast Episode 13 (Warmachine)
Veterans of the Long War Episode 42 (40K)
As always, check out our blog, at TFG Radio, and give the podcast a listen. We talk 40K mainly but delve into other game systems. This week we celebrate our 100th episode, with guest Salty John, and answer listener questions for the first time!
Have a different opinion? Post in the comments below or email me at [email protected] and let me know!